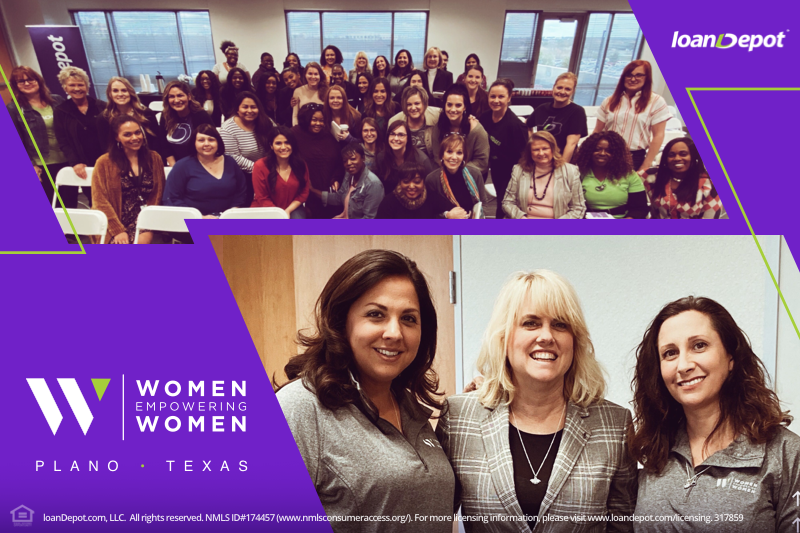 "If you want something done, ask a busy person." This proverb has been quoted multiple times, but it especially rang true on Tuesday, Feb. 25th, as our COO Tammy Richards, CAO Nicole Carrillo and SVP, Wholesale Operations, Misti Snow joined the women at our Plano location for our second Women Empowering Women Town Hall. Tammy and Nicole had just finished headlining a keynote panel at the Next Winter 20 Mortgage Conference in Dallas, quickly followed by a meeting with the Direct Ops team. Misti had flown in to meet with members of her team earlier in the day.
The trio looked forward to discussing the importance of creating positive, supportive teams and building up fellow teammates for success.
"The most important thing is this: you are great as who you are," said Tammy, as she welcomed everyone to the Town Hall. "Always remember that you are enough."
Tammy, Nicole and Misti then shared personal stories about their unique paths to career success.
For Tammy, her exposure to a mentor who taught her the official ways to manage operational tasks—but who also enabled Tammy to find her unique voice—made a lasting impression. Tammy's intuitive thinking and problem-solving abilities put her on a technology path early on—and quickly put her at the helm of multiple teams—all opportunities she may not have had so soon, had it not been for the learnings she received early on. Having forged a life-long friendship, Tammy remains in contact with her mentor to this day.
Nicole shared how she was goal-driven from an early age—confident and committed to becoming the first person in her family to attend and graduate from college. She then set her next goal: to become a CFO. "And not just a CFO, but the best CFO," added Nicole. "But more than that, to be the best CFO who just happens to be a woman."
Misti credits the mentorship she received from CEO Anthony Hsieh, EVP, Production Tomo Yebisu, and Sr. EVP/Chief Revenue Officer Jeff Walsh for helping her to achieve many of her career goals. To Misti, each of their contributions were significant and greatly valuable as she navigated her way in the mortgage finance industry. She also credits Oprah Winfrey for one of her "aha" moments.
"Oprah teaches us to make decisions from a place of love and not fear," explained Misti. "And when you do that, you are always going in the right direction."
The three women also discussed how they approach success, even when they've found themselves to be the only woman in the room.
"There's definitely a different dynamic between how men and women banter, but that shouldn't impact how you contribute to the conversation," offered Nicole.
Tammy's secret to success? "I'm an optimist and a naturally positive person," she explained. "A project has to get completed one way or another, so why not enjoy the process, no matter how hard it's going to be?"
During the Q&A session, the women shared how they balance their careers with having a family and relationships. The group was especially interested in tips from Nicole, who is raising two children under the age of 4. Nicole explained how she makes sure that every day she gets home in time to spend time with her children before bed—even if that means bedtime is a bit non-traditional for her children's age. "My goal each day is quality over quantity," she explained. "I focus on making the time I have with them special, and that means I turn off my phone and enjoy being in the moment."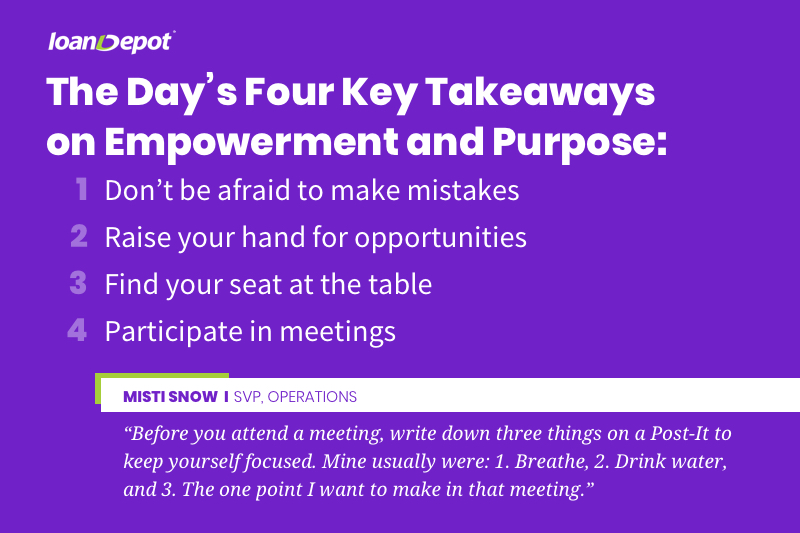 The women concluded the Town Hall offering some book titles that they have found to be extremely inspirational, such as Marie Forleo's "Everything is Figureoutable" and "Girl, Wash Your Face," by Rachel Hollis.
We look forward to future Women Empowering Women Town Halls at other locations nationwide. In the meantime, we encourage each of you to continue lifting each other up, cheering on your team's successes and being collaborative problem-solvers as we work together to create exceptional experiences for our customers.
Our third Women Empowering Women Town Hall will take place in Scottsdale, Arizona. If you are a woman in the Scottsdale area, please look for an invitation in your inbox in the coming weeks.