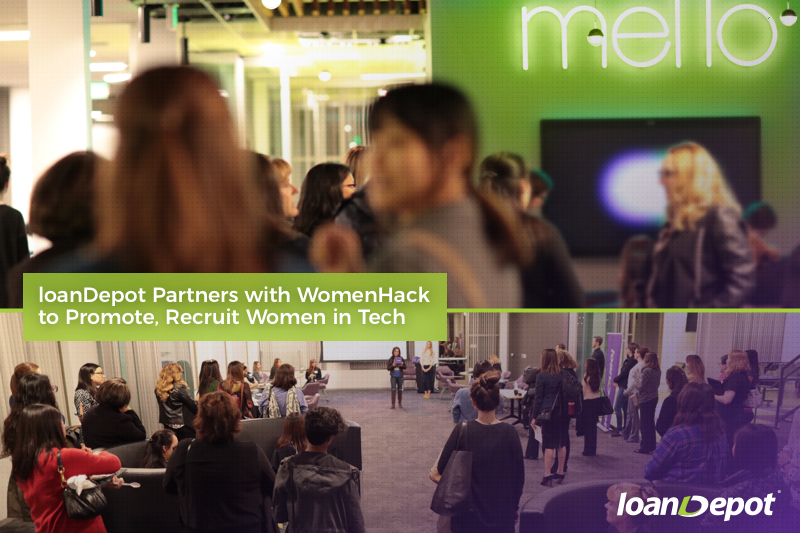 Ahead of the March 21 grand opening party for loanDepot's mello Innovation Lab in Irvine, CA, we opened up the lab for a special networking event with WomenHack, an organization dedicated to helping people discover companies that empower women.
This was our second event with WomenHack, but the first time using our new mello Innovation Lab for its intended purpose as a community center for tech leadership and innovation. It was a show of force for Southern California's tech scene as more than 50 women in tech plus six elite Orange County firms looking for top talent all gathered in the nation's newest, largest financial technology campus.
"Seeing all these talented technologists come together is electric," said Josh Groseclose, loanDepot's tech recruiting manager at the event. "The vision for our mello lab isn't just for our company to remain at the forefront of our industry, it's also to create a community where all technologists can gather, share ideas, and feed off each other's energy."
The mello/WomenHack evening's most talked-about event was the rapid interviews.
Unlike traditional tech networking sessions where candidates jostle for position with prospective employers, WomenHack's rapid interviews are like speed-dating where technologists rotate through employer interviews in five-minute intervals. This gives everyone on both sides focused time to get to know each other.
"It's absolutely the best format for networking," said one attendee, a front end developer. "Whether you're looking for a new role or just need to practice your elevator pitch, this rotation keeps you sharp and lets you research available opportunities quickly. Also I must say, the mello lab is beyond amazing!"
Using keynotes and rapid interviews, WomenHack's private and public recruiting events in tech across 23 countries and 56 cities give women access to tech opportunities they won't find elsewhere.
"WomenHack empowers women in tech by giving them access and transparency to the best opportunities," said Marina Petrenko, director of business operations at WomenHack. "Through these events, we're creating a more inclusive workplace for all. We're excited to team up with loanDepot and celebrate Women's History Month."
You'll get an inside look at loanDepot's mello Innovation Lab, now home to more than 450 technologists, at our official grand opening celebration March 21.
If you're ready to join the team working to disrupt the financial industry on a daily basis, share your résumé with us at hello@loandepot.com today.