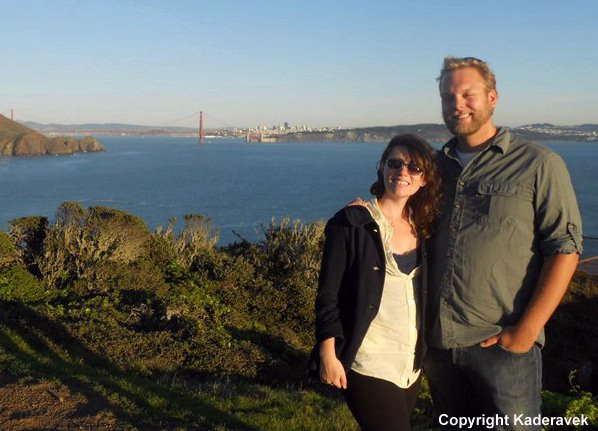 When it comes to vacationing it's hard to imagine doing it better than Amanda and Brian Kaderavek, world travelers well before age 30. Forget about a week here or a week there, when the Kaderaveks vacation they're gone for months at a time – and they save money at every step.
After graduating from the Culinary Institute of America, they were both hired by leading Manhattan restaurants and took advantage of the many free and low-cost amusements available in any community, lived modestly and saved money every month. Meanwhile, friends and family stayed at their modest Queens apartment just a few minutes from Manhattan by subway.
After five years in the Big Apple, the Kaderaveks left their jobs for a year-long journey by car across the U.S. and Canada, a trek recorded in their blog, Chefs on the Road.
How did they do it? The whole trip was financed with savings, money stretched out by – you guessed it – staying with friends and family plus a lot of camping along the way. Among the expenses they avoided were virtually all hotels and motels as well as all airports and airlines.
There's certainly a huge financial advantage associated with borrowing spare rooms here and there, but there's another benefit as well: When you visit friends and family you'll sometimes go to places you otherwise would never have visited, places not on your radar. For the Kaderaveks, this meant destinations such as Copper Harbor on Lake Superior in Michigan and Rustico on Canada's Prince Edward Island.
Four hints: First, get a Federal Recreation Pass. It gives you admission to more than 2,000 sites and the price is right: There's an $80 annual fee, however seniors can get a lifetime pass for $10 while members of the military and their families can get a free annual admission. Campground fees are extra, but small. Second, learn to be a good guest – don't overstay your welcome and be ready to help with chores, cooking and babysitting. Third, have a car, van or SUV that gets great mileage and is well insured and highly reliable. Fourth, whether you stay in a modest apartment or a great estate, always send a thank-you note and photos after your leave.
Also, get an E-ZPass, an electronic transponder that allows you to use toll roads, bridges and tunnels without stopping to pay the fare, a real time-saver in many areas. E-ZPass operates in many states, but not all at this time. By 2016, all electronic toll-collection systems are supposed to be coordinated so that one transponder can be used throughout the country.
EUROPE
While the U.S. is home turf, there is a lot to do and see outside our borders. After a year on the road, the Kaderaveks parked their car, got backpacks and headed for several months in Europe.
In some cases they were able to stay with friends, but for the most part they traveled by rail and stayed in homes and hostels found online (think of AirBnB and similar services). They also took advantage of local programs: For instance, Italy has an 'agriturismo' system that encourages farmers to accept guests at low rates, some museums have free admission days and with the excellent Eurorail system you can get a 'Global Pass' allowing two months of continuous travel among 24 countries for just $885 per person – and often less with discounts.
When traveling in other countries it's important to pack light, get proper paperwork and respect local customs. Be sure you know the value of foreign money as well as the cost of using U.S. credit cards; you can save big by getting the best exchange rates. Also, contact your credit card company before traveling inside or outside the U.S. Tell them where you'll be and the approximate dates. This way, payments won't be declined when you go to new and exotic locations.
Cell phones may or may not work overseas, so you may need to get a special SIM card. Call your provider for specifics; they may be able to supply low-cost data and voice services as opposed to the far-higher charges without such plans.
Know that if your phone is not under contract, you can 'unlock' it in order to switch out the SIM card, which is very inexpensive compared to having to buy an international plan from your provider. Certain providers, such as AT&T, will now let you unlock your contract phone up to five times a year for international travel purposes. Ask about that before buying an expensive international data and calling plan.
You may need different SIM cards for different countries, but just to give an indication of price, a 1GB SIM card in the UK can be purchased for 10£, or about $15 and an unlimited SIM card can be purchased for around $30, which will last you the entire time you're in the country. Accidentally getting off the plane with your data roaming on will usually result in overage charges equal to that in 15 minutes or so. And you will need your phone – to keep in touch in case you get separated, for maps, the compass, as a translator and as a currency converter, just for starters.
PRINCE EDWARD
After traveling the U.S., Canada and Europe, the Kaderaveks returned to Canada's Prince Edward Island for six months and worked at a small local restaurant.
Prince Edward is an Atlantic Island with remarkably beautiful farms and warm ocean waters in the summer, the fictional home of "Anne of Green Gables." It's a great place to visit and a major tourist destination during the summer season, but to work there – and to work in many locations outside the U.S. – you have to get work permits.
Working where you want to vacation not only saves money, it can allow you to leave with cash in your pocket. However, while visas are generally easy to get, that's often not the case with work permits. It can take months to get the right paperwork. Typically you'll need a sponsor to support your application, and you'll have to pay permit fees and local taxes. For details, contact embassies in Washington for more information six months to a year in advance of your trip.
The Kaderaveks not only got their paperwork, they also got something else: Recognition. The fine dining establishment where Brian was the chef and Amanda did most of the pastries and desserts was recognized as the "clear No. 1" restaurant in the province that season.
STAYCATION
Travel is great fun, but sometimes the joy of new places is offset by long hours on the road, airport lines and train delays. For many the alternative is to vacation at home because with "staycations," there are no worries about flights, overbooked hotels, strange cuisines or vacation days lost to bad weather.
There are many places which are great staycation cities, depending on what you like. For the Kaderaveks, their next step was to set up a home in New Orleans, one of the most interesting cities in America and a leading center of the culinary arts. In other words, it's a perfect place for chefs-in-demand at top restaurants, and a location not far from beaches and bayous.
Of course, now that they're in New Orleans, a lot of people have asked the Kaderaveks if it might be okay to drop by for a few days.
This year, make a point to use your vacation time. It doesn't have to be an expensive venture or even involve travel to places far away, merely time that provides new experiences. Start planning now, because the world beckons.
Interested in learning about your loan options?