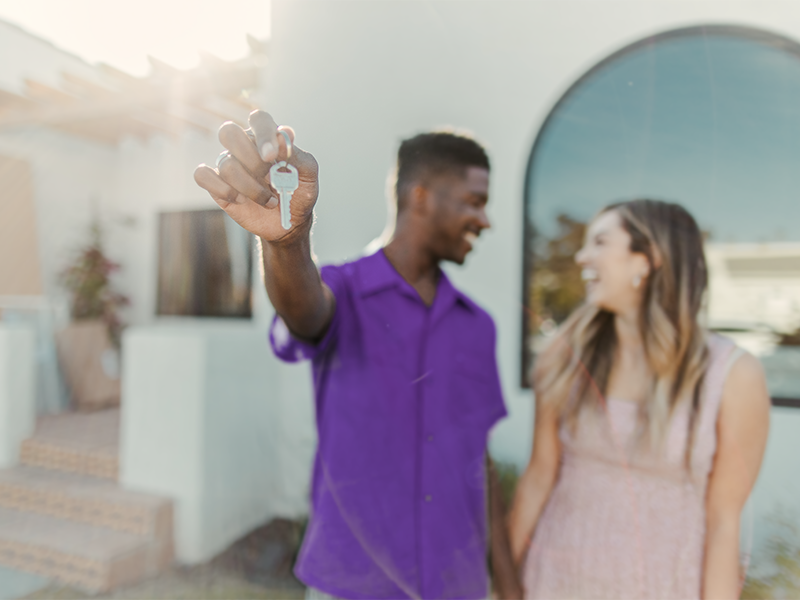 By preparing your finances and enlisting support from a team of experts, you can make finding your dream home a reality.
Homeownership is a dream for many people, but it takes a lot of hard work. These tips for first-time homebuyers can help make the process more manageable and help you focus on finding your perfect home.
1. Get Your Finances in Order
Buying a home is a major financial commitment. The most common home loan is the 30-year fixed-rate mortgage, so it's important to be financially prepared for this long-term relationship. The type of loan and lending terms determine your down payment, which can range from 3% to 25% of the purchase price of the home, depending on the loan program. You might consider establishing a monthly budget that allows you to save enough for the down payment, closing costs, insurance and other related expenses.
2. Prepare for Paperwork
There's a lot of paperwork involved in buying a home. Mortgage applications require bank statements and employment verifications. Other required documents may include homeowner association information and construction plans and permits (for new construction). You will also need to review and sign numerous documents during the application and closing process.
Consider keeping paper and electronic documents secure and easily accessible. You may want to establish a filing system to keep paperwork organized and use password-protected communication methods, rather than email. Many of your documents include your social security number and other private personal information.
3. Budget for Your Potential Mortgage
Ideally, your mortgage payment won't exceed 28% of your gross monthly income. When budgeting for your potential mortgage, consider other debts and financial obligations to determine what you can afford without stretching your limits. You may also consider other recurring expenses that come with homeownership, such as utilities, maintenance costs, homeowners insurance, repairs and property taxes. A real estate professional can help you understand these costs so you can plan ahead.
4. Find a Qualified Real Estate Agent
The partners you choose when buying your first home are vital to your homeownership journey. An experienced, professional real estate agent will help you find the right home by providing you with helpful information about neighborhoods and homes within your budget. They'll also help you understand the value of a property. With an excellent real estate agent in your corner, the entire process becomes more manageable. Services such as mellohome* can help pair you with a real estate agent who understands your needs and the housing market as a whole.
5. Distinguish Your Needs, Nice-to-Haves and Negotiables
One of the top tips for first-time homebuyers is to determine what you're looking for in a home and rank these items by order of importance. It's common to look at many homes before finding the right one. To help simplify the search, consider making a list of your needs, wants and maybes before you start looking. Organizing qualities and features into a handy checklist can make comparing properties easier, especially once you've identified your top priorities.
6. Be Diligent
With your checklist in hand and the right real estate agent by your side, you're ready to start touring homes in your price range. You may have a few homes lined up, so consider taking notes during each visit to retain important information and first impressions. Online portals often allow you to leave your agent notes to compare and follow up on easily. You may want to enter details about noticeable damage, especially to plumbing, electric systems, doors, windows, cabinets and lighting.
It's also a good idea to evaluate the neighborhood — both during the day and at night — to get a better sense of whether the home is truly a good fit.
7. Get a Home Inspection
After your offer is accepted, you'll have the opportunity to get a home inspection. While it may be tempting to waive this safeguard, it's an important step in the process. A licensed inspector will check for signs of structural damage, costly defects and malfunctioning systems. Although no home is picture-perfect, these blemishes can be negotiating points. Take your time to negotiate a fair price based on the condition of the home and the market value of comparable homes.
Your agent can help price the cost of repairs and advocate for price reductions or seller-financed repairs. If the home inspection reveals major concerns, you may be able to withdraw your offer.
8. Employ a Team of Experts
Legal paperwork may be difficult to understand, but you can hire experts to make it plain. With dozens of pages of fine print, don't be shy about asking what it all means for your financial future. Although a real estate lawyer may not be required in your state, consulting with one may help you avoid common missteps in the homebuying process. You may also want to run the numbers with a tax accountant. They can help you understand the short- and long-term effects of owning a home on your tax liabilities.
Last, a title agent is the unsung hero of the homebuying process. Your real estate agent may suggest a few for you to choose from, but the choice is yours. A title agent reviews the deed to make sure that the home is legally yours. The title agent also files documents with local governments, your state, county and city on your behalf to ensure you have legal title at the end of the homebuying process.
*AFFILIATE DISCLOSURE: This is to give notice that loanDepot.com, LLC ("loanDepot") and its affiliates have a business relationship with mellohome, a Texas and California licensed real estate broker. Accordingly, any referral to mellohome may provide loanDepot, its parent company and/or its affiliates with a financial or other benefit. YOU ARE NOT REQUIRED TO USE MELLOHOME AS A CONDITION FOR PURCHASE OF A HOME. Please click here ABA disclosure PDF Document Opening in new tabfor the full Affiliated Business Arrangement disclosure.
Acknowledgment: By clicking "CONTINUE TO MELLOHOME.COM" below, I/we acknowledge that I/we have read this disclosure form and understand that any referrals by loanDepot for the described settlement service(s) may result in loanDepot, its parent company and/or its affiliates receiving a financial or other benefit.