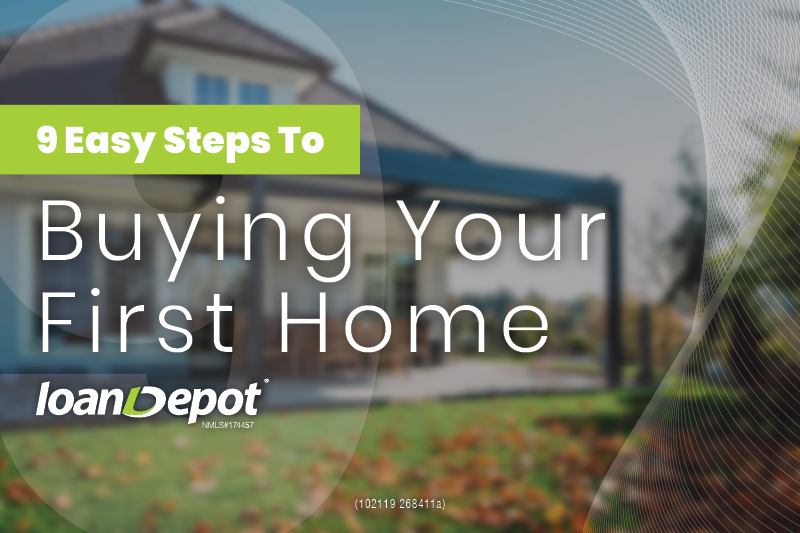 Buying your first home. It's an important step for your longterm financial future, but that doesn't mean it's difficult or challenging. But there is a process. We've broken it down into nine specific steps:
1. Know your FICO credit score
The better your FICO Credit Score, the better the interest rate you'll qualify for. Don't know your credit score? Take advantage of pulling a free annual credit report every twelve months. If your credit is less than ideal, don't fret. There are many ways to boost your credit score and get on the path to homeownership. Also keep in mind that there is a difference between your FICO Credit Score (comprised of credit reports from the three major credit bureaus - Experian, Equifax and Transunion) and the credit scores that your credit card company shares with you. Some credit cards don't use any of these bureaus. Instead, they may use credit scores that are called "equivalency scores". While they can give you an estimate of your credit score, they are not always completely accurate.
2. Set a down payment goal and target home price
Next, determine how much money you'll need for a down payment and start thinking about a target price range for your new home. In the past, homebuyers needed to put down at least 20% of the purchase price to qualify for a mortgage. Luckily today, you may be able to buy a home with as little as 3.5% down. However, keep in mind that if your down payment is less than 20%, you may be required to purchase Private Mortgage Insurance, also known as PMI.
Your Loan Consultant will be able to provide you with a maximum purchase price of homes based on your credit score, down payment amount, and other factors. Generally, it's recommended to spend 28% of your income on your living expenses. For example, if your take-home pay is $5,000 every month, you should not exceed $1,400 for housing. Check out our easy-to-use Affordability Calculator to help you determine how much house you can afford.
3. Work with professionals
Surround yourself with reputable professionals who will be there every step of the way, listening to your needs and moving you towards your goal. There are several ways to find a great real estate agent:
Visit mellohome: mellohome, a sister company of loanDepot, helps connect buyers like you with the best local real estate pros. Get connected with a vetted, top real estate professional in your area today.
Ask for referrals: Many of your friends and family have probably bought and sold their homes through real estate agents. Ask them who they would recommend.
Comparison shop: Talk to several prospective real estate agents and ask:
- How long have you worked in real estate?
- Is this your full-time job?
- How well do you know the neighborhoods I'm considering?
- How many homes have you successfully sold in the last 12 months?
Find a great loan consultant. When it comes to choosing a lender, interest rates aren't the only factor that matters. There are many important considerations, some of which include transactional speed, available product suite, credit, down payment, fees, and future refinance benefits.
4. Get pre-approved
Getting pre-approved for a loan means that you know how much money a lender is willing to give you, at what rate, and at what terms. Pre-approval involves submitting a preliminary application to a lender that will then review your credit, your income, and other factors, and tell you what loans are available. loanDepot's mello smartloan™ allows you to skip the paper-chase by digitally connecting your income, employment and assets – making it the swiftest, and most secure data verification process you'll ever experience.
A pre-approval is preliminarily approved based only upon the information we have received to date from you. All information must be verified prior to the issuance of a final loan approval. This is not an offer or commitment to lend nor does it guarantee a final loan approval. A final loan approval is subject to verification of the information you have provided and full underwriting review by loanDepot.
5. Find your new home and get ready to make an offer
Now that you know how much you can afford, you have your pre-approval letter, and you've selected a trusted realtor, you're ready to get serious with your home search. Some things to consider include:
Price
Number of bedrooms and bathrooms
Square footage
Layout
Type of home (single-family or condo, ranch or two story)
Fixer-upper (undergoing renovation) vs move-in ready home
Location (city vs suburbs)
School district
Safety
Noise
Once you have narrowed down your "non-negotiables" and found the house you want to purchase, you're ready to work with your real estate agent to prepare a written offer and present it along with earnest money to the seller. To note: Don't fall in love with the home. Often times, prospective buyers can let excitement and emotion (like getting caught up in a bidding war) take them outside their target price goal. If this happens to you, remember: There are other homes. Work with your real estate agent to determine the best course of action for you.
6. Get a home inspection
If the seller accepts your offer, and the house is taken off the market, you are officially under contract. Your offer will typically be contingent upon a successful home inspection of the property, which is designed to check for signs of structural damage or items that may need fixing. After the inspection takes place, you'll have an opportunity to review the inspector's report and decide if you want to ask the seller to make these repairs or if you would prefer to further reduce the price before closing the sale.
7. Select your loan type
Once you have agreed to a specific purchase price, you'll move forward with finalizing your home loan terms. loanDepot offers over 300 attractive mortgage products to choose from. Here are some of the most common mortgage loans you will encounter and their uses:
CONVENTIONAL
Best For: Buyers with strong credit, repeat buyers
Down Payment: 20% (could go as low as 3%)
FHA* – Most popular home loan among newbies!
Best For: First-time buyers with low credit scores
Down Payment: As low as 3.5%

*Loans are subject to credit and property approval. Other limitations apply. Rates, terms and availability of programs are subject to change without notice.

VA*
Best For: Veterans and active-duty service members
Down Payment: 0%
*Subject to VA Eligibility
RENOVATION
Best For: Buyers who choose fixer-uppers
Down Payment: As low as 3.5%
JUMBO – Loans over the conforming limit
Best For: Luxury buyer or high-cost markets
Down Payment: As low as 5%
8. Have the home appraised
The main reason you need an appraisal is to not pay more than the property is worth. Another reason is to protect the lender in the case of mortgage default. If the actual market value of the property is lower than the sales price, the lender wouldn't be able to sell the property for enough money to cover the loan. A typical appraisal will cost you anywhere between $300-$400 and the appraisal process usually taking anywhere from 3 to 10 business days. If the home's appraised value comes in lower than the agreed purchase price, you can either ask the sellers to lower the price or entirely withdraw from the purchase contract.
9. Close the sale
At closing, you will sign all the paperwork required to complete the purchase, including your loan documents. Using loanDepot's digital mortgage, you may be able to review and eSign your documents prior to closing, reducing the time spent at the closing table. Once the funds are delivered to the seller, their mortgage will be paid off (if they have one), and the title will transfer over to you. At that point, you'll be able to move into your new home.