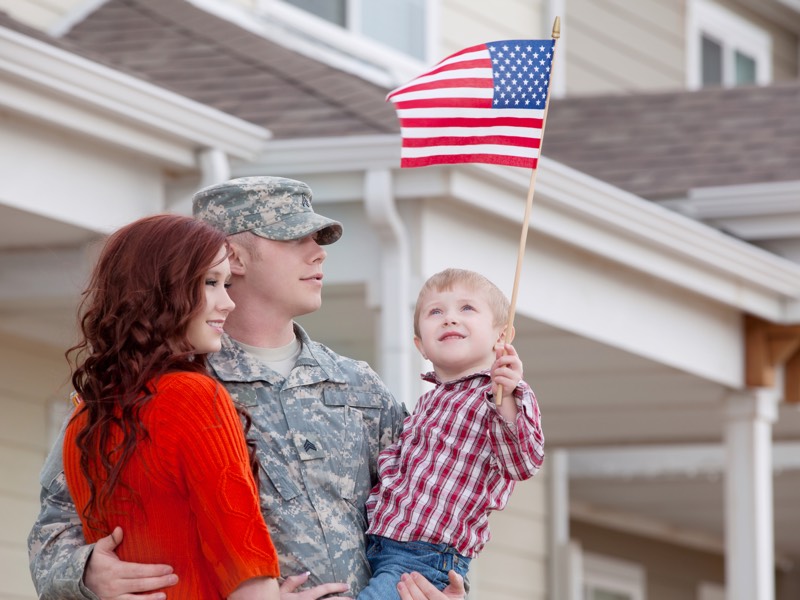 If you're a veteran, active military member or reservist, you've likely heard about all the benefits offered with VA home loans.
Since 1944, some 22 million vets have taken advantage of the powerful U.S. program enabling affordable low-interest mortgages that require no down payments, no mortgage insurance payments and no prepayment penalties. Last year alone, the federal government issued 705,474 VA-guaranteed home loans adding up to some $179 billion – a 12 percent increase over 2015, representing the biggest year ever.
"We have definitely reached that tipping point where veterans know we are no longer 'My father's VA,'" Mike Frueh, chief of staff of the Veterans Benefits Administration, told the Huffington Post last year. "The pace of changes … in our program has increased dramatically the past few years. We are agile, we are responsive and we are definitely meeting their needs."
When considering such a mortgage, however, you'll want to confirm the amount of "entitlement" that applies to you – in other words, the percentage of your loan the VA will repay if you must default. That's important, since it will determine the maximum loan you can secure for buying your house. The key numbers to find are your basic and bonus VA entitlements; the former can be found through the Veterans Information Portal and the latter through your loan officer.
In general, VA loan institutions can finance vets or soldiers with mortgages at four times their entitlement amounts. Fortuitously, all first-time users of VA home loan benefits start with enough combined entitlement ($104,250) to purchase a house via a mortgage ranging from $144,000 to $417,000. However, the maximum is higher in high-cost counties including some in California, New York and New Jersey. That same guarantee allows military borrowers to refinance mortgages even when they lack home equity. That said, all borrowers must still meet the income, credit and other requirements established by the lending institution to which they're applying.
Need more specifics? Here's what else you should know:
Half-civilian couple? No worries
Vets may secure loans based on their full entitlements if they're buying a loan by themselves or with a non-veteran spouse.

Buying with a buddy? A little muddy
Vets seeking to buy a home with another person who's not their spouse can only secure a VA home loan based on half their entitlement amount. If a vet is buying with another (non-spouse) vet, a down payment may be required.

Benefits don't double
Two vets taking out a mortgage together can each use only half their total entitlements, combining them so that the maximum mortgage will likely be $417,000. However, each can use the other half of their entitlement to buy another property.

Fund, pay, repeat
After paying off a loan, a veteran can use his entitlement to buy another property once again.

---
"The VA loan program's 22 millionth loan guarantee comes during a period of tremendous growth, not to mention tremendous promise," wrote Chris Birk in the Huffington Post. "Market share for this program once hung in the low single digits. Today, VA loans account for about 10 percent of the mortgage market, and the VA expects loan volume to increase 36 percent over the next five years alone."
Interested in reaping the benefits of a VA mortgage? loanDepot can walk you through the home buying process so you can move forward with the next phase of your life. Call us at today to learn more.