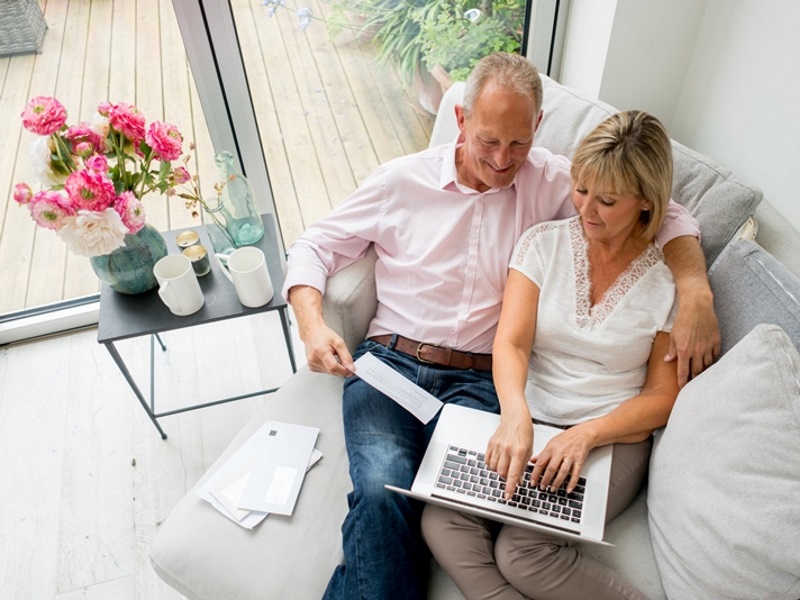 If you think buying a home is years out of reach because a bankruptcy has jeopardized your chance of a home loan, think again. Depending on your type of bankruptcy filing, your credit scores, and your on-time payment history after the bankruptcy, you could qualify for a home in as little as two years – even while you're in bankruptcy.
For more detailed information regarding home-purchase loans, contact a loanDepot licensed lending officer today for more information.
The chapter matters
While a bankruptcy will remain on your credit report for 10 years after it's discharged, it will likely have less impact on your potential credit needs after about four years. And, given that fewer Americans are filing for bankruptcy, banks have less to worry about with regard to borrowers falling behind in their home loan payments. In fact, since the real estate downturn, bankruptcies have fallen steadily, from a peak of 1.5 million in 2010, to just over 770,000 in 2016, according to the American Bankruptcy Institute, a research group based in Alexandria, Virginia.
Typically, Americans file for either Chapter 7 or Chapter 13 bankruptcy. A Chapter 7 bankruptcy wipes out most unsecured debts, known as a "discharge," but it also results in the appointment of a trustee to sell most or all of your assets. A Chapter 13 bankruptcy (known typically as a "reorganization bankruptcy") requires that you work out a repayment plan with your debtors; however, you're allowed to keep your assets.
Qualify for FHA in as little as two years
Still, even if you're in bankruptcy, you can actually apply for some home loan programs. For example, you can qualify for an FHA loan while in Chapter 13 – as long as your trustee gives approval and you can demonstrate that you've been making payments on time for a period of at least 12 months. Otherwise, with a Chapter 13 filing, you can get an FHA loan after two years from discharge (and four years from dismissal, which means that you've failed to keep up with payments as worked out by the bankruptcy court). A VA loan can be obtained two years after bankruptcy discharge, while a USDA loan requires three years to pass after debts are discharged.
A Fannie Mae- or Freddie Mac-guaranteed conforming loan, which both offer the best interest rates, can be obtained only after a four-year "seasoning" period after a Chapter 7 or Chapter 11 bankruptcy. And, the borrower needs to have reestablished good credit. For Chapter 13, there's a two-year waiting period after the discharge – or four years after a dismissal on a Fannie Mae and Freddie Mac-backed loan.
For the most part, loan officers won't deal with you any differently if you have a bankruptcy. A lender will still run your credit report, ask to see income statements, establish the kind of bankruptcy you filed, and verify your discharge or dismissal status. At that point, a lender will be able to determine what kind of loan for which you can qualify.
Start building back credit immediately
Of course, with any bankruptcy, expect your credit scores to take a hit. Sometimes, however, it's not as bad as you might expect. Even if you drop into the low 500s, you can still obtain an FHA loan (which does carry a mortgage insurance premium for the life of the loan) even with credit scores that low. That's likely because even before you declared bankruptcy, your credit had already taken a hit from late payments, so the bankruptcy filing typically only accounts for half the overall decline in your scores.
Ensuring that all discharged debts appear on your petition – and on final discharge documents – is the most important task that you and your lender need to attend to. In some cases, accounts that have been discharged by the court may incorrectly show on your credit report as "past due" or "in collection." Make sure your lender knows your status and obtains a corrected credit supplement.
Once out of bankruptcy, be realistic about how long it will take to get a home loan. While there are programs that allow for loans literally days after your discharge, expect to pay a lot more for a loan when it comes to interest rates, as well as for private mortgage insurance or a mortgage insurance premium.
A licensed lending officer from loanDepot can help you navigate your way through your bankruptcy issues and toward a home-purchase loan. Call for more information today.
Published July 21, 2017
RELATED TOPICS
How an HOA can affect your home loan
8 questions to ask before you make an offer
How to buy the farm – literally
Why Boomers are the new equity kings