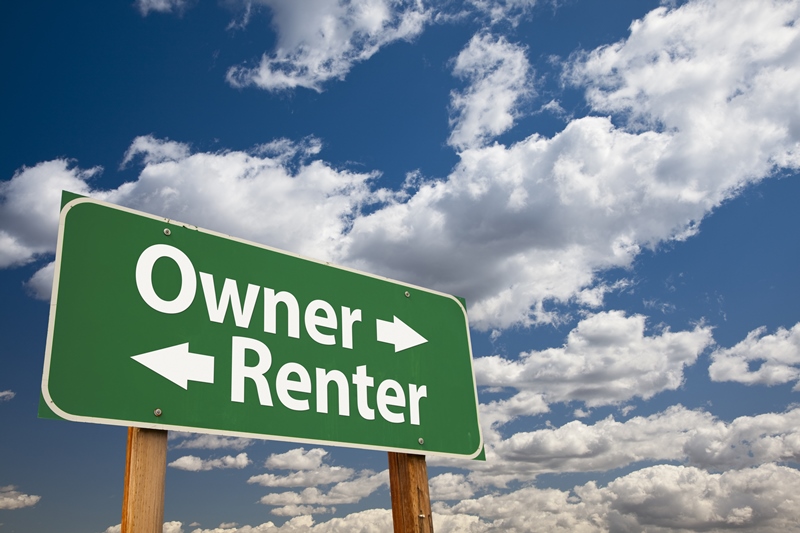 The rental market has been skyrocketing over the past two years, with rents in October 2015 4.5 percent higher nationally than they were a year before. In September, they were up 5.3 percent from 2014. According to experts, they aren't expected to abate any time soon. In fact, Rent.com projects they could rise by 8 percent in 2016. The increases might slow but because the supply of multifamily housing hasn't kept up with demand, landlords still have a solid upper hand on their renting tenants. Currently, the vacancy rate is at the lowest it's been in 20 years, which means almost no bargaining leverage for renters.
The current national average for rent on a two-bedroom apartment is $1,230, with that number going as high as $3,925 in San Francisco in December 2015.
The purchase market, however, has tremendous benefits. Interest rates are still extremely low (but will likely start inching up this year) and prices are going up. Those who are in the rental market may feel like they're locked in a Catch-22 ─ rents are so high they want to buy, but because so much of their budget is going toward rent, they can't save for a down payment. Even though it is a very beneficial time to get into the housing market.
However, many people don't realize that you can actually get into a home for much less than is generally assumed. For instance, an FHA loan only requires 3.5 percent down and this program is available in all U.S. markets.
For these and other questions regarding a home-purchase loan, speak to a loanDepot licensed loan officer today.
The primary hesitancy that potential buyers seem to have with not using a 'conventional' (20-percent down) loan is the additional expense of PMI or private mortgage insurance. PMI helps protect the lender covering a loan that is for upwards of 80 to 95 percent loan to value. PMI gets a bad rap, but it can be a beneficial tool. It allows aspiring homeowners get in a home NOW (while the rates are low and before prices go any higher) instead of paying exorbitant rents while attempting to save tens of thousands of dollars for a down payment. In fact, even with PMI, your house payment might very well be less than or comparable to what you are paying in rent ─ and you're building equity.
Consider these two hypothetical scenarios:
Renter A decides to continue to rent and save for a 20-percent down payment, but rents are increasing at 8 percent a year, so rent puts more of a strain on his monthly budget over the course of the year, not less. The national median existing-home price for all of 2015 is about $224,100, according to the latest report by the National Association of Realtors. Twenty percent of $224,100 is $44,820, so even if Renter A was able to save an ambitious $600 a month (which is a LOT considering the cost of living and rental costs), it would take him about seven and a half years to save for down payment – and you can be more than a little certain housing prices won't be the same in seven and half years as they are today.
Renter B opts to put down 3.5 percent on an FHA-backed loan. For a $224,100 house, that would be $7,843. If she can save the same $600 a month as Renter A, she'd have $7,200 in 12 months. And if she can manage to eke out another couple of thousand through tax returns, gifts, bonuses or utilizing her good credit, she would have her down payment with a little extra for incidentals and closing costs. She can be in a house in a year or year and a half. And according to a loanDepot mortgage calculator, if she finances $216,257 ($224,100 minus $7,843 down), her monthly payment could be as low as $1,096 for a 30-year mortgage at 4.5 percent.
Doesn't that sound more amenable than seven long years of sacrifice and then entering into a market that will likely bear no resemblance to the one in existence when you started saving?
These numbers are rough estimates, of course, to illustrate a comparison. Your own rate will depend on several factors, including credit score, the housing market where you're planning to buy, adjustable- or fixed-rate mortgages, etc. And you will need to calculate the cost of impounds, PMI, homeowners associations, etc.
Moreover, at the rate in which most markets appreciate historically, you can refinance your mortgage when you've reached the 80-percent loan-to-value threshold, which can be as soon as four years barring any severe market downturns. Renter A would still only be half way to his down-payment saving goals at that point.
Consider the possibilities. You can be a homeowner much sooner than you think.
Published January 25, 2016
RELATED TOPICS
December home sales surge to close out 2015
Strategies to save for a down payment on a home
5 homes you can buy with the $1.5 billion Powerball jackpot
5 factors that affect home prices
New mortgage documents: What are they?