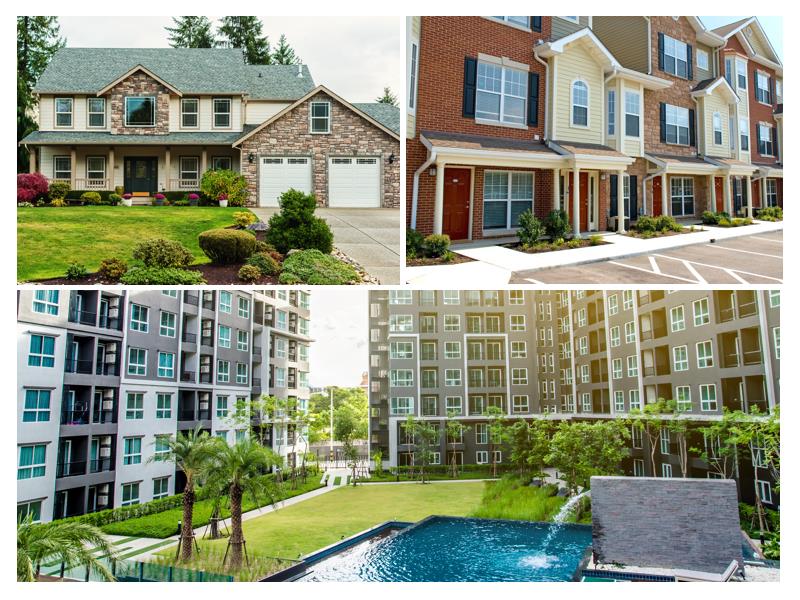 Whether you've decided to buy your first home, want to downsize, or need to relocate, your options aren't limited to only a traditional single-family house. Although "houses" have traditionally been and still are great options appealing to many homebuyers, town homes and condos are becoming increasingly popular choices.
Here at loanDepot, we can set you up with a home-purchase loan for any of these choices. If you are thinking about buying, call one of our Licensed Lending Officers at today.
Meanwhile, what should you know to choose smartly from all three options: condo, town home, and standalone house? Discover how they differ.
HOAs
Homeowners' associations: you either love them, or you want to avoid them at all costs. Even those who recognize their benefits often still struggle with volumes of rules and bylaws and over-zealous board members. However, they are a reality those who decide to opt for a condo, town home, or gated community will have to accept. You'll need to pay HOA dues and abide by the rules of the governing HOA and in some higher-priced regions, these fees can be upwards of $400 to even $700 a month.
If you buy a single-family or standalone house, you may not have an HOA at all. If you do, your HOA probably won't be as extensive in terms or expensive as those found in a condo community or town home HOA would be. HOA dues for standalone house communities typically pay for any common areas, such as a pool or clubhouse, and the association usually requires residents to maintain their property.
Your HOA dues, when you own a condo, typically go toward maintaining everything outside the walls, and dues generally pay for services such as trash pickup and snow removal. Condo dues are, therefore, usually the most extensive of all three housing types.
Town homes are more of a blend between owning a standalone house and a condo. Although with a town home you share a wall or two, you own the roof and land, which you are often responsible for maintaining, depending on the regulations of your town home community.
Who owns what?
When you buy a house, you typically also acquire the front and back yards, and the property where the house is situated. With a town home, owners usually own the land on which the town home sits, but there's generally not an extensive adjacent yard. Technically, you own the land that is the building's footprint. A condo usually resembles an apartment more than it does a house or town home. Usually there is no land is associated with a condo – though you might have a small deck or balcony – and all owners in the condominium association share in owning the exterior.
Privacy and freedom
There's no beating a standalone house if privacy, freedom to do with the property what you want, and having private outdoor space for children and pets are your top priorities. Note that if you are in an HOA community, you typically need to get permission to make additions or improvements that modify the existing plans.
Town homes share one wall or two with neighbors, depending on whether the town home is an end unit. Town homes are usually two, three, or four levels. You're closer to neighbors, so town homes don't provide as much privacy as standalone homes. If your town home includes a yard, you could grow a garden and have a place for a pet to enjoy.
Condos are typically in a building with the unit on one floor. You're likely to have neighbors all around you: on either side and above or below you. You may not be able to have a pet in a condo, depending on the association rules. If you enjoy the perks of apartment living, such as minimal responsibility for repairs and maintenance, but want to own a home, a condo could still be a good solution for your needs.
Repair obligations
Owning a standalone house, paying minimal – if any – HOA dues, and enjoying a big backyard come with a price: you're responsible for all repairs and maintenance with a house from mowing the lawn to replacing the roof when it's time. If you know what is involved with maintenance and repairs and have the time to take care of this yourself (or the funds to hire people), a single-family or standalone home might be right for you. If you don't want the responsibility of caring for a house, or if you travel a lot, a town home or condo might be a better choice.
Location
If you want to be near urban areas or neighborhoods with amenities, such as shopping, restaurants, a business district, train station and public transport, or medical complexes, you'll find more affordable options in town home or condo communities. A single-family house with a private backyard usually requires some commute time from you to your destinations. You'll need to rely on a car to get you most places when you buy a standalone house.
When you're ready to explore which housing option is best for you, speak with a loanDepot Licensed Lending Officer to get pre-approved for a home loan and get ready to find that perfect place.
Published Oct. 31, 2017
RELATED TOPICS
Makes sure you know the benefits of VA loans
Buying a short sale or foreclosure – what should you know?
What's next for empty nesters
Trim trees to safeguard your property – and wallet