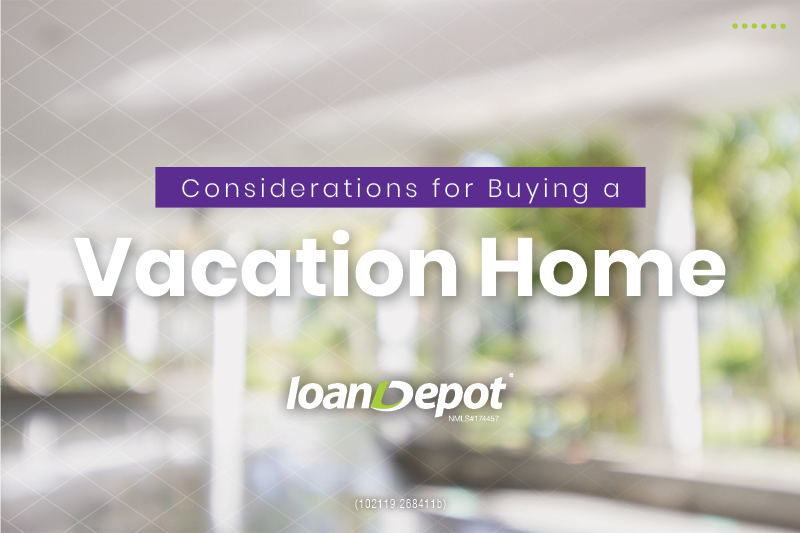 Whether you're dreaming of a owning a vacation home near the beach, in the mountains or anywhere in between, buying a vacation property can have both personal and financial benefits. According to the 2018 Hostfully Market Study, there are 9 million second homes in the U.S. with nearly a quarter of them professionally managed and used as rentals.
If you're in the market for a second home, here are some important factors to consider:
Will it be a rental
One of the most important aspects that will drive your purchase decision is knowing whether you want to rent it out or use it solely for your own. If you're not planning to rent it out, you'll want to make sure to visit enough to make your purchase worthwhile. Pick a place you love and want to return often, and don't leave the home sitting empty for long periods of time. Finally, consider if the home is located somewhere that you may want to retire to.
Location
Make sure that the property is located in a place that people want to go, or in an area that's highly sought after. Additionally, you'll want to ensure that the property can withstand any economic downturns. Consider how close it is to shopping, restaurants, nearby attractions and transportation, as well. Some of these considerations will vary based on the type of property you're considering. For example, if you're looking to buy a condo in a popular skiing location, you'll want to find one that has easy access to the ski lodges. Similarly, if you're buying near the beach, you'll want to find a property that has easy parking and/or beach access.
Amenities
Properties that feature a pool, hot tub, wood-burning fireplace, and quality appliances will boost a home's desirability. Also, consider whether or not the property has room for future additions or other modifications.
Maintenance and Rental Costs
Aside from the purchase price of the home, you will also be responsible for association fees, property taxes, insurance and costs of furnishing the home. If being a landlord is part of your plan, you may have to consider potentially hiring an agency to manage and assist with bookings. If you have the time, you could do it yourself via services such as Airbnb or VRBO. Lastly, if you do go the rental route, don't forget to account for the fees of a reliable cleaning service.
Rules
Keep in mind that not all homes can be used as a vacation rental. Do your due diligence when it comes to rules for rentals set by homeowners' associations. It's especially important to research all these rules before you buy.
Financing Options
According to the National Association of Realtors, 39% of vacation home buyers paid all cash for their property in 2018. If you recently paid off your first home, you may be able to utilize its equity for your second home. If you require financing, a loanDepot's Loan Consultants can help you explore a variety of mortgage options based on your resources and specific investment goals.
Tax Implications
Depending on how you intend to use your holiday home, it's important to speak with your tax advisor to determine tax implications for this investment. If you turn it into a rental, you will be required to pay taxes if you use it for more than 14 days in a year or more than 10 percent of the days it's rented.
Whatever your objective, a loanDepot Loan Consultant can help you answer any mortgage-related questions about purchasing your dream holiday home.
loanDepot.com, LLC does not provide legal, investment, accounting or tax advice, please consult a licensed attorney, financial planner, CPA or tax professional on these 'tips' and any information or opinions contained herein.