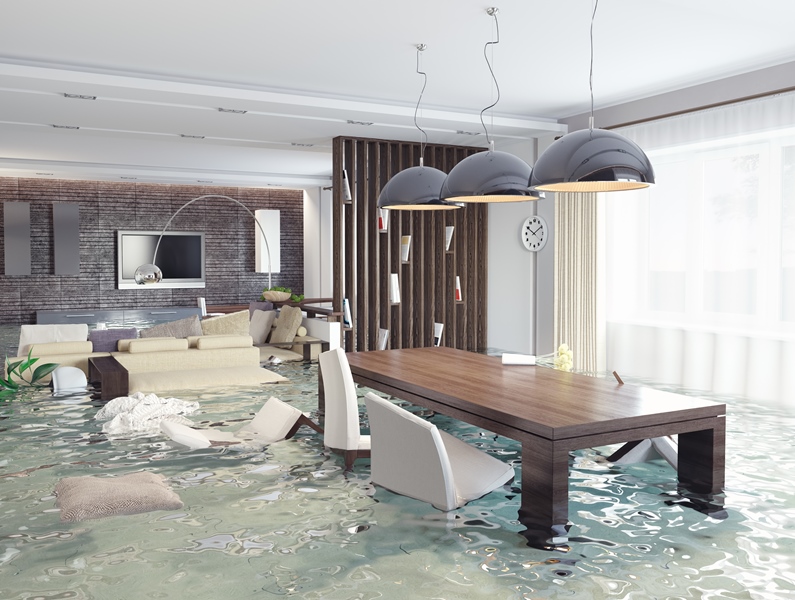 With the devastating wildfires in California and an extremely destructive hurricane season in the mid-Atlantic, many homeowners throughout the U.S. are wondering, "What about me?" There are few places in the country that are immune to natural disasters, whether it's blizzard, ice storm, flood, earthquake, hurricane or fire. Though it can be uncomfortable, it is necessary for every homeowner to honestly assess what his or her policy covers and take steps to inventory the valuable items in their homes.
If you're in the process of purchasing a home or considering buying, be sure to discuss the risks of your region with a loanDepot Licensed Lending Officer and ensure you're insured accordingly. Call today for more information.
In the meantime, here are some important elements you need to know ahead of time so you're prepared when you need to make a claim:
Are you covered for 'replacement cost' or just 'actual cash value'?
As a homeowner, it's critical to know the difference between insurance policies that provide for "replacement cost" or only the "actual cash value" of your home's construction and contents. An insurance policy that gives you the "replacement cost" of an item will cover the value of the item as if you bought it new today, where most policies will cover only "actual cash value," i.e. the value of the home as it is today minus depreciation.
This is critical as it will cost you more in premiums to replace a home with like-for-like features, especially if you have custom or one-of-a-kind elements, such as real Venetian plaster, or custom tile-work not easily found in a big-box home improvement store. You may have to specially insure those elements with a separate rider. Moreover, even with policies that cover "replacement cost" when you do make a claim and complete a repair, your insurance company may just give you enough for the "actual cash value" of the repair, and require receipts for the rest to reimburse you.
Do you know what a 'Basic' 'Broad' and 'Special' home insurance policy cover?
A good rule to remember is that if the risk in the policy isn't spelled out, it isn't covered. Most homeowners know already that their homeowners' policy doesn't cover floods, and has to be purchased separately through the National Flood Insurance Program.
But what they probably don't know is that their "Basic Form" home insurance policy may not cover all water damage. For example, while your coverage for fire (which historically accounts for one of four insurance claims and typically tops $45,000 in damages, according to the Insurance Information Institute) includes water damage that may be caused by the water used by firefighters to extinguish the fire (as well as activated sprinkler heads to contain the fire), a burst pipe from freezing or an activated sprinkler head caused by your kids bouncing a ball against the ceiling may not be covered under a basic policy!
In fact, nearly half of damage claims in 2015 (45%) came from water damage and freezing, according to the Insurance Information Institute, with an average claim of nearly $8,900 in damages.
A "Broad Form" policy includes those accidental scenarios. Make sure your insurance covers those types of losses especially if you live in a cold weather climate where pipes can freeze, or you have a home with sprinklers (which should also earn you a break on premiums as a result). In addition, if you live in earthquake or hurricane country, you'll probably also need a "Special Form" of insurance coverage for that risk. In fact, some lenders won't write a mortgage unless there is proof of insurance, such as for a beach home.
If I have a claim, how do I get paid?
Before you make a claim, check with your insurance company and your bank to find out how much money will be awarded to you for immediate repairs and loss of personal possessions. Many people are unaware that the first checks the insurance companies hand out in a disaster is meant only for replacement of personal items and emergency repairs on your house to make it livable again (i.e. storm damage restoration, tarping over a damaged roof or replacing windows).
When it comes time to rebuild, your bank, depending on the servicer and the amount of damage and cost involved, could require examination of plans and contractor estimates before they agree to sign off on the claim and release the money. That can occur in several ways, including having a co-signature from the bank in addition to the homeowner, or escrowing the funds until the repairs are complete and inspected.
It's a good idea to know if your insurer and bank will require a co-signing or an escrow of the repair accounts if the repair is over a certain amount (Usually $10,000 or more). Most contractors who work with insurance companies on natural disaster repairs know that banks require such a co-signing and are usually willing to work with homeowners when it comes to getting payment for the repairs, but it's important to know before you need to make a claim.
It's important to examine all aspects of homeownership before taking the plunge. A loanDepot Licensed Lending Officer can provide guidance throughout the process. Call now for more information.
Published Dec. 7, 2017
RELATED TOPICS
loanDepot is here to help: steps to disaster recovery
What you need to know about flood insurance
Fannie and Freddie maximum conforming loan limits increase for 2018
Know your rights as a borrower