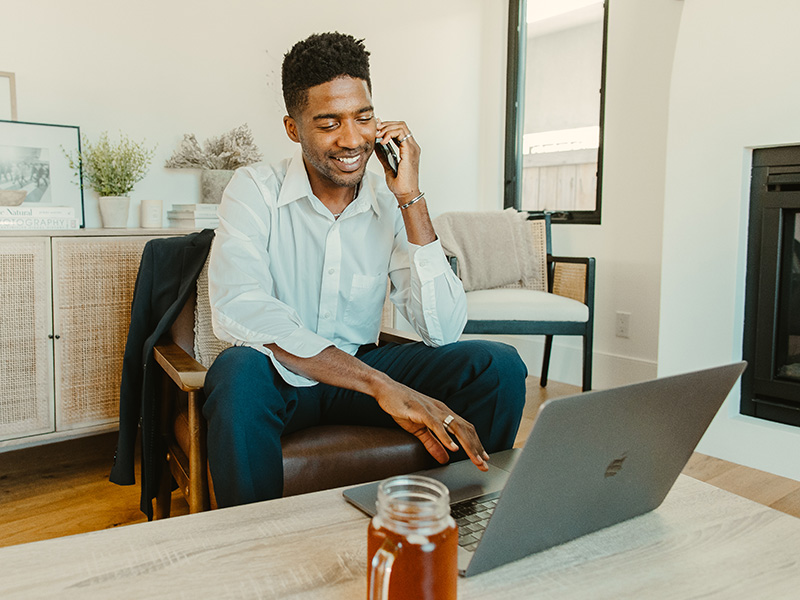 Down payment assistance programs can help your family become owners instead of renters
If you're looking to buy your first home, the down payment may feel like your biggest obstacle. But there is good news. First, you don't need 20% down to buy a home. In fact, the average down payment for first-time buyers has ranged from 6% to 7% since 2018. And second, as a first-time buyer, you may qualify for a down payment assistance program, or DPA.
Clearing the Down Payment Hurdle
Down payment assistance programs are designed to boost homeownership by providing money for down payments (and sometimes closing costs). There are over 2,000 DPA programs in the U.S., and they can take several forms. These include:
Grants or gifts that you don't have to repay
Low- or no-interest loans, which you repay along with your mortgage
Deferred loans, which require no payments until you move, sell or refinance
Forgivable loans, which don't need to be repaid unless you sell, move or refinance before a designated cutoff point
Individual development accounts (IDAs), in which the sponsor matches your down payment savings
Grants
Grants are the most desirable DPA because you don't need to repay them and there are no strings once you comply with their requirements. Note that some plans call themselves grants when they're actually forgivable loans. That's OK as long as you understand and can handle the terms.
Loans
No- or low-interest loans reduce the time you need to save for a down payment and help you qualify for financing. However, financing your down payment does increase your monthly cost, so you'll want to make sure you can afford it.
Deferred Loans
Deferred loans require no payments and usually no interest. However, you do need to repay them when you move, sell or refinance your home. Most borrowers use the proceeds of the home sale or refinance loan to make payments.
Forgivable Loans
Forgivable loans require no interest and no payments if you stay in the home for the required amount of time — typically five years, but up to 20.
IDAs
Individual Development Accounts (IDA), also known as matched savings accounts, are often integrated into homeownership plans for low-income buyers. Participants deposit money into an account with a bank, government agency or community organization. The institution matches any deposits the buyer makes into the program, up to a maximum amount. Buyers use the total amount saved for their down payments.
It's important to understand your DPA before committing to anything. Some DPA programs cover closing costs as well as down payments. If you're dealing with a forgivable or deferred loan, it may be helpful to know what triggers a repayment requirement — especially if you plan to refinance when mortgage rates drop in the future.
How Much Can You Get With Down Payment Assistance?
Most DPA programs are administered by states and counties, and the amount available depends on local housing prices and resources. Seattle buyers, for instance, can get a forgivable loan of up to $55,000, and New York City buyers can get as much as $100,000.
Who Is Eligible for DPA?
Many people who qualify for DPA have no idea they do. According to the 2018 Barriers to Accessing Homeownership report by the Urban Institute, only 23% of consumers knew these programs existed. While many DPA plans target first-time buyers with modest incomes, some also cover repeat buyers. In addition, most programs define a "first-time buyer" as a person who has not owned a home in the last three years, so even if you've owned property before, you might still qualify.
One national program run by the Department of Housing and Urban Development (HUD), Good Neighbor Next Door, provides forgivable loans of up to 50% of the property value for teachers, firefighters, EMTs and police officers who buy in revitalization areas and stay in their homes for at least three years.
Here are the general rules for most DPA programs:
Low-to-moderate income. Assistance programs generally max out at a certain percentage of the median income in your area for your household size. You can find the median household income for your area and family size with an online income calculator.
Homebuyer education. Many programs expect participants to complete a homebuyer education class to improve their chances of successful homeownership.
First-time homebuyer (not owning a home in the last three years) or buying in a targeted area. "Targeted areas" often refer to blighted areas that local governments are trying to turn around. Since homeowners are often more involved with and may take better care of their neighborhoods than renters, encouraging homeownership in these areas is a form of community investment.
Primary residence. Nearly all programs require the buyer to live in the home as a primary residence. Most programs are not interested in helping people fund vacation homes or buy rental properties. However, some programs target investors who invest in blighted areas or provide low-income housing.
Sales price. DPA programs aren't for million-dollar mansions. Most programs base home price maximums on the median housing cost in the area, so limits can range widely depending on where you live.
Minimum credit scores. Down payment assistance is not a subprime program. DPA programs want buyers who are likely to be successful and not end up in foreclosure. Minimum score requirements may range from 620 to 680.
The best way to determine your eligibility for specific programs and assistance amounts is to apply.
Where To Find Down Payment Assistance
Aside from HUD's Good Neighbor Next Door program, there are only a few national DPAs. Most are statewide or run at a city or county level. An easy way to check for programs is to simply ask your loan officer. Local lenders should be well-versed in applicable grants and loans and understand which ones they accept. They can help connect you with programs that make sense for you.
On your own, you can also search online for "down payment assistance grants in [state, county or city]." This will help you find local current programs. You can also research HUD's local assistance page by finding your state and clicking the links to homeownership programs. You may also check with your employer since some offer assistance to their employees.
What Mortgage Programs Can You Use With DPA?
Not all programs or lenders work with down payment assistance programs, and DPA programs only work with approved lenders. Here are a few popular programs that allow a wide variety of down payment assistance:
FHA loans (backed by the Federal Housing Administration) have a minimum down payment of 3.5%, and all of it can be a grant or gift.
VA loans (backed by the Department of Veterans Affairs) have no down payment requirement and are available only to eligible service members, veterans and their families. You may qualify for closing cost assistance or use DPA to decrease your loan amount.
USDA loans (backed by the U.S. Department of Agriculture) do not require a down payment and have strict property and income guidelines. You may apply for closing cost assistance or use DPA to decrease your loan amount.
Other portfolio or niche loans may also be approved for DPA. You can ask your loan officer for details on these opportunities.
How To Apply for Down Payment Assistance
Different programs have their own guidelines, requirements and timetables. Here are a few things to keep in mind:
Many programs require you to complete homebuyer education before you're eligible. HUD-certified classes cover eight hours of instruction. You may be able to complete it in one day, over a series of shorter classes or at your own pace online.
Programs can run out of money, so you may have to wait until funds become available.
Down payment assistance can increase the time it takes to close on a home. That can make buying challenging in competitive markets.
You may have to work with an approved loan officer and/or real estate agent.
You may have to buy within a specific area.
Your best bet is to research programs well before shopping for a home and apply as early as possible. With many programs, you'll apply through the lender, and you'll need a lot of the same information and documents required for a standard mortgage application.
How Long Does It Take To Get Down Payment Assistance?
The answer to this question depends on several factors:
Is there money available?
Do you have to complete a homebuying course?
When can you apply? Some programs won't let you apply before you have an accepted offer on a home.
What's the lender's processing time? Many programs process the DPA and mortgage application at the same time.
Typical programs state that their processing time is 30 days once you have your homebuyer education completion certificate. You might consider getting estimates for timing so you have a clear idea before you make an offer on a home. When you lock in your mortgage rate also matters. Consider avoiding shopping for a home until your assistance is approved and you can commit to closing on time.
Many mortgage programs allow for down payments as low as 5% or less. But if you could benefit from additional help, consider DPA and experience the joy of finally owning the roof over your head.