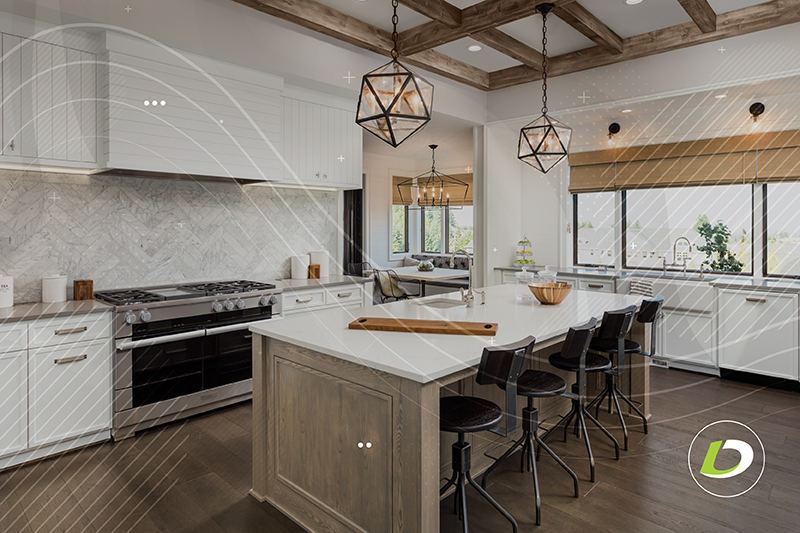 When you're ready to buy a house, odds are you'll experience intense competition, especially for a starter home. The availability of starter homes has decreased a whopping 48.6 percent during the past six years. But there is an easier way to land a home. Have you considered houses that need work, commonly called fixer-uppers? If not, you might want to. Although starter home inventory is down, fixer home inventory has increased 8.3 percent from six years ago.
While move-in ready starter homes can be especially tough to get these days, many fixer-uppers languish on the market as homebuyers pass them by. Older homes in need of repair might not have been on your radar. That's understandable—houses can be expensive to fix up. What if you buy a fixer-upper and then find that you don't have the funds to complete the projects you need or want done?
If you're interested in buying a fixer-upper but aren't sure how to finance the work involved, talk with a Licensed Lending Officer at loanDepot about a Fannie Mae HomeStyle® Renovation loan or our FHA 203k loan.
The need
When you're ready to buy a house, you need to have some money saved for a down payment and closing costs. For many people, there is no money left in the budget for home renovations too. That means perfectly good homes, often in great neighborhoods but that might be older and in need of repair, are off the table.
Your typical options, if you don't have the money, aren't great. You can wait to save up enough cash to pay for the renovations, but the home you picked will probably be long gone by then. You can possibly fund the renovation or repair work through a credit card or personal loan, but you will probably pay a high interest rate to do that. You might be able to get a second mortgage, but you might not qualify right away, meaning you'd need to wait a while to start the renovation work.
About the Fannie Mae HomeStyle® Renovation loan
A loan product you might not have heard about lets you roll the cost of home improvements and repairs into your mortgage. The Fannie Mae HomeStyle® Renovation loan lets you borrow enough money to buy a fixer house and turn it into the home of your dreams by making renovations and repairs.
You won't need to get a second mortgage or use high-interest financing to accomplish that. You simply roll the renovation and repair costs into the mortgage, and you make one mortgage payment to cover it all. So you're actually borrowing money on the value of what the home will be, not on its current value.
Is this loan right for you?
If you're in the market for a starter-priced home and aren't having luck buying one, you might be ready to consider a home that needs renovations and repairs. If this market is new to you, it might help if you can envision the potential of some of the broken down and ugly homes you might see.
You should also prepare yourself for either living in a construction zone for a while or waiting a few months to move in. But, if being a homeowner is your goal, the process should be worth it once you end up with a house that includes all your personal touches. If that sounds good to you, the HomeStyle® loan might be the right choice.
Besides using the HomeStyle® loan to finance renovations and repairs for a one- to four-unit primary residence, you can also use this loan for a one-unit second home, a one-unit investment property, a manufactured home, or a unit in an eligible condo, co-op, or planned unit development (PUD).
Note that you would need to abide by any homeowner's association rules when making renovations. In the case of a condo or co-op, all work must be confined to indoors.
Eligibility requirements
The HomeStyle® loan product is a conventional loan. And like most conventional loans (as opposed to FHA loans, for example) you typically need a good credit score—a minimum of 620 in this case, proof of income, and a low debt-to-income ratio to qualify, generally no higher than 43 percent.
You can, with a HomeStyle® loan, get a maximum loan-to-value (LTV) ratio of 97 percent on a fixed-rate loan for a one-unit primary home (a single-family home). For a two-unit primary home, you can get up to 85 percent LTV and 75 percent LTV for a three- or four-unit primary home. For a second home, you can get up to 90 percent LTV.
You still need to come up with a down payment to buy a house with the HomeStyle® loan, and this number is based on the projected value of the home. So if you get the maximum 97 percent loan, you would need to put down 3 percent of the projected home's value after renovations and repairs have been completed.
You must have your renovations approved in advance to qualify for a HomeStyle® loan. This includes having a lender-approved contractor in place with plans drawn up to show your lender. To be approved, general contractors must be licensed or registered. There is also a "do-it-yourself" option for one-unit properties if the finished work represents no more than 10 percent of the completed value of the property.
Your renovation costs can be no more than 75 percent of the sum of the purchase price plus renovation costs or the completed appraised value of the home, whichever is less.
You cannot tear down an existing home and rebuild, meaning you cannot remove the entire shell down to the foundation, and you cannot construct another separate dwelling on the property. You can, however, renovate and make additions to an existing home with the HomeStyle® loan.
Benefits of the HomeStyle® loan
You can make any type of renovation to the home you like as long as the project is attached to the house. You can make additions to the house like a sunroom, a guest suite, or a second bathroom, for example, but you can't build a whole separate dwelling on the property.
You can also use the HomeStyle® loan for a refinance. The benefit is you get to determine the property's value as being the completed value after the renovation instead of what the home would appraise for before the renovation.
You can choose between a fixed-rate mortgage or an adjustable-rate mortgage (ARM) with a HomeStyle® loan.
Opportunities of the HomeStyle® loan
The HomeStyle® Renovation loan makes it possible for you to buy and fix a home with one loan, ideal for people who don't have the cash to pay for renovations and repairs.
You can even buy a home that isn't habitable with the HomeStyle® Renovation loan. This is possible since you can borrow up to six months of mortgage payments, including interest, tax, and insurance, allowing you to live elsewhere while you work on the home.
The HomeStyle® loan opens a whole new marketplace of homes to choose from, allowing you to escape the crowds vying for move-in ready starter homes.
How to apply
If you're interested in buying a less-than-perfect home that you can renovate into the home of your dreams, consider applying for a HomeStyle® Renovation loan through loanDepot. One of our Licensed Lending Officers would be happy to go over this product with you and answer any questions you may have. Allow one of our licensed lending officers to guide you through the process of funding your project and turning a house into the home of your dreams.