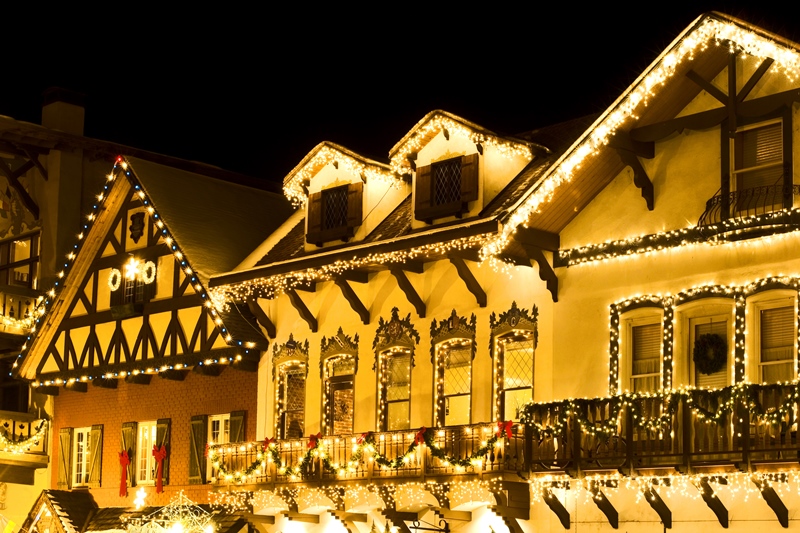 Amid 25 idyllic acres in the North Pole, Santa is gearing up for the big day in his cozy log cabin, which features a charming, floor-to-ceiling river rock fireplace, updated gourmet kitchen and festive decorations, at least according to real estate site Zillow, which recently unveiled a sneak peek of his home. Nearby in this hub is a state-of-the-art factory with workstations to accommodate 50 elves. This toy lover's paradise certainly sounds like a dreamy place to celebrate Christmas – if only we all had a reindeer-pulled sleigh to magically transport us to the northernmost point on Earth.
But you better not pout just yet. Other towns across America, also filled with holiday cheer, are easily accessible. Spanning from Washington to Vermont, these communities come alive with decorated trees, sparking lights, caroling, fireworks, historic home tours and torch parades.
Indeed, "It's a Wonderful Life" during the holidays, particularly in these winter wonderlands across the country. And if you're looking for your own home sweet home during the festive season and into the new year, speak to one of loanDepot's licensed loan officers to learn more about your lending options today.
Leavenworth, Washington
Set against a backdrop of the Cascade Range, this paradise shines for the holidays, with miles of lights across the village (photos above and left). Also in the mix are a concert of bells, a weekend-long street market called Christkindlmarkt, harp music, caroling and sledding.
Leavenworth's a median listing price is $265,000. You can get a 0.95-acre lot at 12325 Village View Drive with breathtaking mountain views for $250,000, reports Realtor.com.
Woodstock, Vermont
In December, this quaint New England town showcases historic home tours, farmhouse crafts, horses and buggies, and celebratory tree lighting.
Year-round, Woodstock is home to a national park, three covered bridges and green hills. The town's median listing price is $438,000. Currently on the market is a three-bedroom house at 7 Hathorn Hill Drive. Owners are asking $425,000; it has a serene feel, with towering trees and a scenic view.
McAdenville, North Carolina
This town 20 minutes outside of Charlotte takes on the name Christmas Town, USA, every December. The destination features 375 trees and 450,000 lights, drawing 600,000 visitors each year. McAdenville's picturesque lake, lined with 33 trees all aglow (photo left), sets a cheerful holiday tone for visitors and residents.
The median listing price now in McAdenville is $287,000, according to Realtor.com. Listed at $279,900 is a home on 201 Wesleyan Drive featuring a kitchen with granite countertops, hardwood floors, a bonus room – and a porch that overlooks a tree-lined street.
Branson, Missouri
Envision sparkling lights, Broadway-style holiday shows and a five-story fir tree outfitted with special effects. That's a small sampling of what to expect in Branson at Christmastime. Also in the town are festive parades, a park with 100 craftsmen and holiday-themed showboat excursions.
The south Missouri city has a median listing price of $90,000, with several homes listed for much more. A four-bedroom Branson Hills Golf Course home at 113 Pebble Beach Court is listed for $482,100.
Aspen, Colorado
From outdoor ice skating at the base of a mountain to the 12 days of Aspen, where you can catch a glimpse of Santa skiing, indulge in bottomless cups of free hot chocolate and listen to Victorian caroling, Aspen knows how to ring in the holidays with style.
The housing market also has a unique feel. The median listing price is $2.2 million, with many distinctive homes, like a four-bedroom property on 244 South Starwood Drive that drew an offer of $3.2 million. It features curved stairways and a grand master suite that includes a round room with a one-of-a-kind ceiling.
The holidays are a magical time for homeowners. If you're looking for a home now or in the new year, reach out to a licensed loanDepot loan officer.
*All median listing prices are from Realtor.com.
Published Dec. 13, 2016
RELATED TOPICS
6 easy ways to revive a dated living area
Final stages of the lending process
8 things to know about a home before buying
Garden in fall and winter to lay foundation for spring
Meet your team of homebuying professionals