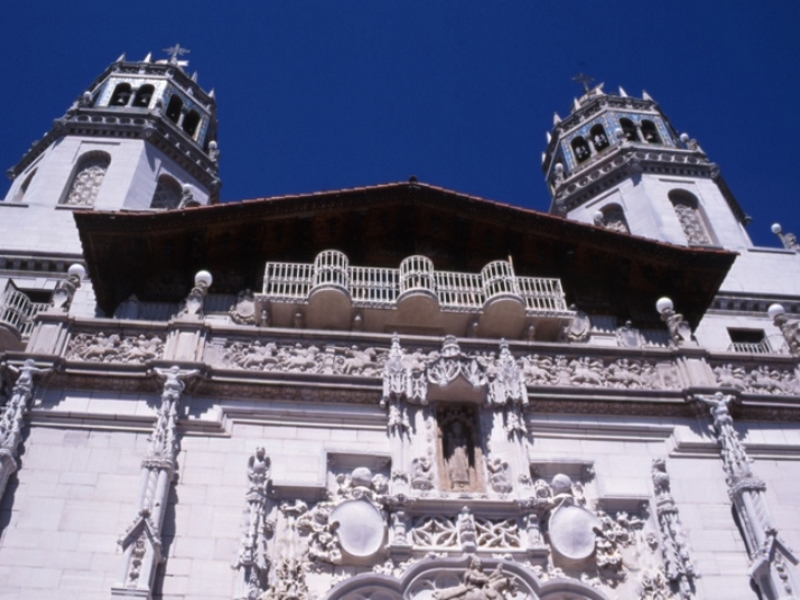 Across the country, estates with storied pasts shine as tourist attractions and beacons of inspiration for visitors. While some flock to these landmarks for design ideas or to admire the architecture, others zero in on the estates' enchanting history. Whether it has a Renaissance dining room, secret passageways, an indoor courtyard or a breathtaking view from atop a hill, each of these gorgeous homes has its own character and charm. All of these homes also have something in common: No one lives in them.
Today most of these historic homes are museums, and several serve as popular wedding venues. If you'd like to get inspiration for purchasing your own dream home that you will actually live in, contact a licensed loan officer at loanDepot. Call today.
In the meantime, get those creative juices flowing with a peek at some of the country's most gorgeous homes open to the public:
Hearst Castle
Newspaper publisher William Randolph Hearst's stunning estate in San Simeon, California, is also called La Cuesta Encantada, Spanish for the Enchanted Hill. Set on 127 acres of terraced gardens, fountains and pools, the manor, designed by architect Julia Morgan from 1919 to 1947, is a museum that enthralls 750,000 visitors a year.
Hammond Castle


John Hays Hammond Jr., a pioneer in electronic remote control, built this medieval-style castle in Gloucester, Massachusetts, in the late 1920s. The property boasts an indoor courtyard, library, secret passageways and a Renaissance dining room, with the museum displaying art and Hammond's inventions.
Wrigley Mansion
This Phoenix landmark was constructed in 1932 by chewing gum magnate William Wrigley Jr. as a 50th anniversary gift to his wife, Ada. The estate blends Spanish, California Monterey and Mediterranean architectural styles and offers breathtaking views of the mountains and Arizona's capital. The mansion/museum boasts tour packages named Big Red, Doublemint and Juicyfruit, a wedding venue, popular steak house and lounge.
Boldt Castle
Accessible only by water, this beautiful structure on Heart Island, New York, has a romantic but tragic past. George C. Boldt, self-made millionaire and proprietor of the Waldorf Astoria Hotel in New York City, planned a grandiose structure in 1900 "to be a display of his love for his wife, Louise," the Boldt Castle website explains. Yet she died in January 1904, and Boldt sent a telegraph to immediately "stop all construction." He allegedly never returned to the island. Today, the castle – complete with tunnels, Italian gardens and a tower fortress – is open to visitors and can be reserved for weddings.
Nemours Mansion & Gardens


Set on 300 acres of scenic woodlands, meadows and lawns, this 47,000-square-foot estate in Wilmington, Delaware, was once home to the industrialist Alfred duPont. Surrounding the manor is what it calls the largest formal French gardens in North America.
Biltmore Estate
Many people visit George Vanderbilt's 8,000-acre estate in Asheville, North Carolina, that features a 250-room, Chateau-style mansion to get a feel for how the aristocratic family and its employees lived. The Biltmore is reportedly the largest private residence built in America. Boasting exquisite architectural detail and a lush winter garden, the property is open for tours, weddings, special events and visits to its winery.
Shangri La
In 1935, American heiress Doris Duke and her husband, James Cromwell, visited Hawaii as their final honeymoon destination, inspiring them to purchase a 4.9-acre piece of oceanfront property in Diamond Head, near Honolulu, months later. There, they built an estate complete with a 140,000-square-foot main house, a 75-foot swimming pool, water terraces and tropical gardens. Today the estate operates to promote the study of Middle Eastern art and culture.
When you're ready to carve out your own piece of history, a home purchase loan from loanDepot can set you on your way. Speak to a licensed loan officer to discuss your options today.
Published Jan. 10, 2016
RELATED TOPICS
Decorating and remodeling trends for 2017
Find the ideal home for your current life stage
Add value to your home with a new fireplace
Best renovations for aging in your home
Home renovations: to permit or not