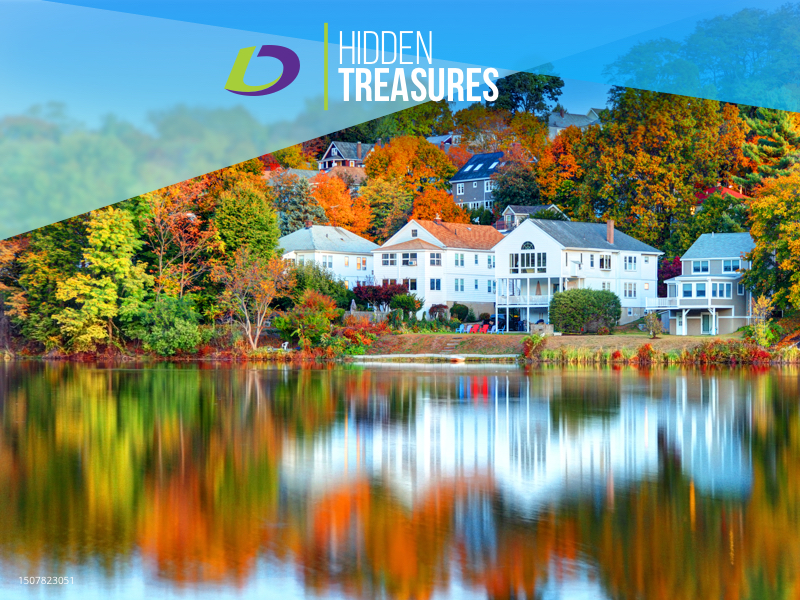 Restful, serene and calm ­– there's something about the soothing nature of rivers and lakes that calls to us. In a waterfront home, you can rediscover simple pleasures like fishing or swimming, or simply sitting beside the water doing nothing at all. In autumn, wooded areas around many regional lakefronts and rivers across don vibrant colors, yet the lakes lose none of their soothing qualities.
If you're ready to start living the philosophy that "life is better at the lake," fall is a great time to seek out waterfront property. While some lakefront and river towns are seeing rising home prices, others still offer the chance to score a great deal on a peaceful plot. Here are five towns where you can find the perfect blend of waterfront serenity with autumn's showy foliage display.
When you're ready to buy your waterfront dream, a loanDepot Licensed Lending Officer can help you understand your best financing options. Call us at today to learn more.
Urbana, New York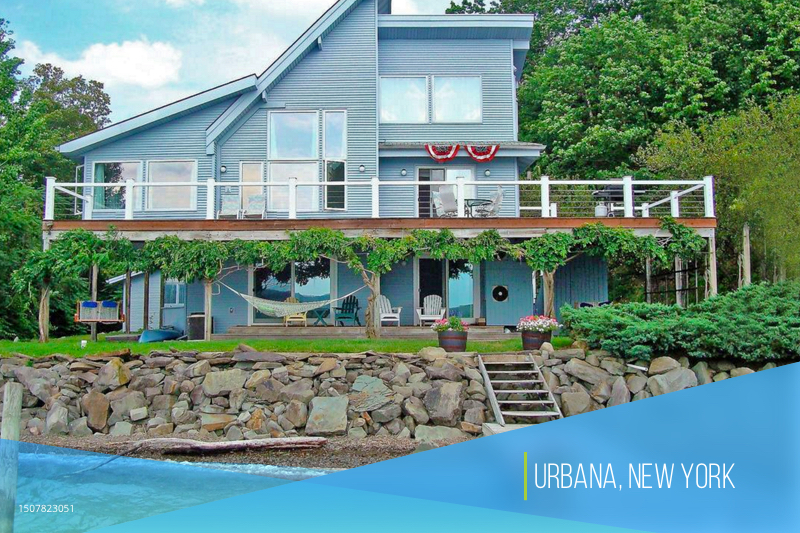 Encompassing the idyllic southern shores of Keuka Lake in the state's Finger Lakes region, Urbana boasts several charming villages within the town limits, including Hammondsport. The area is home to multiple wineries, including the region's oldest, the Pleasant Valley Wine Company, which was founded in 1860. In addition to all the water sports and attractions you would expect to find in a lakeshore town, Urbana's villages also offer numerous historic sites, museums, shopping and dining opportunities.
The median home price in Urbana is $140,900, according to Zillow. Going above the median can net you a bigger home, right on the lakefront, with spectacular views like the ones from this 1,800-square-foot, three-bedroom home.
Lake Lure, North Carolina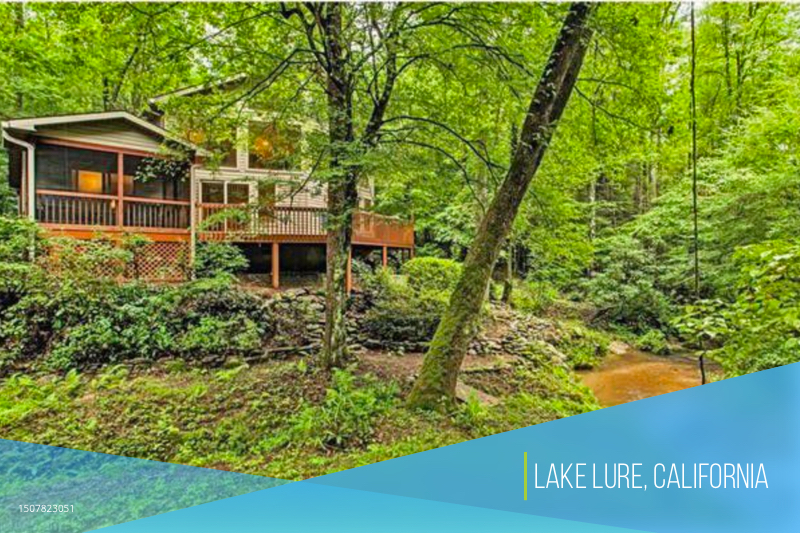 Although the southeast doesn't have the reputation for spectacular fall foliage that northern states enjoy, you can still find bright autumnal colors surrounding mountain lake settings like Lake Lure. Located in the western part of the state, where the elevation of the Smoky Mountains provides the cool nights needed for fall colors, Lake Lure is where the iconic '80s movie "Dirty Dancing" was filmed. When you're not practicing your lifts and dance moves, try climbing to the top of Chimney Rock, the namesake and main attraction at Chimney Rock State Park.
The median home price in Lake Lure is $320,000, according to Zillow. Priced just above the median, this three-bedroom, three-bath contemporary home in immaculate condition minutes from the lake.
Stillwater, Minnesota
Before hitting northern regions with a blast of cold, Mother Nature apologizes in advance by treating residents of towns like Stillwater with a beautiful display of autumnal foliage. Although the state is known for its numerous lakes, this town of about 20,000 perches on the western banks of the St. Croix River, which runs between Minnesota and Wisconsin. Whether you enjoy hiking and fishing, shopping and spa-hopping, brewery crawls and wine tastings, or historic sites and sightseeing, you'll find plenty to do in this town that was named one of the prettiest in America by Forbes Magazine.
Home values are rising in Stillwater, where the median price is $419,900, according to Zillow, which is up nearly 4.5 percent in the past year; Zillow also predicts they'll climb another 2 percent in the next year.
Roosevelt Lake Estates, Arizona
It's true the Southwest isn't known for colorful foliage, but this community on the shores of Theodore Roosevelt Lake boasts a different kind of color in the myriad hues of the landscape, including the nearby Superstition Mountains and Tonto National Forest. You can fish in Roosevelt Lake, visit ancient cliff dwellings at Tonto National Monument or camp in the Bermuda Flats. Whatever you choose to do, the Roosevelt area is long on southwestern beauty and charm.
Trulia says the average listing price in Roosevelt is just over $100,000 in 2017.
Florence, Oregon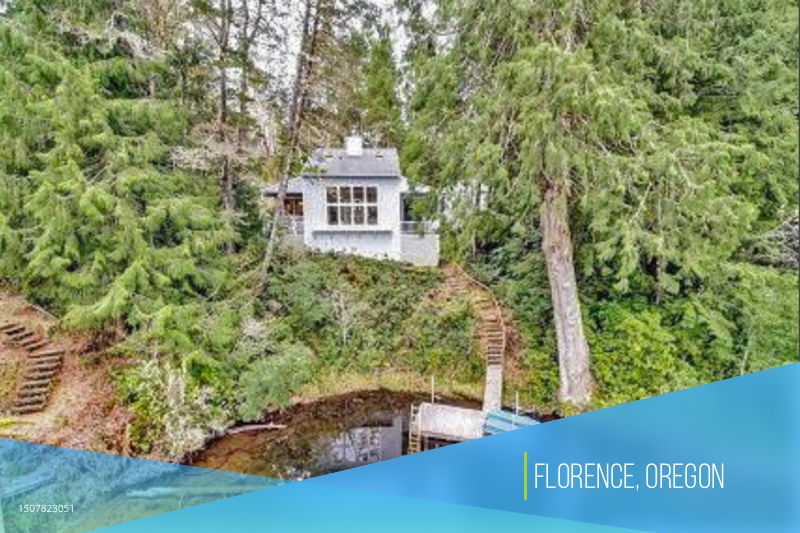 The Pacific Northwest has always been New England's West Coast rival for beautiful fall foliage, and Florence's location at the mouth of the Siuslaw River on the Oregon coast makes it easy to understand why. North of Oregon Dunes National Recreation Area, the town offers homeowners beautiful views of the river and the lush, green valley that surrounds it.
There's no lack of things to do in the area, from whale-watching tours and visits to the caves that are the mainland's last known home of wild Steller sea lions, to boutique shopping in the Old Town section or antiquing at Rhody Junction.
Zillow says the median price of homes on the market in Florence is $252,000, an increase in value of 10.8 percent over the past year, with another 4.5 percent rise expected in the coming year. If you're wondering what kind of a view $398,500 will buy you in Florence, check out this three-bedroom charmer on nearly one acre with river views.
These lesser-known waterfront gems prove living large on the lake (or river) doesn't have to break your budget. When you're ready to settle down to great views and beautiful surroundings, a loanDepot Licensed Lending Officer can help you understand how much home you can afford. To start living your dream, call us now.

Published Oct. 17, 2017
RELATED TOPICS
Haunted homes and spooky spaces
A field guide for first-time homebuyers
Seal in warmth this winter with new windows
Fall fantasy – incorporate autumn colors inside and out