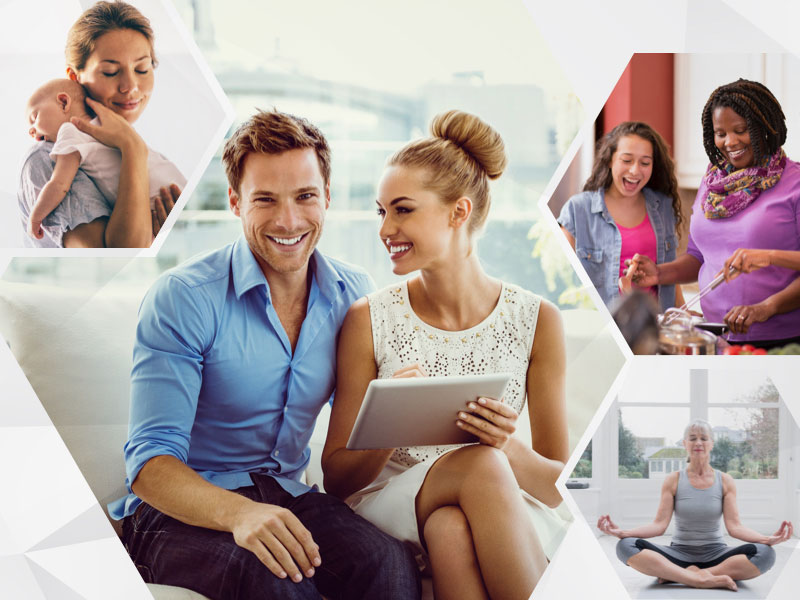 Baby Boomers and Millennials might be on diametrically opposite ends when it comes to music and technology, but there's another attribute where they differ – their choice in housing. What works for the experienced worker, empty nester or someone newly retired is proving to be quite different from what works for young adults entering the workforce with a career or growing family it their sights.
Whether you're searching for a single-family home in the suburbs – or a high-rise in the city – a loanDepot licensed lending officer can assist.
Retirees
Using key factors like affordability, quality of life, and health care, a recent WalletHub study ranked the best and worst states for retirees to call home. While Florida, Wyoming, South Dakota, Iowa, and Colorado made the top of the list, Hawaii, Connecticut, District of Columbia, Alaska, and Rhode Island were ranked lowest.
If you're looking for a home to enjoy your golden years, here are a few things to keep in mind:
Your desired lifestyle.

Select a home and community that allows for all the things you enjoy

–

like gardening or entertaining friends.

Plans for the future.

If you intend to stay in your home for the foreseeable future, you may need to think about future health restrictions

–

like climbing stairs or caring for a backyard.

Consider your finances.

When you're on a fixed income, selecting a home in an area you can comfortably afford is essential.
Young workers
While retirees might be influenced by locale and longevity, Millennials seek something else entirely – employment opportunities and lifestyle choices. But the results of a recent Forbes study outlining 2017's best cities for Gen Y might surprise you. The top three metropolitan areas for this group are Salt Lake City, Utah; Boise City, Indiana; and Redwood City/South San Francisco. According to Forbes, these cities proved to be the best in terms of salary, rent, employment, networking, and social opportunities.
If you're just starting out, consider these things before landing on a home:
Think about career growth.

Are there opportunities in your given field? And, will you stay put long enough to make purchasing a home in a specific area worth it

Take a look at your finances.

Understand the type and size of home you can comfortably afford now

–

including potential costs outside your monthly mortgage payment.

Keep lifestyle in mind.

If you work and play in the city, a condo might be a better fit than a single family home in the suburbs.
Growing families
Falling somewhere in between retirees and young workers on the housing front are growing families. A 2017 WalletHub study ranked the best places for this subset of the population by looking at unemployment rate, housing affordability, and median family salary. The results put North Dakota, New Hampshire, Vermont, Minnesota, and Nebraska at the top. At the bottom are Nevada, Louisiana, District of Columbia, Mississippi, and New Mexico.
If you're looking for a home that will be a fit for your family, keep these top of mind:
Look at location specifics

. When you have a family, neighborhood safety and school quality may play more of a role than other things like job convenience.

Think about size.

Do you plan on having more kids? If you want to stay put, purchase a home that will accommodate new members of your family.

Consider layout.

When there are kids of varying ages in a home, layout could be important. You may want to consider general layout in terms of bedrooms and if there's a playroom.
Whatever life stage you're in, a licensed lending officer at loanDepot can help you find the perfect home. Call now for more information.
Published Aug. 10. 2107
RELATED TOPICS
Manage your wish list to match your budget
New rules make it easier to get FHA condo financing
How to buy a home from a relative without friction
Make sure your roof is in peak condition