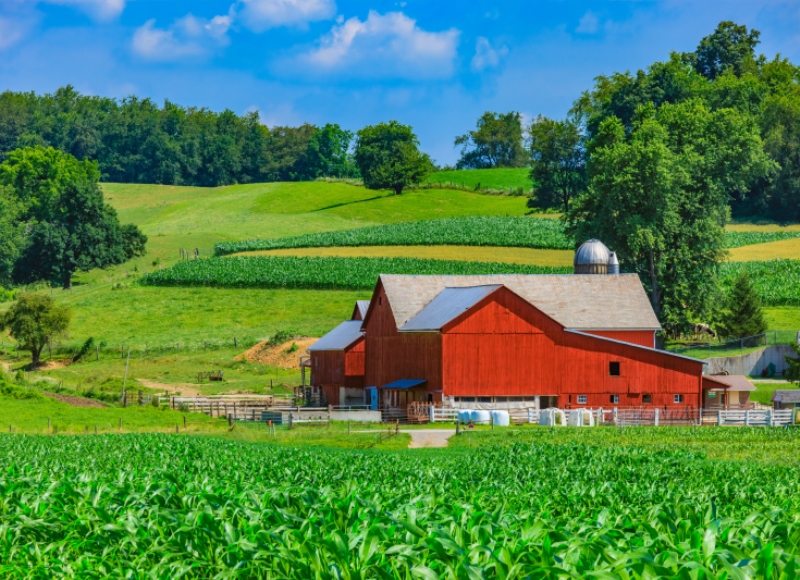 Is your vision of an idyllic lifestyle a rural farmhouse on sprawling land with cows, goats and horses? Or is raising farm-to-table organic produce for gourmet restaurants more in line with your dreams of making a living? Whether your aspirations are a 90-acre dairy farm, a couple of high-tech greenhouses, or even a rustic avocado ranch, they don't have to be just fantasies.
The process of buying a farm isn't an easy chore for urbanites or even suburbanites; however, it's doable. With an understanding of zoning laws and other details, you can purchase the farm property that's right for you. Soon you could be living off the land ─ and have the land working for you.
When you're ready to get your financing in place, plant the seeds for your new start by calling a loanDepot licensed loan officer.
Here are factors to consider while searching for a pastoral paradise or a patch of tillable land:
Know zoning and tax rules
If you plan to buy a farm that you'll transform into a home, you'll need to be sure that local zoning laws won't interfere. Before you purchase a property, learn the works – from building new construction to what kind of livestock, fencing and even gardening is permitted on the land. If you have dreams of making your farming endeavor commercial, look into the need for a business permit.
Agricultural land also often comes with tax breaks that vary by state, so read up on regulations to see whether you'll benefit. To qualify for a tax-assessment reduction in New Jersey, for example, you must own at least five acres of farmland that's actively devoted to agricultural or horticultural use. And your efforts need to yield at least $1,000 per year in farming profit for your first five acres, as well as an average of $5 per acre for each additional acre.
Call the right representative
Seek a Realtor with a proven track record of rural real estate deals. You can start by researching online. Drive through an area you're eyeing and ask neighbors for a referral. An agent who easily navigates this niche can help you understand zoning laws and water usage rights, plus suggest a home inspector who is familiar with well-water testing and other important considerations.
Weigh proximity details
How close is the nearest grocery store, doctor's office, hospital and school? Who maintains the roads? What's the crime level in the area? Answers are crucial when determining how rural you're willing to live. The facts will impact your daily living and how real estate values will fluctuate. Hint: They have a better chance of going up if the neighboring areas are thriving with economic activity.
Understand property boundaries
Before you make an offer on a farm, review the survey information to know exactly how many acres you're getting and where they begin and end. In addition, go to the county assessor's office and determine the number of acres for which you will be taxed. It should be fairly close to what the seller's agent told you. If there's a discrepancy, investigate it further.
Budget for maintenance
When buying acreage that will be used for farming, recognize that many moving parts are involved – especially if you'll be raising animals. Whether it's a heating system for the barn or a broken fence that allows a mass escape, you'll want to set aside sufficient funds for expenses and repairs. A good home inspector can help you uncover money pits before you decide to buy.
With these tips in mind, you'll be well on the path to landing that farm property of your dreams. Hold on tight, because you're in for a wild – and hopefully wildly fulfilling – ride. A licensed loan officer from loanDepot will be there to lend a hand.
Published July 11, 2017
RELATED TOPICS
Live Your Passion: Wave hello to waterside living
Live Your Passion: Put yourself on course for fairway living
Live Your Passion: Swing for the fences with your new home
Kitchen inspo: making it practical and personal