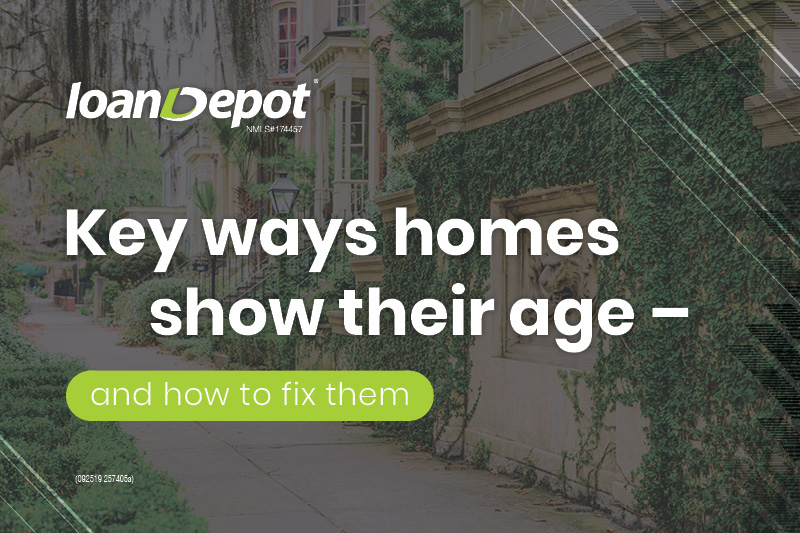 (Article Updated September 30, 2019)
Homes last for decades and sometimes centuries, but decorating trends can change dramatically in just a few years. When contemplating a sale or refinance, you want to make sure you are getting the highest possible appraisal of your home's value, but that's when its age can really hurt when being assessed by prospective buyers or appraisers. Zero in on the areas that are showing your home's age and give them a facelift. A home equity loan can help and potentially defray the cost with a rise in value.
Walls, fixtures and trim
Painting, especially the exterior of your house, is an obvious but sometimes ignored strategy. Yet nothing boosts curb appeal and reads as "new" more effectively than banishing chipping, flaking exteriors with new paint or stain. While getting prospective homebuyers through the door is half the battle, once they're inside you don't want to scare them with rusty baseboard heating systems, flaking exposed pipes, and any other functional systems that might read as on the verge of failing, simply because of cosmetic surface issues. Sanding and painting those all-important "bones" will do much to reassure prospective buyers. Of course, freshly painted walls and trim also de-age a room in a hurry.
Kitchen
Few things come in and out of style more quickly than kitchen colors. That means that while your '70s-era avocado appliances and orange countertops might still be in relatively good shape, they definitely age your home. Some of this you can tackle yourself, by painting or staining your cabinets. Even appliances can be refaced, rather than replaced, with inexpensive panel kits. (And don't forget that dishwashers often come with a reversible panel, which gives you a no-cost makeover!) Stoves can be surprisingly transformed with inexpensive burners and drip pans. Even of more modern granite counters aren't in the budget, simply replace scarred and/or outdated countertops with something relatively inexpensive, in a less dated color.
Floors
If completely redoing your home's flooring is outside your budget, there are a few things you can do to refresh their look, thereby making the whole house appear less aged. Steam clean dingy bathroom and kitchen tiles, as well as carpeted areas. In addition, stained rugs or carpets can often be patched by cutting away the damaged patches and adding a new section that's as close as possible to the original. You can even use old-fashioned home remedies for taking away some years from an older wood floor by sprinkling baby powder between the joists, which hushes squeaking and creaking.
Doors and windows
Rotting wood is obviously a red flag to a prospective homebuyer or appraiser, as are peeling, chipped window sills and frames. Yet you can address some of these issues yourself. Scrape and sand around peeling windows before painting and staining, which will make the overall look of your home much less aged. Rotted wood can often be fixed by prying away damaged sections from your window or door jams, then applying wood filler before repainting.
Bathroom
Simple ways to erase years in the bathroom include applying fresh grout between shower tiles and around the bathtub and sink. You may even be able to replace toilets and showerheads for free; some regions offer no-cost options as a way to boost water conservation. If you have a tile-lined shower or sink that's seen better days, consider replacing all or some of the tiles yourself or hire a professional. At a minimum, make sure to remove mineral deposit stains on faucets, showerheads, tubs and sinks with a professional product, or even a little vinegar and elbow grease.
So shine up those fixtures and scrape off that flaking paint without compromising your older home's character. A loanDepot licensed loan consultant can help with any other lending questions.
RELATED TOPICS
What do you really want in a home?
Use a personal loan to increase your home's value
Romantic renovations: Add some spice to your space
Plan now for your summer backyard transformation
Make preventative winter repairs with a home equity loan