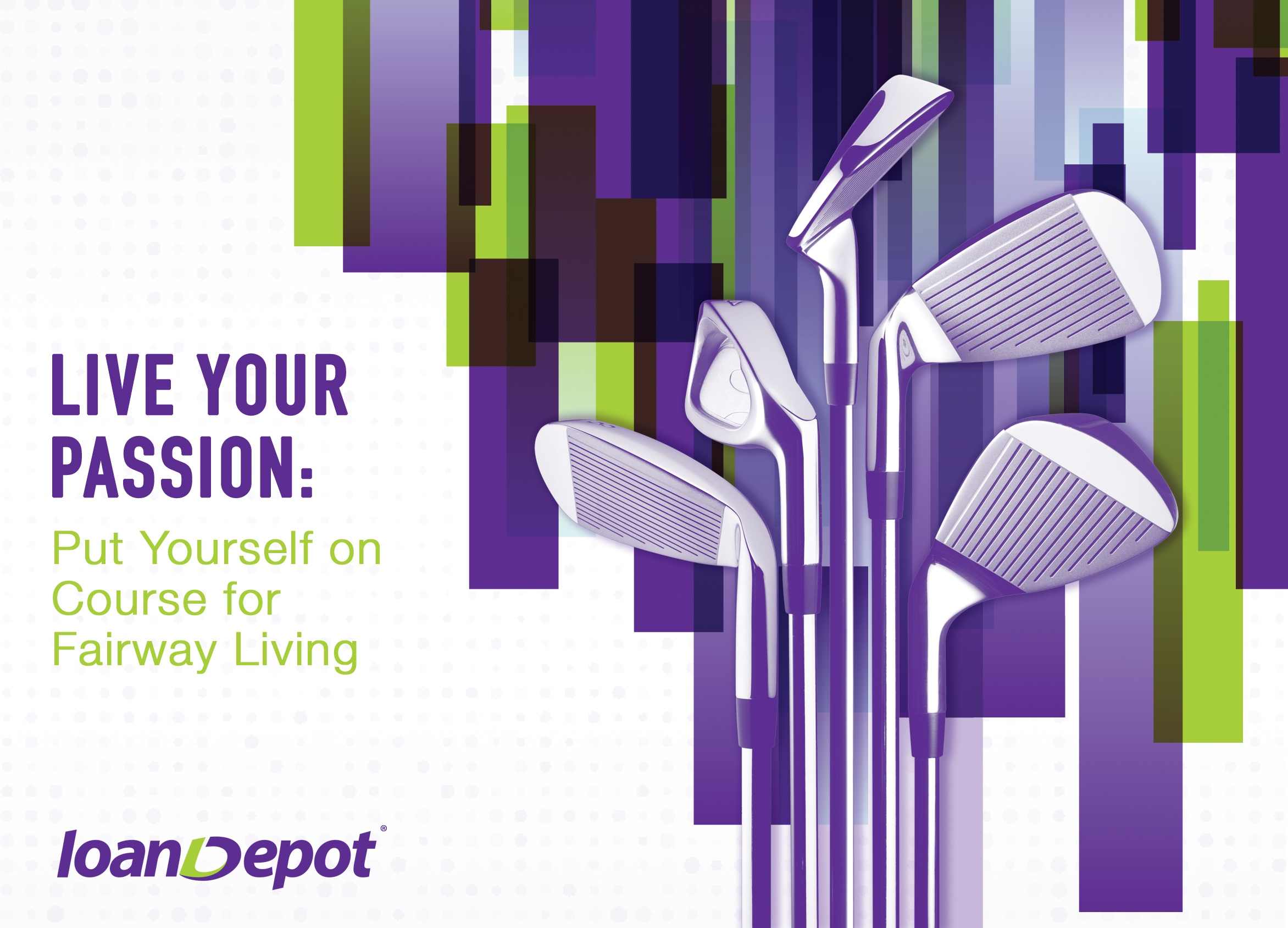 Mark Twain once referred to golf as "a good walk spoiled." But if you're seriously into the sport, then why not spoil yourself with a home near the links? America offers plenty of options for rolling green landscape views and the first tee just a chip shot away. You might think a home such as this would require too much green – putting a hole (or 18) in your budget – but here are a few tips for buying at some of the hottest golf communities.
If you'd like to Live Your Passion by spending more time living and breathing your favorite activity, contact a licensed loan officer at loanDepot today to discuss purchasing your dream home.
Advantages of owning a golf course home
This might be your ultimate goal if you're an avid golfer. Here are some appealing benefits:
Plenty of time to play: Long drives (the commuting kind) will no longer be par for the course. By living next door, you can walk or motor over to the clubhouse in minutes.
Lifestyle bonuses: Golf course communities generally come with clubhouse benefits, providing a place nearby to socialize and relax, hang with the neighbors and have access to planned events.
Beautiful views: Lush, green fairways, majestic trees, white-sand bunkers, lakes and fountains would please most any homeowner, even those who don't hit the links.
Disadvantages of owning a golf course home
When it comes to living on a course, not many downsides exist, but take note of these fore warnings:
Errant shots: Not every golfer is a Phil Mickelson, Dustin Johnson or Rory McIlroy. So expect a few wayward Titleists and TaylorMades headed your way – maybe right through your window or sliding glass door. If not that, you may have a new and unintended hobby: collecting golf balls that land in your pool or yard.
Lack of privacy: If you can see golfers teeing off or walking by from your yard, they can see you too.
Noise: Golf courses need a lot of landscaping – which requires the use of lawn mowers and leaf blowers ─ often before dawn.
Best places to buy
If you have millions of dollars to spend on a golf course home, you'll likely find a house in a relatively affluent area. As for more affordable options, here are five hot golf course communities with homes under $1 million that are worth* considering:
Greystone Golf & Country Club, Birmingham, Alabama
This private club is family oriented with first-class amenities and a course designed by renowned architect Bob Cupp. You can get a four-bedroom, four-bath, 4,849-square-foot house on the golf course for a listing price of $699,500.
The Golf Club at Fiddler's Creek, Naples, Florida
This master-planned community features an 18-hole Arthur Hills championship course. Though many of the homes on this course do exceed the $1 million range, a five-bedroom, three-bath, 3,450-squre-foot home is available on the edge of the greens for $699,000.
The National Golf Club of Kansas City, Missouri
The challenging course at the National was designed by Grand Slam legend Tom Watson and offers something for all skill levels. Many houses on the course go for less than $700,000. For instance, you can get a five-bedroom, five-bath, 3,616-square-foot home for $434,950.
Superstition Mountain Golf & Country Club, Gold Canyon, Arizona
Two Jack Nicklaus-designed courses wend through this sprawling golf community. You'll enjoy breathtaking views and a complete resort experience. A five-bedroom, three-bath, 3,375-square-foot home can be had for $615,000.
When you're ready to hang your "I'd Rather Be Golfing" sign, a home purchase loan from loanDepot can make it happen.
*All prices quoted per Realtor.com.
Published June 22, 2017
RELATED TOPICS
Live Your Passion: Connect your home to what you love
Live Your Passion: Wave hello to waterside living
Live Your Passion: Love baseball? Swing for the fences with your new home
Live Your Passion: Scale the heights to your ideal hiking home
Live Your Passion: Find a home that serves your love for tennis