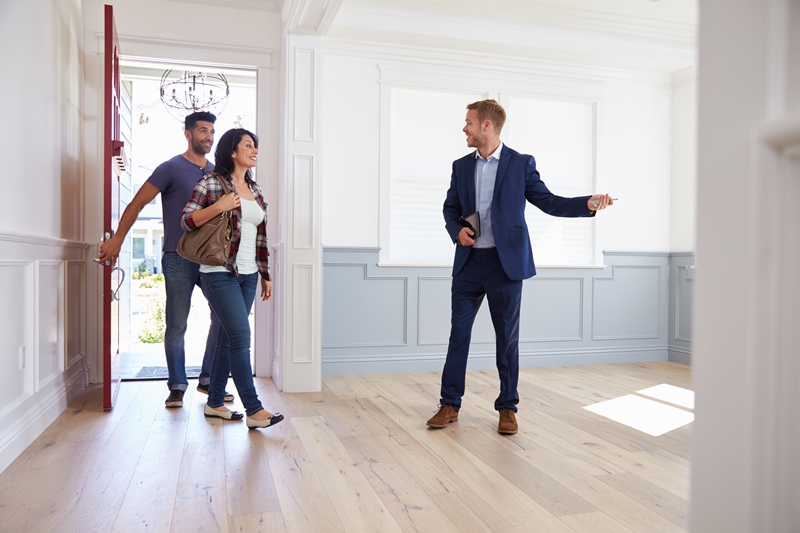 Whether it's your first time buying a home or your 10th, the experience can be overwhelming if you aren't set up right. So like a Boy Scout, be prepared. A little background knowledge on the process, players and considerations can help ensure you're ready for action.
It's best to be familiar with the knowledgeable professionals and business entities that will work to help you navigate from application to funding to keys.
The licensed loan officers at loanDepot are happy to get you started on your path to this life-changing experience. Call to start the prequalification process.
In the meantime, let's learn about each member of your homebuying team:
Licensed loan officer. Many people don't realize this, but the homebuying process starts with your lending professional. A licensed loan officer will conduct a phone conversation with you to review your homeownership objectives, your income, assets, credit rating and any important plans that could affect your financial situation. From this information, the officer can determine which home loan programs and products make the most sense for you.
Your loan consultant will work to get you prequalified and then preapproved for the best possible loan terms so you can begin house hunting. From here, this professional will stay with as your partner to support your needs throughout the entire process.
Real estate professional. Whether a Realtor or real estate agent, a smart real estate professional will work on your behalf to help find the house that best fits your needs and wants, at the best price. Once you find the ideal home, you and your real estate agent will craft an enticing offer, as well as negotiate terms that work to your benefit.
Your real estate professional will also facilitate important steps such as home inspections and ensure your transaction follows key steps and fulfills all documentation needs. Your real estate professional should remain at your side from initial search to move in. If you're unsure how to source a professional, your loan officer can refer you to reliable experts with solid market experience.
Insurance agent. You must obtain homeowners insurance in order to get a loan. Your insurance agent will work with you to determine the right type of coverage and how much, then will be ready to help you secure your policy and provide the necessary documentation to your lender. You should contact an insurance agent during the final steps of obtaining your loan. You might already have such a professional you trust, or you can ask your loan consultant or real estate agent for referrals.
Escrow officer. This professional acts as an impartial third party who helps coordinate the signing of your loan documents as well as holds all the necessary funds during the transaction. This key intermediary ensures that all parties have lived up to their responsibilities before releasing funds from one party to the other. Your real estate agent, the seller's agent and your loan licensed loan will work in concert to establish the escrow company, which will assign an officer.
Title officer. The title to your home proves ownership, and the title officer reviews the considerable amount of paperwork to ensure no discrepancies exist. He or she keeps a sharp eye out for hidden surprises, such as liens (disclosed or undisclosed) against the property, outstanding taxes, easements and similar concerns that could sour the transaction. Like the escrow officer, the title officer is assigned by the official parties involved in the real estate transfer process. Title insurance, which is required by the lender, typically protects only the lender if an issue with title pops up. Your title officer may also offer an owner's policy that will help protect you, the new owner, from undisclosed title issues that may arise after the loan has closed.
Home appraiser. As the escrow and title process are opened, everyone involved will want to have a fair appraisal of the home's value. The appraiser will use the local market and other factors to evaluate the value of the property and improvements. All states require appraisers to be licensed or certified in order to demonstrate their objectivity.
Home inspector. This individual will go through the entire home, checking it for needed repairs or similar issues that the buyer should consider before purchase. The inspector will generate a report itemizing each of those issues, which could affect the terms of the transaction. Similar to the appraiser, your real estate professional will give you suggestions on home inspector referrals, but it is also your prerogative to choose your own.
Each of these professionals plays a crucial role in the homebuying process, and each has a vested interest in ensuring the transaction results in a positive outcome.
If you're ready to start this journey, speak to a loanDepot licensed loan officer today.
Published Nov. 8, 2016
RELATED TOPICS
Don't blow your bid - 5 tips to getting the home
Housing inventories are down: How do you compete?
Components of your credit score
Homebuying checklist: 6 must-dos before buying