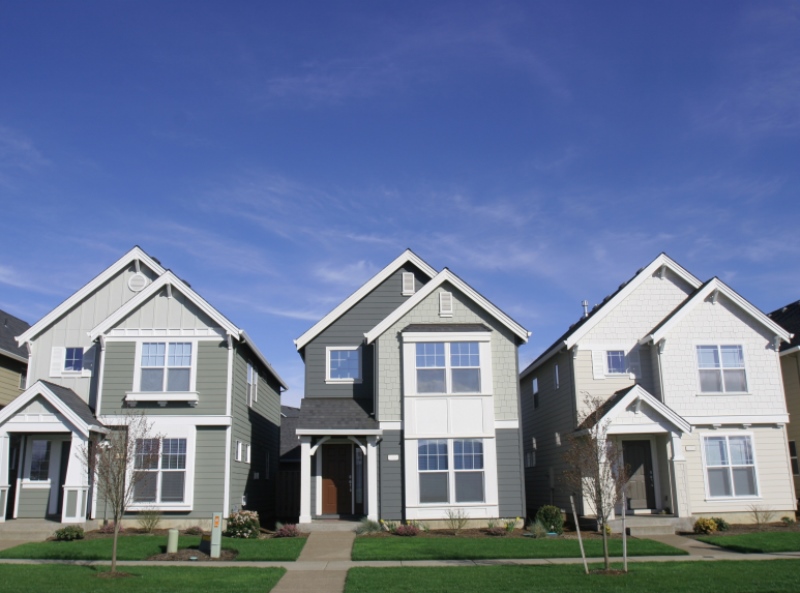 When it comes to home options, there are a multitude of possibilities that can suit your lifestyle. Whereas some "less-substantial" options have been the subject of scrutiny in the past, many are making a comeback. Manufactured, modular, and pre-fabricated (aka, "pre-fab") homes have been gaining attention lately due to the latest technologies, innovations and energy-efficiency initiatives. These particular houses can be the ideal way to get the living space you desire – and be a better fit for your budget – while being designed to your liking.
Here at loanDepot, we currently offer financing for modular and pre-fab homes. It's also exciting to announce that we'll soon be offering financing for manufactured homes. So if you're getting ready to stop renting and move into a permanent place, contact one of our Licensed Lending Officers today. The product may be only available at a retail branch office, so make sure to ask.
Until then, check out the different types of manufactured homes on the market, what sets them apart, and the types of trends builders are creating to appeal to new homeowners.
Manufactured and modular home characteristics
"Manufactured homes" have become the catch-all phrase when referring to homes that are mostly assembled inside a factory and are delivered to a property to be constructed on site. Yet there are, in fact, several different types from which to choose. Here's a quick guide regarding the unique qualities of certain manufactured homes.
Manufactured house: Manufactured homes are buildings that are crafted at the factory and equipped with wheels and a chassis that can move it to the destination site. Most pre-fabricated homes built after July 15, 1976, are considered manufactured, as they have a steel I-beam. They will normally be placed on a permanent cement foundation with the wheels and axles removed and will be taxed as real property.

Mobile home: Perhaps the most familiar, a mobile home also has a chassis but it may not have a permanent foundation. It is taxed as personal property and not real estate. (loanDepot does not currently have a program to finance mobile homes.)

Modular house: A modular house is also created in a controlled, indoor environment as individual room sections are transported on trailer rigs to the destination property. They are then placed on a permanent foundation, room by room. Also called pre-fab homes, modular structures can be attached to existing homes in sections to create additional space, such as mother-in-law suite.
Latest technologies in manufactured homes
Many people are gravitating toward manufactured homes, particularly due to their affordability. And, compared to traditional construction, they're quick to install. Homes built from scratch at the property site can cost an exorbitant amount in parts and labor and take months – even years – to complete. During this time, weather delays, lack of materials and even vandals are a continued risk. Manufactured homes can be installed in several days to several weeks.
Green from the word 'go'
An additional advantage is that these homes are environmentally friendly. Fewer materials are used during construction without compromising on quality. Also, because the components are factory-built, seams can be exact, allowing a tighter fit with edges, windows and doors.
With the newest technological advances, manufacturers are also implementing greener materials and integrated home systems to increase building performance. In addition to sustainable construction methods, homeowners can use customized apps to control lighting, thermostats, window shades and other items with their smartphones and tablets.
Money can be placed on other priorities
With construction costs being significantly reduced on pre-fab homes, there's usually more left in the budget for high-end upgrades. Open floor plans, luxury kitchens and whirlpool master baths are being added to manufactured homes.
Also, these purchases are not just available in "out-of-the-way" locations such as a mountain or lake home. These versatile dwellings are now moving to urban and suburban areas. Manufactured homes can be easily set up on lots of varying sizes in large cities or modest suburbs; so a buyer can have a custom home built in the shortest time possible.
If you are thinking about purchasing a manufactured or modular home for yourself, consider the financing options available from loanDepot. We can help you get the perfect loan for your modular, pre-fab or manufactured home. For more information, give one of our Licensed Lending Officers a call today.
Published Sept. 13, 2017
RELATED TOPICS
Disaster Recovery: loanDepot his here to help
The unfinished chronicles: get those projects done
Unique homes with unusual beginnings
Make that big purchase with a cash-out refinance