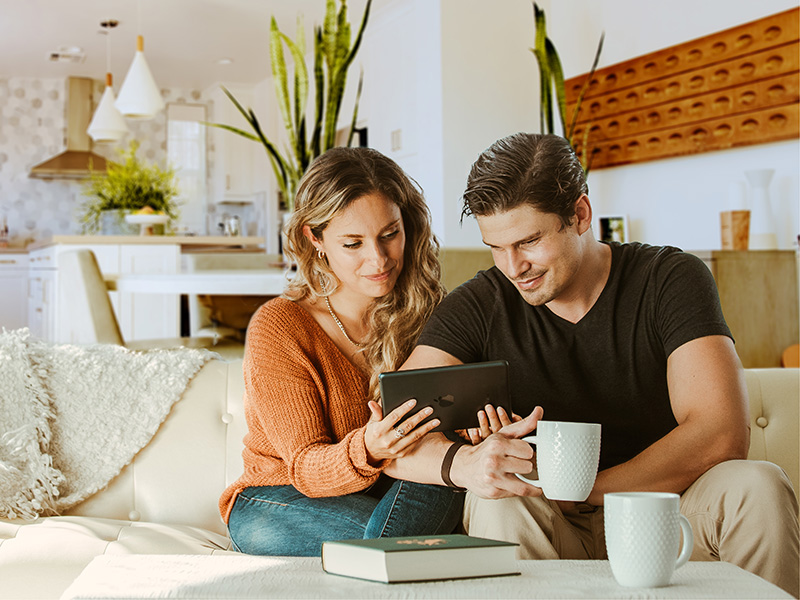 Owning your own home doesn't have to be a pipe dream. It's all about understanding your financial situation and what kind of mortgage you'll qualify for. It may seem a little complicated at first, but the process isn't as overwhelming when you take it step by step.
A good place to start is getting familiar with the requirements to buy a home for first-time buyers.
Know Your Credit Score
Your credit score plays a large part in getting a home loan. Usually, the higher your score, the lower interest rate you can get on a loan. Understanding what goes into your credit score starts with evaluating your credit report. Consider getting a free copy of your credit report, then keep an eye out for any issues, such as a wrong address or errors on account balances. You can dispute anything that looks amiss.
Minimum credit score requirements vary by lender and the type of loan.
Consider Your Down Payment
Among all your financial responsibilities, figuring out a realistic down payment toward a first home can be challenging. Your credit score may also affect how much your loan requires as a down payment. Some loan programs need a down payment of at least 20% of the home's sale price, while other loan programs, such as FHA loans, only ask for 3.5% down and allow for lower credit scores. There are many government entities and non-profit organizations that offer down payment assistance and help with closing costs, especially for first-time homebuyers.
Plan a Budget
In addition to thinking about your down payment, you may also want to consider your long-term financial plan. You'll want to make sure that you can afford the upkeep of a home. Unlike living in a rental, you will be responsible for replacing broken appliances and arranging for maintenance and repairs. You'll also pay for water, sewer, garbage and all utilities. If you buy a condo or townhome, some of these things may be covered under your monthly condo fee or HOA fee, but that should enter into your budget as well.
Starting an emergency fund for unexpected issues such as a new roof or your car breaking down can help to quell your worry in the future.
Supply Proof of Income
Lenders will almost certainly ask you to provide documents to help them evaluate what monthly mortgage payment you can afford. These documents may include W-2 statements and paycheck stubs from your employer or 1099s if you're self-employed, two years of tax returns and a couple months of bank statements. Each lender might also ask for other items to get a thorough picture of your income and ability to pay a mortgage.
Get Preapproved
Having a letter from a lender that states you're preapproved for a home loan lets real estate agents and sellers know that you have the financial ability to purchase a property. This can make you a more attractive buyer.
Choose a Mortgage Loan
There are several types of mortgage loans available, including the common traditional fixed-rate mortgage. With this mortgage, you can keep the same loan at the same interest rate for a chosen period of time. Lenders can also offer loans with interest-only or adjustable-rate features. Depending on your situation, you may choose an FHA, VA (Veteran Administration) or USDA (United States Department of Agriculture) loan. Work with your lender to figure out what's best for you.
Select a Real Estate Agent
You can buy a home without an agent, but using a real estate agent can make your search for the right home easier by managing scheduling and streamlining your options. Agents understand the neighborhoods, market values and amenities in your desired area. According to the National Association of Realtors, 87% of buyers purchased their home through a real estate agent or broker in 2021. Consider asking your friends, family and neighbors who recently bought or sold a home for their recommendations. You can also go to mellohome to connect with local, verified real estate agents and home improvement professionals.
Make an Offer
Once you find the home that's right for you, it's time to make an offer. You and your agent can decide on a sensible offer and add in any contingencies, such as when you'd like to close on the home. You also put down earnest money, a deposit that shows the home's seller that you're serious.
When you're just getting started, it may feel like there are a lot of requirements to buy a home for first-time buyers. But by going through all the steps and understanding what's needed from you, you may find that things go more smoothly than you expected.