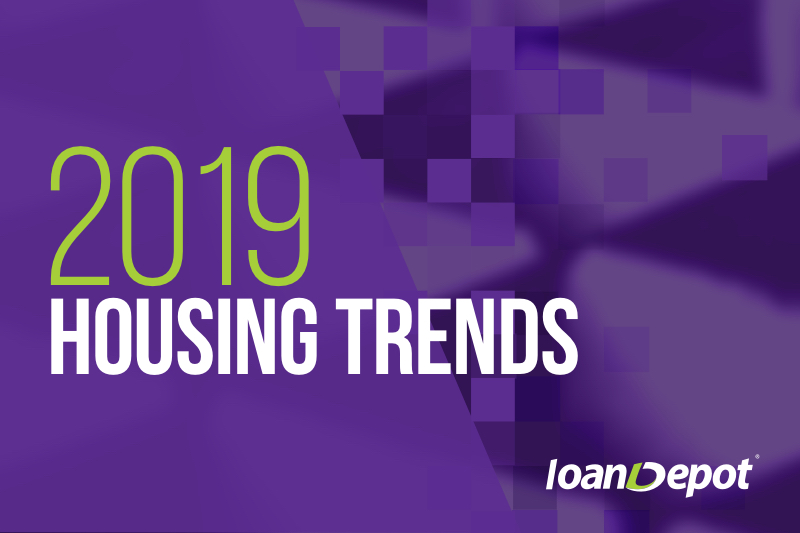 While many real estate experts are predicting an overall positive housing market for 2019, experts also forecast that mortgage rates will continue to gradually inch higher. This year's 30-year fixed-rate mortgage, which has averaged at about 4.5 percent in 2018 is projected to rise to 5.1 percent in 2019 and 5.6 percent in 2020.
As has been the trend for the past several years, there is greater demand for housing than supply in much of the country, and that is expected to remain the case for most of 2019. In these seller's market conditions, it would not be surprising for buyers also may see slight rise in home prices. Supply is likely to catch up with demand toward the end of 2019, however, so if you're in the market, you might want to wait a bit to get a better deal.
If you are considering buying a home in the upcoming year, you might want to talk with a Licensed Lending Consultant at loanDepot to make sure you're apprised of all the factors you will need to consider when making your decision.
Here are six of the housing trends that we project will gain traction or we can expect to emerge in 2019:
1. Millennials will continue to enter the market
The oldest Millennials are now approaching their late 30s, but there are still a lot more of that generation lined up behind them. If Millennials don't already own a home, they want to. In fact, 88 percent of the non-owners say they do want to own a home. Many new homes built in 2019, especially affordable starter homes, will continue to be quickly snatched up. Many economists predict that builders will continue to focus on entry-level homes in 2019 because the demand for them is so great. However, with construction costs on the rise, builders are finding it more difficult to keep prices in entry-level thresholds.
2. Southern hospitality will reign supreme
Housing prices will remain high in large, urban centers. Most people moving to big cities will be high-income earners, highly educated, retiring baby boomers, or internationals. What about the rest? The South will see the most growth. The fastest-growing cities (population 50,000 plus) are located in the Southern states, and many of the top thirty are located in Texas. You can expect to see growth in some Western locations, including: Bend, Oregon; Saint George, Utah; and Meridian, Idaho.
3. New building materials help mitigate natural disasters
2018 saw more than its share of natural disasters, with states hard hit by hurricanes, floods, and wildfires. Given this recent increase of natural disasters, more builders are turning to housing materials designed to ensure stress tests for resilience, safety and durability. In 2019, we will see a new mass market for materials such as 3D cementitious sandwich panels that can stand up to wild fires, hurricanes, earthquakes and even tornadoes.
4. Remodeling will become a new favorite pastime
Experts expect home remodeling spending to reach $346 billion by Q2 2019, up 20 percent from two years ago. And as long as folks are remodeling, they may as well stay on trend. Look for tall column fridges, warmer and darker countertops and matte finishes in the kitchen, combined with overall elements of a concept called "Hygge," a Danish term defined as "a quality of coziness and comfortable conviviality that engenders a feeling of contentment or well-being."
Also big will be making homes suitable for multiple generations. Adding an additional master suite on a main floor could be the perfect spot for aging parents. You'll also see wider hallways, which are well suited for seniors who use walkers or wheelchairs.
5. Townhouses will make gains
Townhouses are typically less expensive to build than single-family homes but often include more square footage and luxury upgrades than single-family homes of the same price. They are also usually located in more urban, walkable areas. Because you own the land beneath the home, there are advantages to townhomes compared to condos, which is why it's the fastest-growing segment for first-time homebuyers, empty nesters, and buyers who don't want a lot of landscaping responsibilities. If you are in the market for a home, it's worth considering whether a condo, townhome or home would make good sense for you.
6. Affordable prefab homes will increase in popularity
Move over tiny homes! A prefab, or prefabricated home, is a home that is built offsite in a factory and then shipped to a building site in pieces to be assembled on the home lot. With property prices on the rise, prefab homes are another option for homebuyers looking for affordable options. Whether you select a modular, kit, or mobile home, these prefab abodes are a well-priced option for many home seekers. Best of all, these trendy homes can be purchased with many different customizations, often under $100,000.
Once you've decided which home purchase option is best for you, talk with a Licensed Loan Consultant at loanDepot to get preapproved for a home-purchase loan.