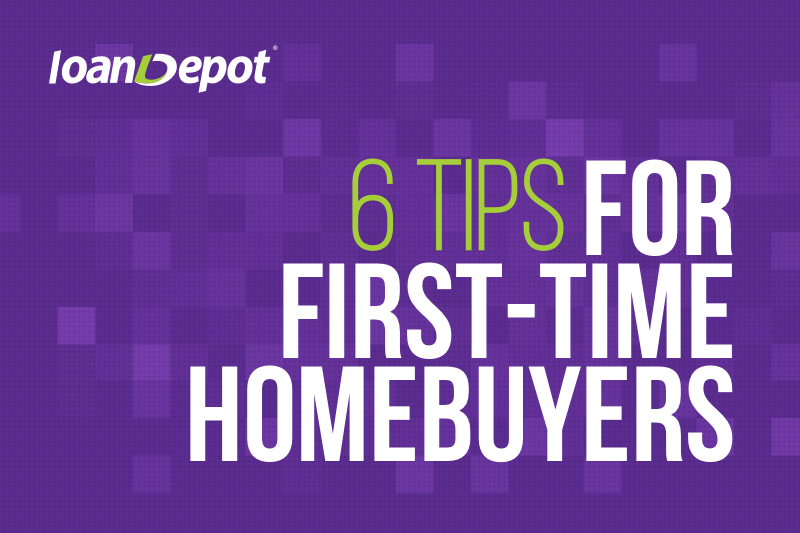 Looking forward to buying your first home, but wondering how you can afford to do it? You're not alone. But, also know this: It's doable. Here, we break down six strategies that you can use to help you afford your first home:
Maximize Your Credit Score

Assuming all other factors remain the same, it's often the case that a higher credit score will result in a more favorable interest rate. If your current credit profile is less than ideal, you can still improve your score relatively fast. Start by monitoring and looking for any discrepancies. If everything checks out, take conscious steps to maximize your score by putting these tips to work:

Set up payment reminders

According to MyFICO.com, your payment history accounts for roughly 35% of your total credit score. If you're continuously late with credit payments, it could cause your credit score to drop substantially. To boost it, consider enrolling in scheduled payment reminders to automatically debit payments due from your bank account.

Reduce the amount of debt you owe

This category contributes to about 30% of your credit score calculation. Reducing debt isn't always easy, but if you focus on paying off one debt at a time it can be more achievable. Start by putting as much money as you can towards your smallest debt, while still paying the minimum balance on your other debts. Once your smallest debt is paid off, focus on your next smallest debt. Alternatively, you can focus on the debt with the highest interest rate and continue to the lowest interest rate.

Don't close unused credit cards

Contrary to what you might think, closing unused or paid off credit card accounts can actually hurt your credit score. Why? Because you are technically reducing the amount of credit available to your name. Your Debt-to-Income Ratio, a major factor lenders evaluate when issuing a loan, increases when you close a credit account, thus negatively affecting your ability to assume more debt and qualify for a loan.

Explore Down Payment Assistance Programs

Just as a college student can apply for financial aid, aspiring homeowners can seek out down payment assistance. In fact, there are a number of national and local homebuyer's assistance programs to help borrowers come up with down payment funds, especially if you're are a first-time buyer. That's why it's crucial to work with a knowledgeable loan consultant who can explain all available types of Down Payment Programs in your local area.

If you are a veteran or actively serving in the military, be sure to inquire about a VA Loan. Guaranteed by the U.S. Department of Veterans affairs, VA loans allow for no- or low-down payment options. Generally, VA loans do not require a down payment, however there are eligibility requirements, county loan limits and value vs. purchase price factors that can require a down payment. VA loans also do not require Private Mortgage Insurance (PMI), which is usually required when a borrower does not put down a 20 percent down payment.

It's also important to note that although putting 20% towards your down payment will typically offer more favorable mortgage terms, it is not a requirement. In fact, many borrowers who put down as little as 3.5% towards their new home successfully go on to become homeowners. While paying less cash upfront could have disadvantages (such as a larger mortgage), it could still serve as a better alternative to renting, and be a means of building equity.

Explore All of Your Housing Options

Looking outside your desired area can open the possibility of less expensive homes, better schools or even extra space. You may have your heart set on living in the city, but it's worth considering that many suburbs today offer great neighborhood features such as pools and parks, with close proximity to public transportation. Also, if you're considering expanding your family in the near future, the suburbs might offer the lifestyle and access to amenities you'll desire.

Consider a Fixer Upper

Buying a home in need of renovation can be a great way to achieve your dreams of homeownership. If you are concerned about having the cash on hand to complete all the renovations, loanDepot offers several renovation loan options. For example, many buyers choose to buy fixer uppers with the 203(k) Loan, which is a mortgage insured by the Federal Housing Administration to help those who don't have a lot of cash to buy a property in need of repairs. Others opt in for the Fannie Mae HomeStyle® Renovation Loan, which allows for most types of renovation as long as the renovation project is specifically for your home.

The beauty of choosing a renovation is that you'll have an opportunity to create a truly custom space, handpicking everything from kitchen, bathrooms, floors, down to the light fixtures. Plus, if you purchase a fairly priced property, you'll have a chance to build equity and instantly raise the value of your home through the improvements.

Make Minor Lifestyle Adjustments

When it comes to saving for a down payment, little lifestyle changes can really add up. Buying coffee every day? Start making your own lattes, and not only will you learn a new skill, you could be saving up to $30 a week—that's $120 in one month! Find yourself going through the drive through or eating out most nights of the week? Challenge yourself to eat in as often as possible—you'll save money and may even discover that you have Top Chef talent. Once you start cutting things out of your budget, you'll likely find other expenses you can eliminate, such as shopping trips, travel, cable, or other unnecessary monthly subscriptions.

Bigger changes can really add up, too. Have an extra bedroom? Consider taking in a roommate. Or, temporarily consider moving home. Does your city have reliable public transportation? Consider selling your car or cutting back on your drive time. It'll save you money in gas, expenses and parking.

Consider a Side Hustle

The gig economy is real, and having a side hustle can be a fast and fun way to help those savings accumulate. Below are just a few ideas to help you earn extra cash:

Online freelancing (graphic design, writing, etc.)
Tutoring
Translating
Side business (selling your own product/service)
Driving Uber or Lyft
Deliveries for Amazon, Uber Eats, Postmates, Doordash
Pet Sitting

Finally, don't forget to explore the Bank of Mom and Dad. Parents and relatives are often delighted to assist—if they can afford to do so.

Now that you have a better idea of how to approach saving for a home, sit down and start creating your own plan of action. If you feel ready to discuss your financing options, or simply want to learn about down payment assistance programs or any of loanDepot's products, it's never too early to speak with a Licensed Loan Consultant.