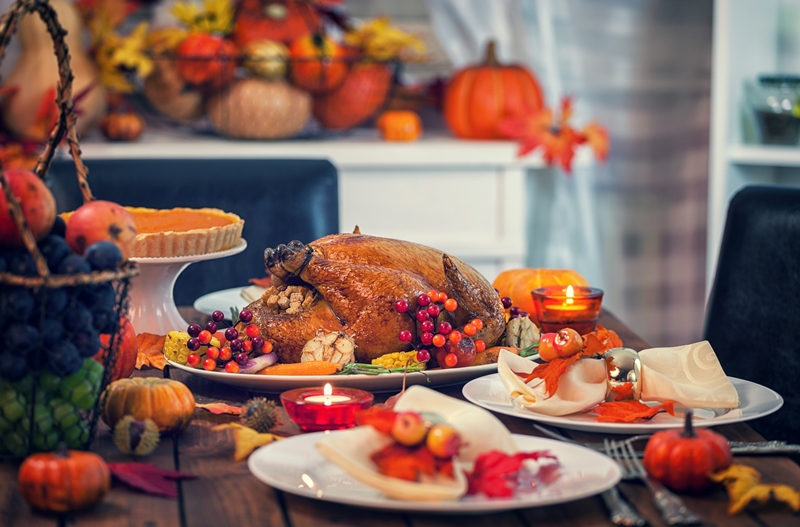 Just as the aroma of turkey, stuffing and pumpkin pie are about to waft through homes across America, many people are planning on Thanksgiving Day parades and festivities. Let's take a quick tour, spanning from historic Plymouth, Massachusetts, where the first autumn harvest celebration took place, to Philadelphia, home of the country's oldest Thanksgiving parade, and over to Detroit. Some of these towns also host traditional football games, Turkey Trot races, food festivals and patriotic concerts.
Here's a closer look at the Turkey Day hoopla – along with a small serving of the real estate climate in each location. Even as the holidays will soon seem to morph into one another, speak to one of loanDepot's licensed loan officers to learn more about all your lending options can set you up for a new home in the New Year.
New York City
The storied Macy's Thanksgiving Day Parade, now in its 90th year, attracted 3.5 million spectators and reached 22.3 million viewers on NBC last year. The tradition, beginning in 1924, once featured animals residing in the Central Park Zoo. By 1927, large animal-shaped balloons had replaced the live animals.
For those in the market for a new Manhattan home, a residence with a coveted view of the Thanksgiving Parade is sure to bring a boost in home value, lovely holiday memories and maybe even an abundance of friends hoping for a Turkey Day invite. This Unit 5B apartment on 200 Central Park South (for sale for $4.5 million) boasts a huge terrace overhanging the park for direct views of the Thanksgiving Day Parade, New York Marathon and New Year's Eve fireworks.
Plymouth, Massachusetts
Plymouth, long known as the home of the first Thanksgiving Day feast celebrated by colonists and Wampanoag Indians in 1621, hosts a parade filled with decorative floats, nationally recognized drum and bugle corps, military marching units and re-enactments from various periods of American history. The parade is part of a long weekend filled with patriotic concerts, New England Food Festival and waterfront activities.
In this town, where the median list price is $419,000, according to Realtor.com, buyers can land a home near Plymouth's center and waterfront, where many community events take place. One listing for a 1,700-square-foot, three-bedroom Colonial on 104 Westerly Road is asking $389,000.
Detroit
The Motor City's parade is celebrating its 90th march this Turkey Day. Spectators will watch a choreographed line of performance acts, bands, high-flying balloons and colorful floats. The Turkey Trot race and the Lions' National Football League game are also part of the city's Thanksgiving tradition.
Another plus: Detroit was recently named the most affordable market in the U.S., by New Jersey-based real estate firm Coldwell Banker, with an average home cost of $64,110. Dollars can go far the Michigan hub. For around $450,000, you can get a completely renovated historic home with upscale amenities at 830 Virginia Park St.
Philadelphia
The City of Brotherly Love is home to the oldest Thanksgiving Day Parade in America, now in its 97th year. The 1.4-mile event fills the streets with cheerful floats music and family friendly characters like Frosty the Snowman and Santa to usher in the holiday season.
Philly, also known for its elaborate New Year's Day Mummers Parade, has a median list price of $169,000, according to Realtor.com. For a home at that price point, if you make a 20 percent down payment of $26,220, your monthly payments for a 30-year mortgage with a 4.5 percent interest rate would be around $531 a month – not a bad deal.
Chicago
The Windy City's McDonald's Thanksgiving Parade incorporates a cast of thousands, including Ronald McDonald and Santa Claus. An interesting bit of history: The city's first parade launched in 1934 to lift the spirits of Chicagoans amid the Great Depression.
The median listing price in Chicago is $245,000, according to Realtor.com. And bargains can be had. With many properties boasting great values, buyers can land a home like the one at 3309 W 85th Place for less than $290,000.
Thanksgiving is an especially happy time for homeowners. If you're ready to find a new place in which to celebrate future occasions, talk to a loanDepot licensed loan officer to get started.
Published Nov. 21, 2016
RELATED TOPICS
6 easy ways to revive an outdated living area
Meet your team of homebuying professionals
Best renovations for aging in your home
Technology helps homeowners visualize finished projects