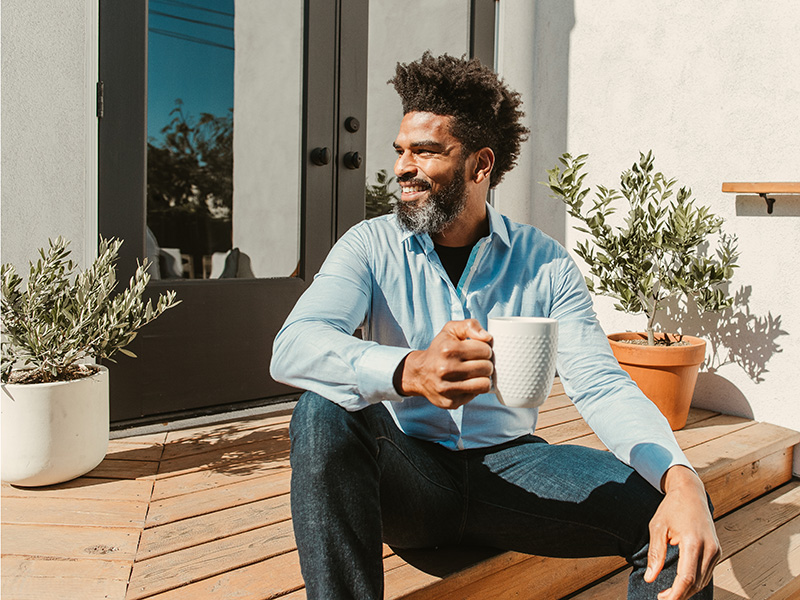 Understanding the process of buying a home can help to pave the way to the front door of your new home.
Buying a home for the first time is undoubtedly exciting, and it has many benefits such as building equity and providing stability in your world. Your home is a place to relax after a long day, raise a family or just feel secure.
The process of buying a home might feel a bit overwhelming, but the more information you gather about the journey, the more you can focus on the end goal of owning your first home.
Benefits of Homeownership
When you purchase your first home, you no longer give your hard-earned money to a landlord. Instead, your monthly payments contribute to your own wealth, also called equity. What's more, once you've built up enough equity, you can tap into that equity with a cash out refinance loan or home equity line of credit (HELOC) for future renovations, additions or even to pay off credit card bills at a much lower interest rate.
Since it's your home, you also get to paint it, make updates and do whatever else you want to make you feel comfortable, safe and proud to be a homeowner. Gone will be the days of pet fees and other rental rules.
According to H&R Block, owning a home may also allow you to take some tax deductions, such as on property taxes, which you should discuss with your tax advisor.
Determining Whether You're Ready To Buy
The costs of buying a home add up, including moving fees. Nolo says that if your projected timeline to stay in your first home is at least three to five years, the effort and costs of buying a home are likely to feel more manageable. As long as you're not planning to move again in the next year or two, you'll have time to recover from these upfront costs.
Understanding that real estate markets go up and down can help you decide whether it's the right time to get your first mortgage. If you buy a home during a high-priced market and then have to sell quickly during a slump, you could lose money, including 5%-6% of the purchase price to a real estate agent when you sell. You can't predict the future, of course, but you can take the market into account to help inform your decision.
Another aspect to think about is what your current budgeting skills look like. If you're having a hard time paying your monthly bills on time, you might want to turn to a housing counselor for help on how to get organized and get your credit score back on track. The better your score and the bigger your down payment, the lower the interest rate on your mortgage. This can save you a lot of cash down the road.
Exploring Your Options for Down Payment Assistance
If you feel that you won't be able to afford a home, you're not alone. Down payments are one of the biggest obstacles for many people. However, more than 2,000 programs across the United States offer down payment assistance (DPA) programs and can offer help with closing costs.
Many of these programs help first-time homebuyers or those who are low- to middle-income. There are also specialized programs for certain groups, such as those with a disabled family member, Native Americans or military members. Many filter down from nationwide programs that are managed by state, county and city governments. Your lender may be knowledgeable about these DPA programs, but you can also look them up yourself to learn more.
The Steps of Buying a Home
Purchasing your first home is life-changing. Learning the stages of what to do to get ready for this monumental moment can save you time, money and frustration. Here are some steps to consider taking to help navigate the process.
1. Examine Your Finances
To start the process of buying a home, consider taking a look at your finances. First, check your credit report. There could be mistakes that need to be corrected so that you can get the best interest rate on your mortgage. Then, think about setting a monthly budget that takes your current lifestyle and the near future into account. Do you have room for a mortgage payment and other related costs in your budget? It's best to avoid buying a home that leaves you with no financial cushion to cover important expenses and financial emergencies.
2. Consider Your Down Payment
It's often recommended to save 20% for your down payment. If that's not possible, there are many first-time homebuyer programs out there to help with down payment, closing costs and more. If that 4-bedroom, 3-bath house down the street remains out of reach now, you may consider purchasing a smaller home and watch your equity rise until you can buy your dream home.
3. Stash Away an Emergency Fund
You may want to consider saving enough emergency fund money to cover three to six months of expenses, including your new mortgage. A lender will likely feel more confident about you as a borrower with those monies available, and you'll have a heightened sense of comfort and stability.
4. Generate a Loan Application Bundle
No matter which lender you select, you'll need to divulge a lot of information to qualify. By gathering all the necessary information ahead of time, you'll save time and possibly some stress. Some of the documents you may be asked to provide include two years of W-2 forms and signed federal tax returns; pay stubs accounting for the last 30 days; documentations of other income such as alimony or child support; your bank statement for the last two months; and proof of your down payment source.
5. Find the Right Lender To Get Preapproved
Getting preapproved for a loan before you even start to look at homes can be a helpful step in the homebuying process because it gives you a clear idea of what you can afford. It also shows sellers that you're prepared. Take the time to shop around for the lender that best suits your needs. Loans can either come from mortgage lenders or brokers, who work with lenders rather than providing funds directly. If you're feeling uncertain about the process, you may consider contacting a housing counselor or real estate attorney to review any documents before you sign on the dotted line.
6. Seek Out a Real Estate Agent
A real estate agent can help you find a home that meets your needs and falls within your budget. Consider asking friends and family who they worked with when they bought a home. From there, research a few names and look through their websites and other online pages. Many have designations that make them experts in certain areas, such as working with veterans or first-time homebuyers.
Working with an agent from wherever you're moving will probably be your best bet. They'll have useful information about the local housing market, neighborhoods and schools. Once you find a home, they can also help you identify reputable vendors for projects such as landscaping or remodeling a bathroom — or just recommend the best pizza spots in town.
7. Identify Your Priorities
Think about what you want and need in a home and what kind of neighborhood you prefer. Do you want a big yard, or would you prefer a condo so you don't have to do yard work? Is it a necessity to have two bathrooms, or will one work for now? Think about kitchen layout, heating and cooling systems and any other features that are important to you. Some people want a fixer-upper so they can make it their own and save money. Others prefer something move-in ready.
Keep an open mind about neighborhoods, style and home size. It's helpful to understand what you're willing to forego in your first home and what your needs are. For example, if washing dishes is your least-favorite chore, you may deem having a dishwasher a must.
8. Make an Offer
After seeing some homes in person, you've narrowed it down to one or two. Talk with your agent about how much to offer in order to be competitive. You'll also put down something called earnest money, which is essentially a deposit that shows the seller your commitment to buying the home. The money goes into an escrow account until closing, at which point it will be used toward the down payment and closing costs. You can specify in your offer when you'd be ready to close and any contingencies, such as keeping the washer and dryer that are already in the home.
9. Insist on a Home Inspection
The home may look amazing inside and out, but what about the things you can't see? That's where a home inspector comes in. These professionals examine everything from the floor to the furnace to the roof. After the report is complete, you and your agent can keep the offer as originally written, walk away from the deal (with your earnest money) or reach a deal with the sellers to fix some of the problems within the home.
10. Sign on the Dotted Line
Congratulations. You've finally made it to closing. This step is a formal process where you sign all the papers, including the loan documents. Sometimes, your agent will meet you there as support. This is the culmination of all your hard work and time. When it's all said and done, they'll hand you the keys to your new home. Time to celebrate!
The process of buying a home can take time and some work. But whether you're moving across the country or one neighborhood over, research and preparation can help to make the process smoother. The moment you step into your new home, all that effort will feel worth it.