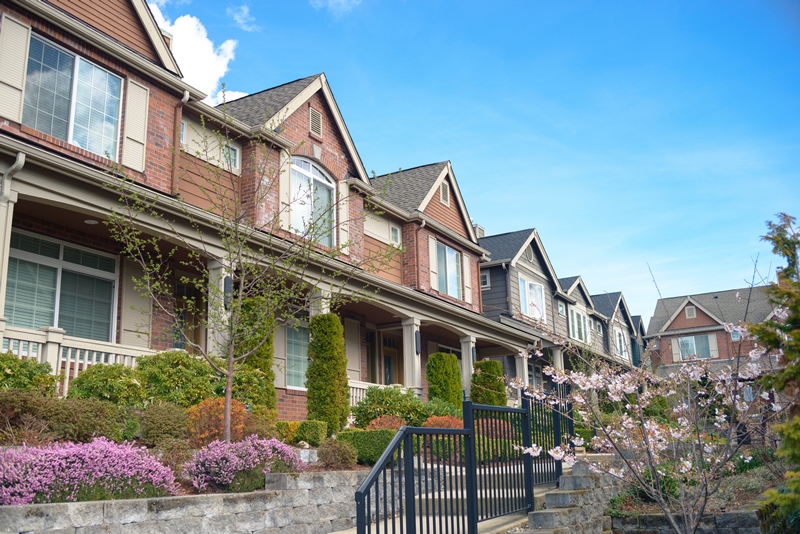 If you want to buy a home in an urban neighborhood, you've probably noticed a couple of things: 1. single-family homes in metro areas are expensive; 2. hence, developers are building town homes as fast as they can snag a plot of land.
Although town house construction saw a decline of 18.5 percent in the third quarter of 2016 from the third quarter of 2015 vs. detached homes' increase of 4 percent, the first quarter of 2016 paints a different picture. Then, town house construction shot up 36 percent in the first quarter of 2016 from the first quarter of 2015 vs. detached homes' increase of 15 percent. New town house construction in 2015 accounted for 11.9 percent of all single-family homes. Regarding homes that sold last year, 49,000 were attached homes compared with 453,000 detached. 2016 numbers are pending.
If you decide now is the right time for you to go the town house route, consult a loanDepot licensed loan officer to get prequalified.
Why are town homes on the rise? Five possible reasons:
1. Town homes cost less.
People who want to live in the same ZIP code as their place of business (assuming it's in a downtown area) are probably considering a townhouse. Simply, the structures generally cost less than comparable single-family detached homes in the same area. Their smaller footprint means lower land costs for comparable living-area square footage.
2. They're easier to maintain.
Having a sizable backyard is a top priority for many homebuyers. And there's a place to get that the suburbs. But if you're averse to the burbs, and if you don't own or even know how to use a lawnmower, you might love the idea of a town home. Some homeowners dig their yards; others see them as dreadful, labor-intensive weekend chores. Many people switch their priorities depending on where they are in their lives.
3. They offer a midsize option.
Town homes are usually bigger than condominiums – with similar amenities, particularly if they're part of a neighborhood. Condos are usually located within a large complex and have an apartment-like feel. Town homes, on the other hand, are individual houses. They merely share a wall or two. People who want more room close to urban amenities and without increased maintenance – aka millennials – often choose town homes.
4. They're perceived as safe.
Security is associated with a town home linked to a neighbor, as opposed to an isolated house. This can be particularly important to single women, who are the second-largest home buying segment and are expected to have a major impact on real estate buying trends over the next decade.
5. Builders are incentivized.
Part of the reason town homes are popular is basic: They're available. "There is a massive shortage of housing in the U.S. in many areas," says Mark Ferguson, a Realtor and creator of t he real estate site InvestFourMore.com. "It used to be much easier for builders to get large loans to build hundreds of homes or create subdivisions." He notes that builders today lean toward getting a loan for a town house development since the land requirement is much smaller to build the same amount of homes.
Bottom line
What consumers favor regarding property purchases continually changes. McMansions were all the rage in the 1990s and 2000s. After the recession, people have gravitated toward smaller spaces in live-work-play areas. "In 2017, we see the town home trend growing," says Justin Udy, a Salt Lake City real estate agent. "Barring any large changes, we are anticipating more sales in this demographic, as town homes offer a different and oftentimes more affordable option than that of single-family homes."
If you're ready to have a decent amount of space in a smaller footprint home, speak to a licensed loan officer at loanDepot today. Call to discuss your financing options.
Published Dec. 6, 2016
RELATED TOPICS
8 things to know about a home before buying
Final stages of the lending process
Best renovations for aging in your home
6 easy ways to revive a dated living area
Technology helps homeowners visualize finished projects