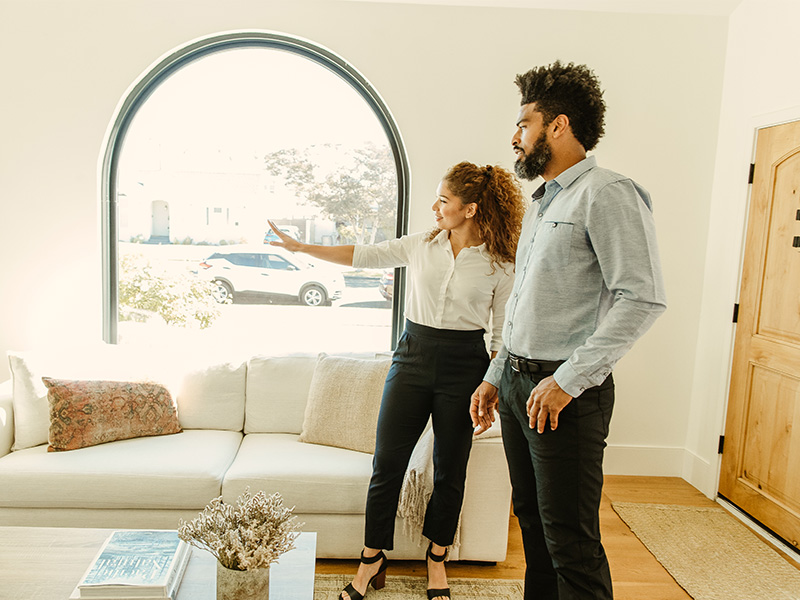 Preparing a list of what features are most important to your family can help make touring homes less intimidating.
Buying your first home is a big financial step, but emotions play a part, too. You're choosing the place that you'll call home for years, and you want to love it. Knowing what to look for when buying a home can help keep you focused on what matters most, so you don't fall in love with a home you'll regret buying later.
Consider Your Budget
It's important to understand your finances and consider your house-hunting priorities before you start shopping for a home. On the financial side of the equation, you may want to begin by improving your credit score and saving for a down payment.
When you're ready to look for a home, consider getting preapproved to see what you can afford to buy. It may help to create a budget to ensure you can cover all your current expenses along with a monthly mortgage payment.
Determine What You're Looking For
To rein in the emotional side of the process, think about what you want and need from a home. By following your list of what to look for when buying a home, you can make an informed decision about which property is best for you and avoid acting on impulse alone.
Consider asking yourself some questions that take a long view. For example, how long do you plan to live in the home? Are you looking for a starter home that you'll sell in a few years as your family grows, or do you want a forever home? Are you interested in an investment property with a rental unit or space to accommodate a roommate? Do you want a single-family home, condo or townhouse?
Next, list the attributes and features of a home that are important to you. You may not agree on everything if you're shopping for a home with a spouse or partner. In that case, you'll both have to compromise about what to look for when buying a home. Generally, essential attributes fall into categories such as price, size, location, interior and exterior features, and the home's condition and renovation needs. You might consider ranking the factors you think are essential, so you can focus on your "must-have" features.
It's also important to remember the difference between needs and wants. Needs are features you can't do without, like enough bedrooms for your family members. Wants are things you'd like to have, like granite countertops. Make sure a home meets all your needs, and then determine if you can make renovations or improvements to accomplish some of your wants.
Factors To Consider When Looking at Homes

As you think about what to look for when buying a home, you may want to keep these considerations in mind:
Price
In addition to having enough income to make your monthly mortgage payment, you'll need to be able to cover maintenance and repair bills. If you plan on making major renovations, the price you pay for the home should leave you with enough money left over to complete those improvements.
If multiple offers are common in your area, look at homes priced below your budget. That way, you'll have funds available if you need to pay more than the asking price to get a contract on the home.
Location
You've probably already heard the phrase "location, location, location" more than you want to. However, location is crucial. It's the one thing you can't possibly change about the property. Here are some aspects of the location to consider:
City or suburbs. City neighborhoods may have more amenities, while the suburbs offer more privacy and space.
Crime rate. The local police force in your area may publish data on its website. You can also consult tools such as ADT's Crime Maps to get an idea of how the neighborhood's statistics compare with general crime rates.
Commute. Decide the maximum amount of time you're willing to spend commuting. You may even want to do a couple of test runs to see what traffic is like. Try going straight to the home from your office during the afternoon rush hour, or swing by the home early and test the morning commute. This way, you'll know exactly what you're up against.
Amenities. Drive around the area and find the nearest grocery store. See what restaurants are nearby. If you use public transportation, check to see whether there are bus stops or train stations within walking distance. If you have a dog, is there a public park or trail nearby where you can walk them?
Schools. Even if you don't have children, the quality of the local schools can impact your resale value. You may want to consult the local school district's website for data on test scores and graduation rates. Great Schools also provides information on local school performance.
Other concerns. Is the home near a noisy freeway, large construction zone or airport flight path? Consider whether factors like these might limit your enjoyment of your home.
Size and Layout
You probably have an idea of how many bedrooms and bathrooms you want, but it can be a good idea to list your other spatial needs, such as room for a home office or exercise equipment. If you plan to expand your family in the future, keep that in mind, too.
A home's square footage may be less important than how the space is arranged, so consider whether the layout works for your family. For example, if you have small children, you might want the kids' bedrooms to be close to your bedroom. However, you might prefer having bedrooms on opposite sides of the home if you'll be living with a roommate. Do you prefer an open floor plan where you can cook and socialize all at once, or do you like the kitchen to be separate from the family room?
Consider storage space as well. While closet space is an important consideration, storage space in the attic or basement can be beneficial, too. It's a good idea to assess your storage needs before you start touring homes so you know what to look for.
Exterior
Exterior features are also key to evaluating a home. Some things to think about include:
Lot size. If you have children or pets or love to garden, you might want a large yard. If you don't enjoy doing yard work, you may prefer a small yard or possibly no yard at all.
Yard features. You may be able to add a fence or a patio if the yard doesn't have them, but decide if you're willing to take on the extra expense.
Parking. If there's no driveway or garage, is there a designated space for your car? If not, you may want to determine the ease and availability of street parking.
Style. You can paint a home if you don't like the color, but it's difficult to change a Colonial into a Craftsman if you have your heart set on a specific style.
Condition of the Home
Are you looking for a move-in ready home or a fixer-upper? The amount of remodeling work you're willing to take on will be a significant factor in finding the right home. Some homes only need cosmetic changes that you can make after you've moved in. Decide if you'd be willing to live in a home as you slowly perfect it or if you want to do a complete renovation before you move in.
Even if you plan to remodel, consider whether the home is structurally sound and in good shape. You may want to hire a home inspector to assess the home's condition, including the roof, foundation and major systems like HVAC and electrical. You wouldn't want to pay top dollar for a home only to find out that you need to replace the roof right away.
How To Finance Your First Home
Many first-time buyers decide to use an FHA loan (insured by the Federal Housing Administration) because they're available with a low down payment. If your credit score is 580 or higher, you may qualify for an FHA loan by putting down just 3.5% of the home's purchase price.

If you have a good credit score and have saved enough money to make a down payment of 5% or more, you might decide to get a conventional mortgage. With a

, your interest rate won't change. You can choose a 30-year mortgage to get the lowest monthly payments or select a shorter term to reduce the amount of interest you pay over the life of the loan.

If you want to buy a fixer and renovate it immediately, an FHA 203k loan allows you to borrow money for the renovation and roll it into your mortgage. Like a standard FHA mortgage, a 203k loan is available with a down payment as low as 3.5%, although it requires a credit score of 620 or higher. You'll have to submit more paperwork during the application process than with a standard loan, and you must be ready to start your renovations immediately. The loan requires you to start the remodeling work within 30 days of closing and to complete it within six months of closing.

A mortgage lending officer can walk you through your options and help you determine which loan is best for you, so you can concentrate on finding your perfect home.