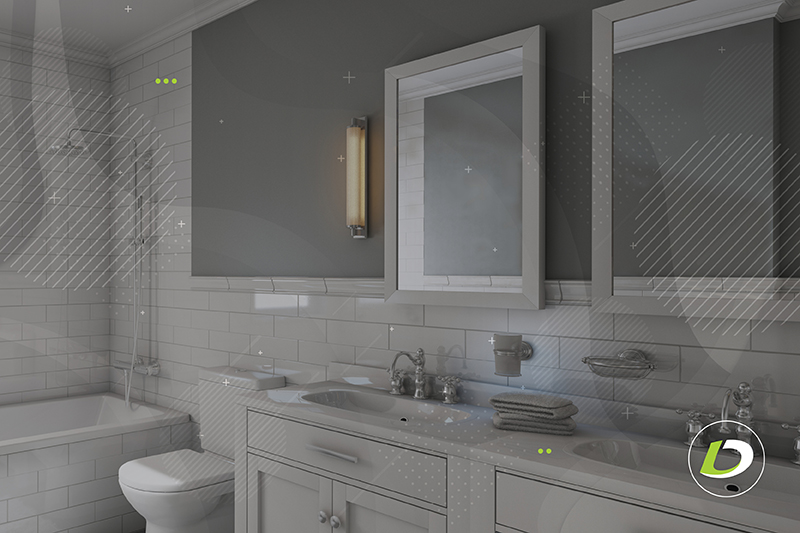 (Article Updated 7/29/2019)
Whether you want to make your home more functional for your family or your thinking about putting your residence on the market, a light remodel can go a long way.
Here are 10 remodeling projects for $10,000 or less that are sure to breathe new life into your home.
Kitchen: While you won't get a brand-new dream kitchen for the low end of five figures, there's a lot you can do to spruce things up. And any investment into a home's kitchen, even as minor as new paint and flooring, is all but guaranteed to add value. From upgraded appliances, to granite or quartz countertops with a new mosaic tile backsplash, you can give the appearance of a new kitchen. Refinishing your cabinets, instead of replacing them, is an inexpensive way to do a surface makeover on your outdated kitchen.

Bathroom: Nothing shows a home's age more than an outdated kitchen or bath. Investing in a new bathroom not only adds value and appeals to homebuyers, but it can create a sanctuary to balance your life. While you may not get the luxury bath of your dreams, $10,000 is plenty to transform the space significantly. Replacing the vanity and fixtures and adding new flooring is a good starting point.

Flooring: Replacing old carpet and tile with new hardwood flooring will bring much-needed style to your home. Experts say flooring trends change frequently, so it's important to do your research. If you're planning on selling the home, stay away from uber-trendy flooring ideas such as stained concrete, which can look great but be a turnoff to some homebuyers. Also, if not done right, trying to paint or stain concrete can turn out horribly wrong. Carpet will run about $300 to $500 per room while hardwood flooring can run up to $2,000 per room.

Windows: Replacing your home's old windows with new, energy-efficient windows is a good investment whether you're planning to sell your home or stay in it long term. The cost savings from reduced heating and cooling bills can pay for the upgrade in less than 10 years.Plus, new windows are a major point of attraction for homebuyers. Budget $200 to $300 per window as a general rule of thumb. Some larger, odd-shaped windows can cost considerably more.

Landscaping: Nothing improves your home's curb appeal like new landscaping. Installing drought-tolerant, native plants is also a great way to cut back on water use. A new flagstone walkway is sure to impress visitors while cosmetic changes such as painting window shutters or installing flower boxes adds a great deal of charm. Masonry touches on the front of your home or around planters look nice, but can easy break your budget depending on the quality of materials you use. Be sure to highlight trouble areas and set a budget because landscaping costs can easily spiral out of control.

Painting: While we're on the topic of curb appeal, repainting your home both inside and out is one of the most affordable ways to give your home an entirely new look. For $10,000 you can hire a professional to ensure the job is done right. A poorly painted house can be a major eyesore and a definite turnoff to homebuyers. When it comes to paint, quality over price should be your mindset. Higher quality paint means you won't have to repaint for several years and paint technology has improved greatly in the past several years, with colors guaranteed to last longer than ever before.

Doors: A new front door and a new garage door is an easy way to add class and charm to your home. Both key exterior focal points, replacing these doors with character-defining elements do wonders for curb appeal. And a steel front-door replacement is one of the highest ROI renovations you can make.

Knock down a wall: A dream of many homeowners, tearing down an interior wall can be the key to the highly sought-after open concept floor plan. Removing a wall, even load-bearing walls, is easier and more affordable than most homeowners think. One thing that's sure to jack up the price, though, is if the wall contains plumbing that needs to be relocated.

Custom storage: Everyone knows the importance of storage, but building custom storage solutions is a great way to manage your space and activities. It's never easy to fit into someone's else's space, so tailoring storage areas to suit your personal needs can be a major stress reliever. Spending money to make your home's storage work for you, whether it's a new storage system in the garage or converting a pantry into a more functional space, is a good investment no matter how you look at it.

Go high-tech: You're living in the 21st century, so why isn't your house? Imagine the peace of mind of being able to control every aspect of your home remotely. Did you leave the iron on? How about being able to control lighting, heating and cooling from your smartphone? As security systems with mobile integration become more prevalent, there will be more options.
Whether it be a renovation loan, a home equity line of credit or a cash-out refinance, a loanDepot licensed loan consultant can help answer any lending-related questions to kick off your special renovation project.
RELATED TOPICS
How to get the most ROI from your home improvement dollars
5 reasons to renovate
9 helpful uses for an unsecured personal loan
Challenging an appraisal when buying a home
4 makeover ideas for your college student's old bedroom