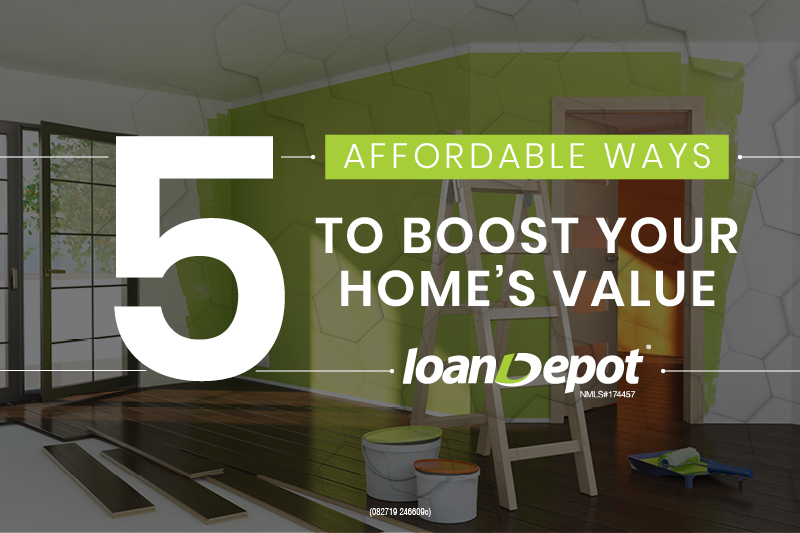 (Article Updated 8/28/2019)
If you're considering selling your home, you no doubt want to get the most value possible out of the deal. Aside from cleaning up and making sure everything is in working condition, here are a few easy ways to increase the resale value of your home without breaking the bank.
1. Spruce up your kitchen
Buyers tend to put a lot of emphasis on the kitchen, but you don't need to renovate from the ground up. There are easy steps you can take to give the space a fresh, new look. Small touches such as updated cabinet door handles and drawer pulls can make a big difference. If you want to give the cabinets themselves a new look without replacing them altogether, consider painting or staining them. You can also purchase replacement doors at a hardware store.
2. Update the bathrooms
When it comes to your bathroom, there are plenty of ways to change the feel of the space. Just like in your kitchen, small changes can help. New faucets in the sink and bath can make a huge difference, as can a nice showerhead. Updated lighting fixtures or even new towels can also give your bathroom a more spa-like feel.
3. Improve your curb appeal
The first thing buyers see when coming to view your house is, obviously, the outside. What better way to give a great first impression than to make sure your landscaping is tidy and welcoming? If your yard seems dull in comparison with your neighbors, consider planting flowers or repainting the front door for a pop of character. Small touches, like a new mailbox or house numbers, can make a difference as well.
4. Consider your flooring
If you have carpeting, make sure you get it professionally cleaned before potential buyers start coming by your home. Area rugs are also an option for parts of the carpet that are showing serious wear. If you do have a little room in your budget, consider adding hardwood floors (or even laminate) to just the main areas of the house and leave the bedrooms carpeted. According to data from the National Association of Realtors, 54% of homebuyers are willing to pay extra for homes with hardwood floors.
5. Don't forget to paint
Nothing can turn off a buyer like worn, chipped paint or outdated wallpaper. One of the most cost-effective means to give your whole home a facelift is by adding a fresh coat of paint. This is a great do-it-yourself project, though some choose to hire out help and leave it to the pros.
It's best to stick to neutral colors when repainting your home. Experts suggest using beiges, tans, golds, and grays. Just like carpeting, many new homeowners will select their own colors once they move in. A neutral color palate will help the homebuyer picture their own touches in the home without being put off by bright colors that may not be to their taste.
A loanDepot licensed loan officer can help you with a home equity loan to cover your creative expenses. Call today for more information.
MORE ARTICLES
Appraisal tips when selling your home
What determines U.S. mortgage rates
Fannie Mae and Freddi Mac explained