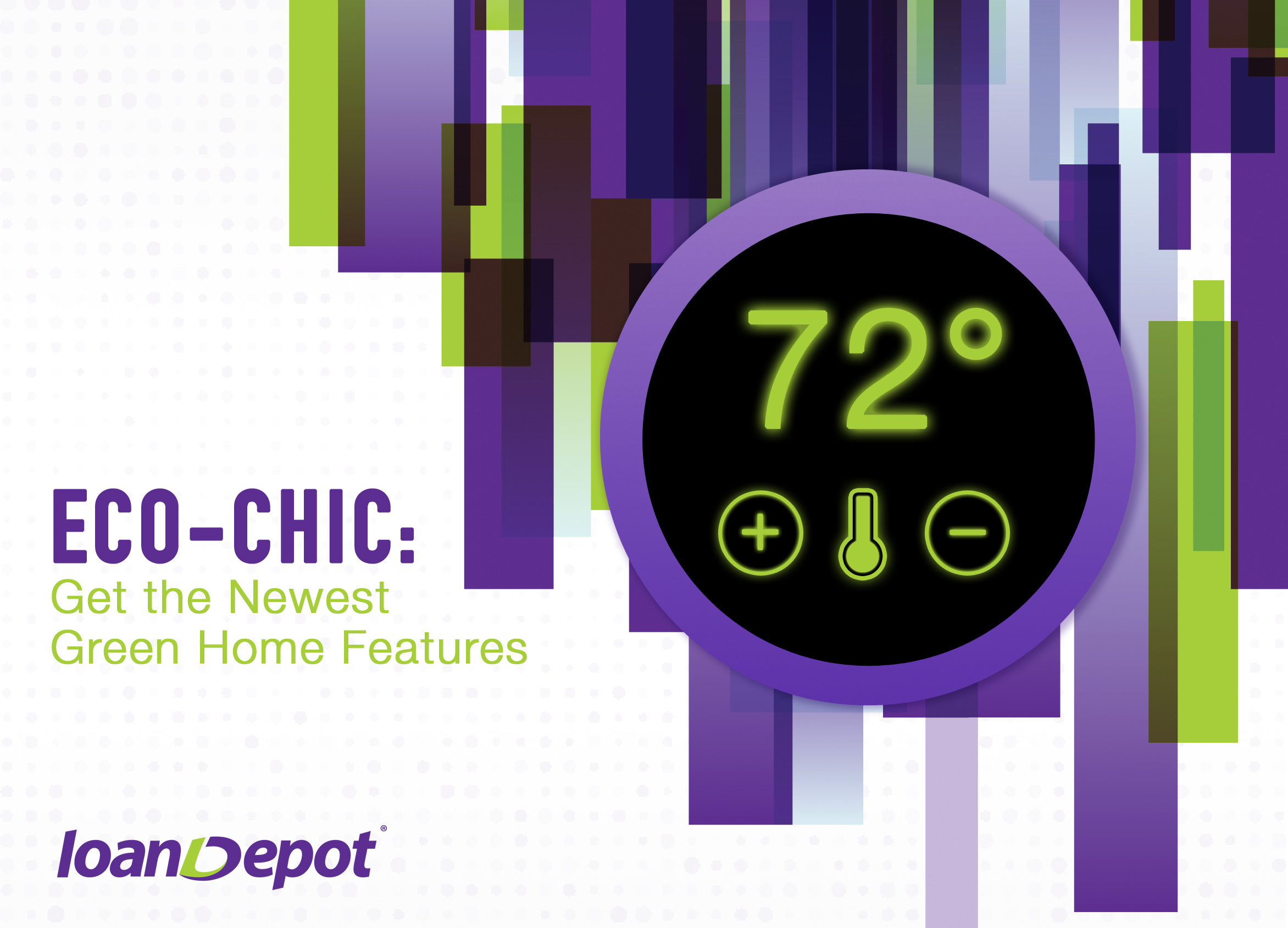 It seems we hear about killer smart home and green features available for the home almost daily. These are designed to make life easier and more energy efficient. We can now set our thermostats from our phones and the device will "learn" our habits and begin to adjust itself accordingly.
New technologies with whole-house batteries and solar options are being developed regularly and so the option to go "off the grid," at least partially, is now a reality for many. It's never too late to start incorporating these cost- and energy-saving accoutrements in your home.
What are the latest in eco-friendly designs? Are solar panels reaching a point of affordability for most homeowners? What are some innovative ways to save energy and include more environmentally features in your home? Many are surprised to learn such accessories can often pay financial dividends.
At loanDepot, we can help with a home equity loan to help you take advantage of some of these new features. Let's take a look.
Go au naturel
An article in Coastal Living says that one of the new trends in eco-living is actually one that is not technology based. It is the use of landscaping like trees and bushes to keep energy costs down. Rock gardens can use fewer water resources. More and more homes are using landscaping strategies to "go green."
More attention than ever is being spent on Energy Star appliances that can reduce energy use by up to 40 percent of non-designated household appliances. Water-conserving appliances like low flow toilets and shower heads have become commonplace and energy and water efficient washing machine and water heaters are increasingly popular.
Some homeowners are even turning to satellite controlled water sprinklers, linked to local weather forecasts and only turned on as needed.
The latest on solar panels
The good news is that solar tiles are improving in efficiency and cost. While improvements are slow, they are exciting. A roofing product from Hanergy called Hantiles, for example, encapsulates thin and flexible solar cells into clear float glass. This could lead to more improvements and eventually roofing tiles that also serve the purpose of providing energy.
One of the more exciting aspects of solar energy development is their increasing availability to consumers via online and big box stores. There are 1,000-watt grid-tied solar kits starting at about $2,000 and 5,000-watt kits available at about $10,000. Not inexpensive, for sure, but certainly more reachable than just several years ago. There are even panels designed just to power your water heater.
Smart thermostats
Smart thermostats can cost upwards of $250, but today many serve as voice assistants and can even monitor temperatures in multiple rooms. Depending on the thermostat you choose, you can monitor and control temperatures from anywhere via your smartphone. This is more than just mere convenience. It can provide real energy savings and cost benefits.
Hi-tech window shades
Even window shades have gone hi-tech to help you save energy. For about $50 per window, cordless window shades can block out direct sunlight in the summer and help insulate in the cooler months. Best of all, you don't have to get up and down to adjust them as the sun moves across the sky. Stay seated using your cordless remote control!
Invest in energy savings
Investing in energy savings can be smart for the planet and smart for your wallet. An energy-efficient HVAC system, for example, can save 50-70 percent of the energy costs of a 15-20-year old unit. That is significant.
It can take money to save money, however, and loanDepot is here to help with a variety of financing options for homeowners.
Published August 10, 2018
RELATED TOPICS
Maximize your home's appraisal
Fixer-up! Get your home ready for spring
Spend tax money on your home now for greater returns in future
Digital design – use these apps to visualize your home improvements