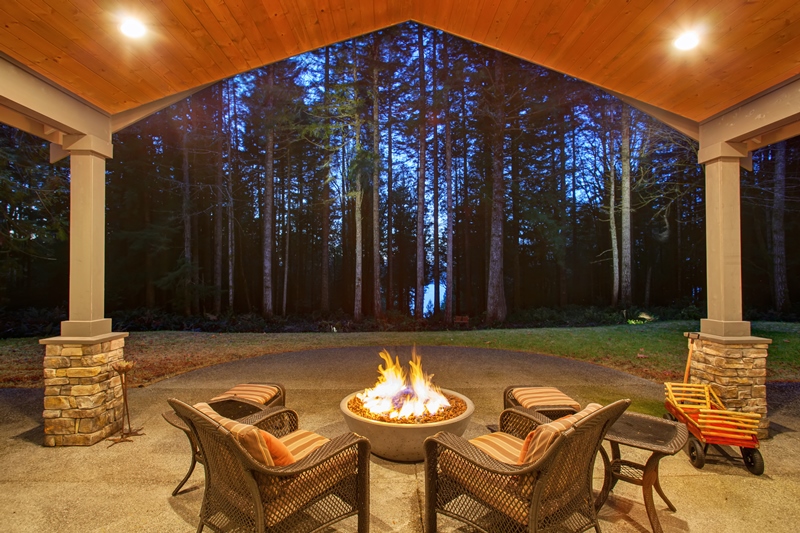 This time of year, many homeowners look for affordable ways to tap into their home's equity to make their backyards the perfect place to relax and entertain throughout the season. And once you create this ideal outdoor space, why not extend its usability well into the colder months? A little heat will help make it so you can roast marshmallows in summer and get cozy with hot cocoa in winter if you add an outdoor fireplace or fire pit.
A home equity loan from loanDepot can spark the flame and soon you'll be basking in the warmth and ambience of a new fire feature. Call today for more information.
When choosing between an exterior fireplace and a fire pit, each option has its advantages and disadvantages, and the total cost between designs of the same type can vary widely, depending on the options you choose. Also, it's important to note that some states and local governments regulate the use of wood-burning fireplaces, so be sure to double check state and local laws.
Fireplace – traditional structure to anchor space
If you're looking to add onto or improve upon an already existing deck or patio, an outdoor fireplace may be the safer, more appropriate option:
Structure: The masonry chimney will add dimension to the space and create a more intimate atmosphere, in addition to the practical safety benefit of directing the smoke away from guests and above the roofline. Depending on where you plan to install the fireplace and local building codes, you may need to apply for a permit and have a licensed contractor complete the work.
Plumbing: Depending on the fuel available in your home, you may have to hire an electrician or a plumber to install gas or electric lines. If you choose to go with wood as a fuel source, your contractor and/or building inspector will need to make sure the structural installation of your chimney is built to direct carbon monoxide and smoke away from the seating area.
Fuel options: Common fuel sources include traditional wood or ceramic logs that look like wood but are powered by gas or electric sources. Other more modern options include a gas and glass-bead option that burns cleanly. These are no-mess options and the colors provide a bright, colorful, modern look.
Fire pit – innovative, modern design
If you are working with fresh slate or have a backyard seating area open to the sky, you may want to consider a fire pit instead:
Structure: Since fire pits can be prefabricated and bought ready-made, they are often a less costly option than a traditional outdoor fireplace. A custom fire pit, however, can add more value to your home and bring your backyard entertaining area into harmony with the rest of your entertainment space. A great compromise for a more permanent, custom appearance is to install a prefabricated fire pit into a custom-built masonry seating area.
Plumbing: Fire pits have come a long way on the home improvement scene. Depending on your choice of location, they can be installed by a plumber or an electrician to accommodate gas, wood and even electric fuel sources.
Fuel adaptability: Fire pits are a great choice for more remote options that must accommodate wood as a fuel source. If your fire pit is built closer to your home or included in a built-in seating area, gas-powered ceramic log installation is a traditional choice but colored glass beads add a colorful, modern design touch.
Creating a visually compelling, inviting outdoor space is a great way to increase your home's value with expanded entertainment capacity. By bringing warmth and light outdoors you'll also extend the usability of your patio and deck into the cooler months. A loanDepot personal loan of up to $35,000 or a home equity loan of up to $100,000 is all you need to help set your summer on fire. Call today for more information.
Published May 11, 2016
RELATED TOPICS
7 quick decorating tips to beautify your home
Attic insulation to xeriscape - 10 money-saving home improvements
Make extra money by renting a room without a long-term commitment
Cool upgrades for a long, hot summer
Plan now for your summer backyard transformation