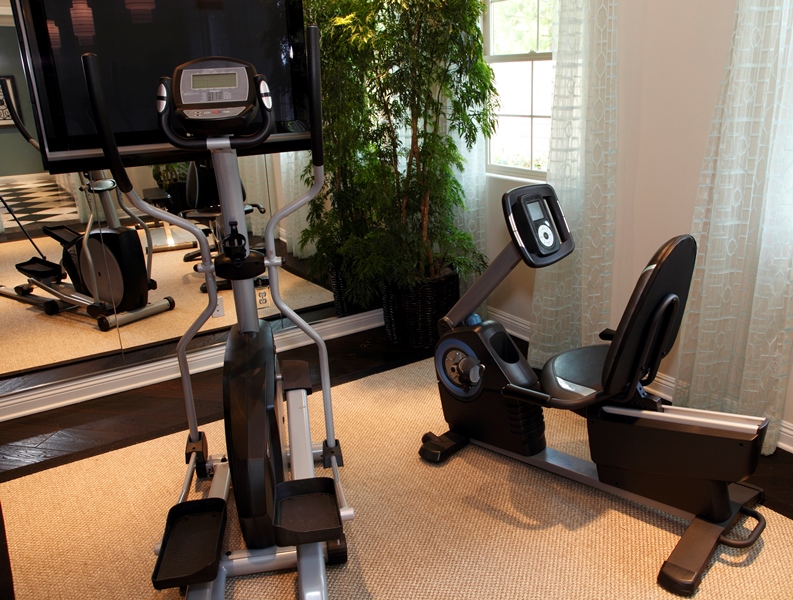 If only flipping on the switch to your health and fitness goals was as easy as flipping the page to a calendar. Sadly, they're not. However, this is no reason to be deterred. Continuing to try until you find a successful formula for your regimen is key to getting you going and keeping you going.
If your goal for 2018 is centered on fitness and weight loss, it's helpful to know the hottest trends because every new approach can help. According to the American College of Sports and Medicine's annual fitness trend survey, the top three trends for 2018 include HIIT (high-intensity interval training), group training, and wearable technology.
If gyms and yoga studios aren't your thing, you live in a very cold climate and transportation is tough, or you have young children that need to be cared for, bringing the fitness studio home to you can be an ideal option. Even if these factors do not apply to you, the convenience of working out at home can save you time and money over a gym membership.
Technology is improving every year and there are more high-tech options than ever to equip your space with these top three tips.
Take part in live streaming fitness classes
If you're looking to add cardio equipment to your home, you may want to look at the latest offerings from exercise moguls like Peloton.
More and more companies are offering in-home equipment with live streaming and archived class options. As Peloton CEO John Foley says, "If the instructor is better, if the hardware is better, if the software is better, if the location is better, and if the value is better … why would you travel outside the home?"
There are also tons of apps that offer live streaming workouts. Whether you're into yoga, barre, weight training, or HIIT, there's an app for that. So you can still engage in some of the hottest fitness trends, even working out in your home gym.
Update your existing equipment
If you already have cardio equipment in your home gym, you can modernize it by adding a subscription to something like iFit. iFit is a coach membership that can either be a standalone mobile app or can be used in conjunction with your Bluetooth-enabled cardio equipment.
The membership allows you to run anywhere in the world with Google Maps street view, listen to unlimited, commercial-free music, track your stats, and share workouts and compete against other members in the fitness community.
Take a look at your existing equipment to see if something like iFit is compatible and take your existing cardio machines into the future.
Invest in wearable technology
Wearables are still a very hot trend in the fitness industry. Wearable technology includes activity trackers, smart watches, heart rate monitors, GPS tracking devices, and smart eye glasses (designed to show maps and track activity).
Most fitness and activity trackers, like those from Apple iWatch, Garmin, Samsung, Basis, Jawbone, and Fitbit, are worn around the wrist. There's a new trend to move to more discreet types of wearables.
Motiv makes an iPhone compatible smart ring that's sleek looking and tracks steps, distance, and heart rate.
The global wearable patch market is also expected to grow quickly. Since smart patches are worn all the time, they're able to constantly track your data. They're also relatively inexpensive, costing just a few hundred dollars.
Let loanDepot help you to go high tech in your home gym. A personal loan can help you get the money you need for just the right upgrades to kick your home fitness routine into gear. Speak to a Licensed Lending Officer for more information.
Published Jan. 4, 2018
RELATED TOPICS
4 factors driving the housing industry in 2018
Homeowner resolutions for 2018
Get your financial house in order in 2018
Hidden house defects: find them and fix them