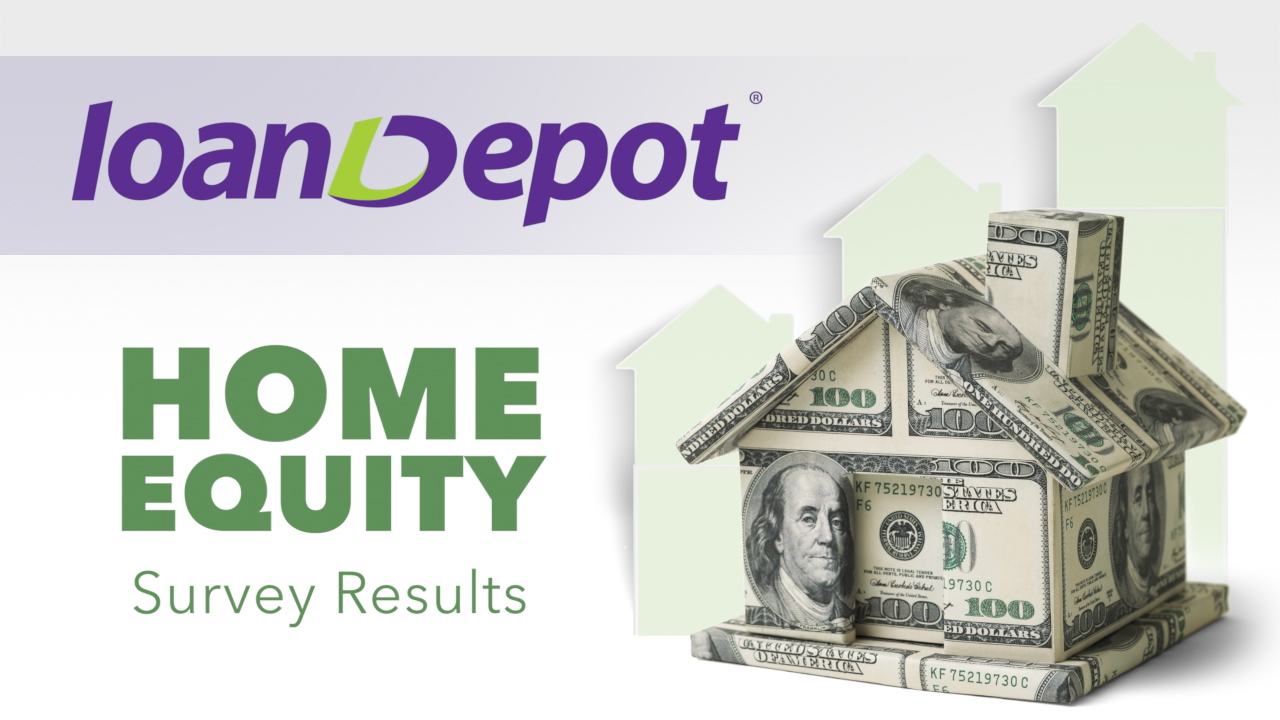 What would you do with a little extra money? Chances are, an answer quickly popped right into your head – and you probably had more than one. Whether you're looking to improve your home, pay off outstanding debt or take a little time for yourself, a little cash can go a long way and you can find the money without changing jobs or cutting expenses. The answer lies in the walls around you in your own home.
The housing bust of 2007-09 was a rough time for many homeowners, but today's market has shown signs of continued recovery and as it does, homes continue to increase in value. Sixty percent of homeowners report equity in their homes has increased since the final months of 2013, and almost half expect their equity will increase even more this year according to research from loanDepot. And as that equity continues to grow, more and more homeowners are realizing that capitalizing on it can be a valuable tool to support their financial stability.
"Homeowners who bought during the housing boom are regaining equity many thought was lost forever, yet too many are not aware of the equity they have gained or they are unclear about how to determine changes in their equity," says Bryan Sullivan, chief financial officer of loanDepot. "People who bought after the housing boom when prices were low are realizing homeownership can be a great investment and asset that can be leveraged through equity to realize many dreams. Whether they choose to leverage their home equity now or reserve it for future needs, millions of homeowners have choices today not available just a few years ago."
Leveraging the equity in your home
To better understand how homeowners would leverage additional funds from a home equity loan, loanDepot surveyed 1,000 homeowners to get their responses. The most common uses for funds from a home equity loan included:
Remodeling projects. The majority of respondents, 39 percent, said they would reinvest the money acquired by their loan into making further improvements to their home, continuing to support its value.
Consolidating high interest debt. For homeowners with significant debt obligations, a home refinancing loan can offer the opportunity to pay down that debt and replace it with a home loan that features a more favorable interest rate.
Save for retirement. More than 17 percent of those surveyed said they would use the money to bolster their current retirement package or even start a retirement fund.
Pay down student loans. College was a wonderful part of your life, the loans — not so much. Nine percent of respondents said they would use the money to be done with those payments once and for all.
Take a trip. If that dream trip seems to always be just slightly out of your financial reach, a home equity loan can help. Nearly five percent of respondents said they would use the additional money for vacation and travel purposes.
Learn more about taking out a home equity loan
Everyone could use a little extra money and finding it is easier than you may think, you just have to capitalize on your home's inherent value. Call today to learn more about obtaining a second mortgage and the flexibility such equity would offer you.