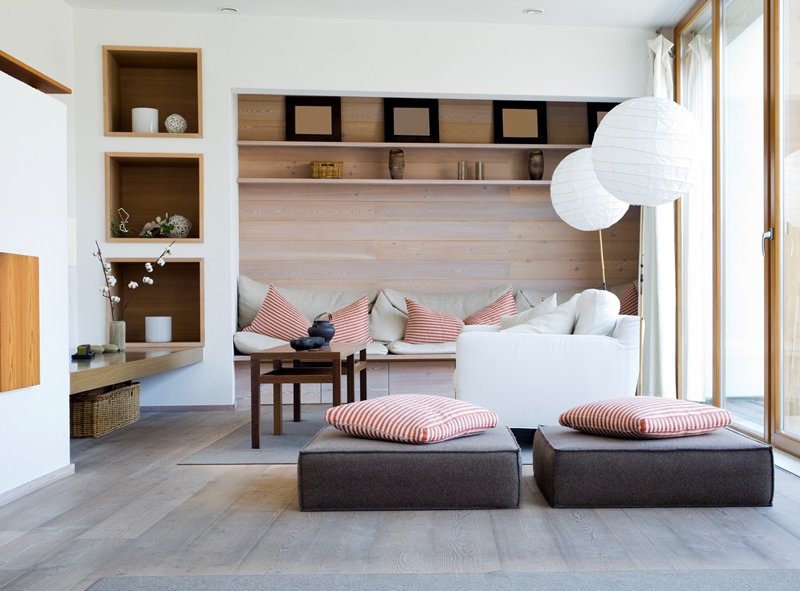 Every home is a potential supermodel. In today's age of Pinterest, Instagram, Facebook, home design apps and other social media, everyone is ready for their close up, Mr. DeMille, and our houses are no different. Sharing has become so commonplace, many bloggers and designers have been able to launch their businesses and continue to publicize through creative, unpaid means.
Inspiration is a two-way street. It's easier than ever to identify the kind of home décor style that draws you in, and surprisingly simple to execute on that style by looking online and then imitating what you see when shopping for home decor items. And then your home becomes a showplace as well. That is if the projects are well executed (beware the "Pinterest fail").
This can be particularly effective if you're looking to sell or rent your home. You can help develop a social profile for the place to up its cache. To finance these ventures, you might need the assistance of a loanDepot home equity loan. For details, speak to a Licensed Lending Officer today.
Here are some tips from interior designers and professional stagers about decorating the type of home that could rival those you see on Pinterest:
Stick to a cohesive style
Choose a home décor style and own it. Whether that's, say, farmhouse, modern or transitional is entirely up to you, but sticking to one type of decorating styles makes it easier to create a vibe where rooms flow and all home furnishings and decorative items complement one another.
For help choosing your home décor style, consider HGTV's guide or take a quiz like this one, provided by Bed, Bath & Beyond. Or simply browse Pinterest or a home design app like Houzz and see what excites you.
Declutter
When it comes to a picture-perfect home, less is more. Los Angeles-based photographer Laure Joliet told The New York Times to "strip down 70 percent of what normally lives on any surface." This means clearing off most small kitchen appliances, as well as paper towels, sponges and knick-knacks. In other areas of your home, consider removing family photos, candles and other small decorative items.
Instead, think big. Rather than having several little items on a countertop or shelf, consider one big piece, like a large plant, or a trio of larger pieces that go together and look like a complete series of items.
Clean
Glistening, streak-free countertops, transparent windows and sleek floors can do wonders for creating a beautiful home. Don't be afraid to get your hands dirty and scrub the backsplash behind your stove, the grout in your shower tile or the scraps that hide out where you'd least expect, like under your living room sofa.
On that same note, organizing your home's storage space can free up extra room to stash away items that you don't want within view. And don't forget about the finishing touches, like steaming your bedroom comforter and making sure hand towels in the bathroom are neatly folded.
Emphasize your home's best features
According to research conducted by Zillow, certain home listings that include features such as subway tiles or a barn door sell faster than others. These same in-demand features should be played up in your home photos.
For example, if your home has high ceilings, emphasize that by displaying large vertical artwork, as suggested in this video produced by The New York Times. You can also draw attention to a beautiful kitchen backsplash by clearing away any clutter in front of it, or keep eyes on a beautiful barn door by hanging a modest but elegant wreath.
You can also play down some of your home's weaker points. For example, if your home has low ceilings, hang artwork a bit lower and stick to horizontal photos.
Refine your palette
Use bright colors like yellow in the center of rooms to pull you in, suggests The New York Times. When adding a splash of color to your home, consider grouping items you already have by color, sticking to a neutral theme and then using accents like colorful pillows and patterned textiles, suggests this article on the Martha Stewart blog.
Be enlisting these tips, your home will be picture-perfect in no time. Perhaps more importantly, making these small and surprisingly simple improvements will help create a more welcoming and appealing environment for your everyday living.
A loanDepot home equity loan can get you started. Speak with a loanDepot Licensed Lending Officer for details.
Published March 9, 2018
RELATED TOPICS
Spring revival: Get your outdoor areas ready to shine
Revisiting Fannie Mae and Freddie Mac – a homebuying primer
Strategies for optimizing your interest rate
How to find a real estate hidden gem
These brands and trademarks are owned by their respective companies. loanDepot, its subsidiaries, and affiliates have not been authorized, sponsored, or otherwise approved by these trademark owners.