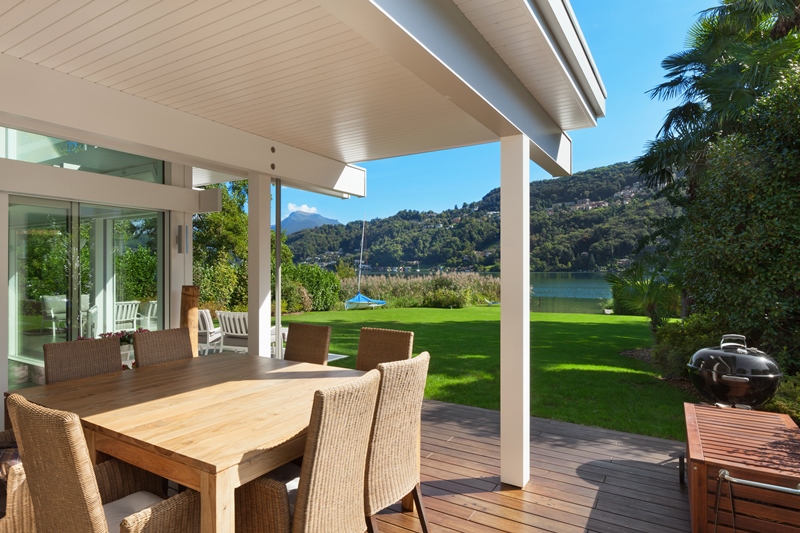 Equity is back and is continuing to grow for millions of homeowners. And this is money that can be used for a variety of purposes, including investing in a second property. Once you can afford a down payment, there are many ways a second home can become an additional source of income, particularly if it's a vacation or full-time rental, where your monthly or weekly (in the case of a vacation property, rents should comfortably cover your mortgage payments). Investing in a second, third and then multiple properties is one way the average person can begin to build a real estate portfolio.
As with any investment, taking the equity from one home to put a down payment on another isn't without risks, especially if we experience a downturn like we've seen in the recent past. Making sure you have a comfortable cushion of equity prior to making this decision is highly advisable.
Collect rent instead of paying it
Many might make the initial decision because of personal factors such as a child going off to school in a pricey college town. Housing can be a rare commodity near universities and parents are often willing to pay extra to make sure their college bound son/daughter is in a safe, clean environment. If you own such a home, there is usually very little risk that the rooms or apartments you're offering will remain vacant for any length of time.
Another thing to consider is buying a vacation home in a location where you want to visit frequently. This way, you have your pick of time periods throughout the year and then you rent the house the rest of the time. On-season weekly rental prices in resort areas are usually comparable to a monthly payment for a full-time tenant. Because of this, it's possible to make enough during a season to cover the mortgage payments for an entire year and still rent it out during the off season for a reduced price.
Make your first home your second home
If you really want to get savvy and finance your investment property as efficiently as possible, there are many creative (legal) moves fledgling real estate moguls make. It's expensive to buy an investment property outright because those seeking loans will pay a higher interest rate to purchase a second property that is not their primary residence. Instead, some buyers are using their ingenuity and entrepreneurial skills to refinance their primary residence to a low interest rate, taking cash out for the down payment on the second home, with the intention of making that home their primary residence and the first house the rental.
With this scenario, you are paying the lowest possible interest rate on both homes. Be prepared to put a full 20 percent down, as there are only a few circumstances where you could use an FHA loan for a second property.
A path to your portfolio
While the housing market isn't booming like it was between 2001 and 2006, it has continued to grow steadily in the past four years and now most homeowners have seen substantial equity gains since the reemergence of the housing market. There are ways to make this equity work for you.
Here are some of the additional benefits in owning a second residential property:
A new source of home appreciation
Now, you are not only watching the value of your primary residence increase, but now your investment property will be gaining equity also.
Investment in your future
Perhaps you enjoy seasonal vacations to Florida or Palm Springs during the winter and once retired, you'd like to live in those areas full time. By the time you're ready to move, you might already own your home outright. And in the meantime, the rent pays the mortgage.
Help your kids
Going to college is expensive and finding a place to live that is affordable can also be daunting. What if you could buy a home near where your children might go to college, reap the rewards of investment for a few years, and then offer the home to your child? Even if your child pays you the rent, it's money in the family, instead of money out to another investor.
Vacation rental
Maybe you don't want to wait forever until your retirement to enjoy the home. Rent it out at a high rate to short-term vacationers, and then you can enjoy the home throughout the year during opportune times at your leisure.
Of course, no great risk or gamble comes out without pitfalls. If you choose to cash out the equity in your home, be sure to make informed decisions about the market, need for repairs, property taxes, etc. If something goes wrong, you could be under water with two properties.
Meeting a good financial planner and real estate broker will help you minimize the risks and careful planning can mean big profits and with that, a greater quality of life.
Published March 10, 2016
RELATED TOPICS
Spruce up for spring – use a personal loan to get your house in order
Common mortgage refinance myths debunked
Upsizing or downsizing: Which is right for you?
5 housing trends we can expect to continue or emerge
Vacation or backyard makeover: Which will your family choose?