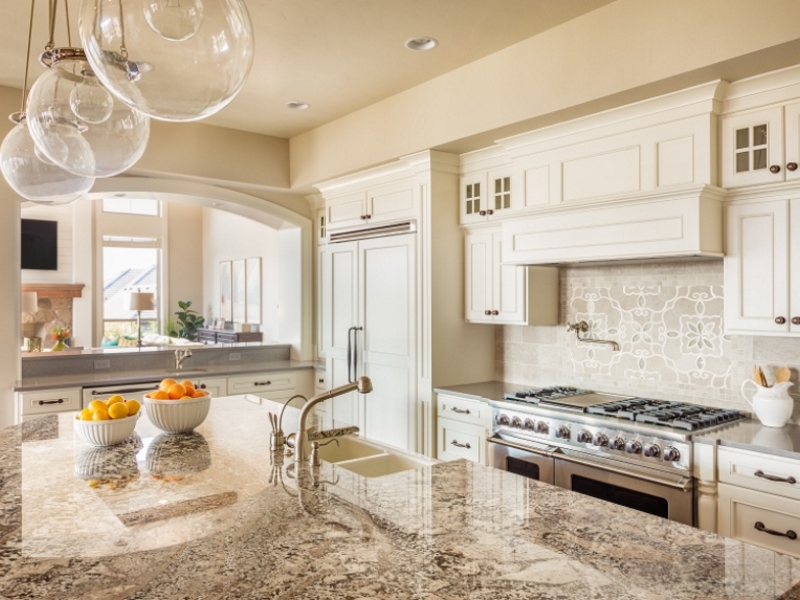 The kitchen is the true center of any home (and any party). It's a place to relax, chat and enjoy each other's company when friends or family gather. Does your kitchen today fall short when it comes to ambience? A remodel can turn this space into a second family room – but one that includes a dishwasher and stove.
If you decide a kitchen renovation is in order, contact a licensed loan officer at loanDepot today to discuss a home equity loan. Call today and prepare to cook up happy memories in your home for years to come.
Light and bright
Ready to lighten your kitchen space? Turn up the wattage and brighten it up with the color white – white cabinets, backsplash and countertops. Pop your favorite accent color into changeable accessories to avoid going too chilly, and change them out as often as the seasons change (or you change your mind). Consider a contrast in the base of your kitchen's island, bar peninsula, or lower cabinets featured in gray or dark tan. A mainly white backsplash could include well-placed colorful medallion tiles, but do consider white in your design palette. It's overwhelmingly the favored kitchen color of most people. And that becomes important if you plan to ever sell your home.
Hardwood all the way
In the early decades of the twentieth century, black and white checkerboard linoleum flooring was all the rage. Now? Most people's first thought about linoleum is to tear it out. Many homeowners are opting for a hardwood replacement. You have plenty of wood options, namely oak, cherry, maple, bamboo, ash, walnut, mahogany and teak. Another decision to make is between solid and engineered wood. Solid hardwood floors are just that: solid wood. Engineered hardwood flooring is also all wood, but not in one piece; it instead contains real hardwood veneer on top of several layers of hardwood or plywood. Both look beautiful in any kitchen and can stand the test of time.
A huge island
The kitchen island is an oasis. If your square footage allows, it can give you added storage for oversized dishes, pots and pans, house bottles of wine, and even hide your trash can. And it's a great place for socializing. Your guests and family members can sit to one side or pitch in while you prepare meals. Kids can have breakfast and do their homework at the island, too. If the kitchen is the heart of the home, an island is the heart of the kitchen.
Illuminate the situation
Your kitchen might only boast a flush-mount fluorescent lighting fixture as the primary light source, a common accoutrement of builders at one time. Such lighting may have lit up the room, but did nothing to create a pleasant atmosphere or diminish shadows. Upgrading your lighting plan can create a bright, shadowless workspace day or night. Task lighting can include under-cabinet LED strips to wash your countertops with even, dimmable lighting. Decorative lighting, such as pendants over the island, adds visual interest to the room. And dimmers give you the ultimate control – something especially important if your kitchen is an open-plan design, viewable from other living spaces.
Make your kitchen as warm and relaxing as it is practical. To get your dream kitchen, consult a loanDepot licensed loan officer to get the cash you need. Call today.
Published July 5, 2017
RELATED TOPICS
Make over your master bath without getting soaked
Summer barbecue celebrations
Make your debt deductible with a cash-out refinance
Energy-saving ideas from around the world