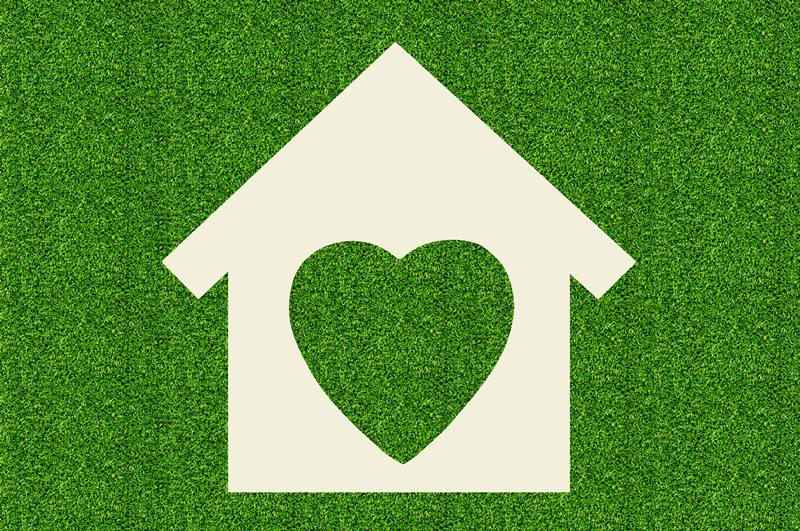 "Green" means many things to many people. It symbolizes money and is the color everyone loves on St. Patrick's Day. A green home is one that uses energy efficiently and as minimally as possible, is healthier for people and the environment, and makes wise use of materials and resources. Green innovations include renewable technologies for power, building materials, efficiency, entertainment, and more. There are many possible home projects that involve green technologies, and here are four current trends in these types of projects. They are all relatively common and give a home a big boost when it comes to becoming greener.
A personal or home equity loan can help you incorporate these eco-savvy changes to your home. Call today for more information.
1. Fireplace conversion
One common "green" home project involves converting a wood-burning fireplace to gas or a gas ignition to one with glass beads. This type of project ties in with the green trend of creating healthier homes. Eliminating smoke from a fireplace can create much better indoor air conditions for people who have allergies and asthma, but make sure a gas fireplace is safe, healthy, and not emitting fumes. Also be sure to install a carbon monoxide detector in an appropriate place near a gas fireplace.
2. Upgrading appliances
Household appliances can consume huge amounts of energy, so upgrading to energy-efficient ones can be a way to institute green improvements in a home. Appliances to consider replacing with better alternatives include the refrigerator, dishwasher, oven, washer and dryer. The trend toward replacing appliances in the kitchen ties in with the trend of having open floor plans and focusing on having a green kitchen.
3. Energy-efficient windows
Windows serve much more of a purpose than providing a vantage point on the neighborhood and letting in light. They also should be efficient enough that they conserve heat in the colder months and cool air in the warmer months. Changing to windows that meet this expectation is a common green project. This ties in with the trend of "recycling" existing homes, many of which are older, and making green improvements to them.
4. Harnessing solar technology
Using solar energy is one of the most well-known types of green home technologies. Gone are the days when large, unsightly tiles on the roof were the only option for accessing solar energy. Solar roof shingles are more attractive-looking as a newer trend and an alternative to the older-style option. Installing solar technology ties in with the trend of zero energy, which involves homes that use significantly less energy and renewable energy.
You can finance green home improvements with a home equity loan from loanDepot. There's no need to be green with envy when thinking about others whose homes are eco-friendly and green. Armed with these ideas and the motivation to get started on these dream projects, you can get started right away on your own home improvements. Call now for more information.
Published March 16, 2016
RELATED TOPICS
Plan now for your summer backyard transformation
Key ways homes show their age - and how to fix them
Negotiate your renovation to get the most bang for your buck
Meet 'The Jetsons': The latest in home technology
Spruce up for spring - use a personal loan to get your house in order