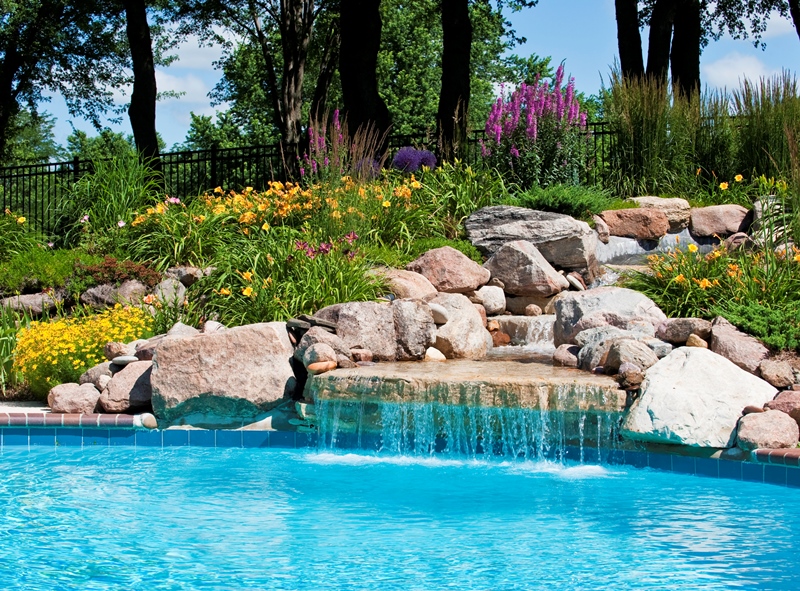 Water. It's not just essential for survival – it makes up the majority of our body mass and the surface of our planet. Water works its magic in wondrous ways; consumption for health is just one of them. It can heat us up, cool us down, foster therapeutic relaxation, or provide visual and aural atmosphere in the form of water falls, fountains and other features.
This is the first of a three-part series about choosing the ultimate "H2Oasis" for your backyard, taking into account your space, budget and current needs. Construction might be major – requiring a home equity loan – or minor, covered by a personal loan.
So prime the pump and let your imagination flow. When you're ready to take the plunge, financing from loanDepot can help you dive into the water project of your dreams. Call to speak to a licensed lending officer from loanDepot today.
PART ONE: POOLS

Latest pool trends
We're all familiar with traditional swimming pool styles – kidney shaped; white or light blue bottom; a concrete deck; steps or a ladder to get in and out; a shallow and deep end; and, perhaps a diving board or slide. Those pools, while still fun for swimming, have been around for decades; and now, are considered dated and dull.
If you have an existing built-in pool, it doesn't mean it can't use a makeover. Modern pool designers can transform old-fashioned pools into luxurious retreats – as well as install brand-new pools to fit the vision you have for your backyard. The latest pool options even include small pools that fit into limited-space yards.
If you're thinking of adding a trendy new pool to your backyard, or simply want to remodel your current one, then loanDepot has a home equity loan that could be right as rain for your needs.
The latest construction styles
The features you pick can really transform a pool. Instead of standard steps or a ladder, consider larger, tiered walk-in areas for sitting, lounging, or kids' playing and splashing. An option for larger pools is the "beach entry," which simulates walking into the ocean by using a long, sloped entrance.
You can also add custom elements such as a table or swim-up bar with stools for eating and playing games. A tanning ledge allows you to set up your favorite lounge chair right in the water to keep you cool while sunning. You can even be creative and do yoga on a tanning ledge.
Lap pools
If you have a long, narrow space that doesn't fit a traditional pool, a lap pool might be a great solution. Lap pools are typically narrow – approximately 45 feet long by 8 feet wide. They can be the same depth throughout. While they're used primarily for fitness, they can also provide a beautiful focal point for the yard.
Another option to consider is a "spool," or a small pool. A spool is usually about 6 to 8 feet wide and 10 to 16 feet long. You can lounge in this pool, or you can incorporate jets into it that you swim against, using the spool as a lap pool.
Lounging-by pools
Common to big-city homes and townhouses are small, shallow plunge-style or lounge-by pools. These pools offer the luxury backyard look in very small spaces. If you have an area big enough for two lounge chairs, you can probably also add a small pool to sit in with a beverage in hand or to jump in to cool off. You will be living the pool life with even the most minimal of space.
Automate it
Since you're being trendy, you might as well automate your pool system through an application on your smartphone. Or, you could program your personal-assistant device to connect with your pool. Just use the app; or, tell Alexa, Siri, or Google to turn on the pool lights, jets, or music system.
If you have a huge backyard, you have plenty of pool options available to you. But even if you have a small backyard, you can still enjoy the "in-ground" experience. The design is limited only by your imagination. A home equity loan from loanDepot can be the solution to fund your pool project. Speak with a licensed lending officer for more information.
Published July 31, 2017
RELATED TOPICS
Make a splash with water elements for your backyard – Spas
Make a splash with water elements for your backyard – Water features
Keep your pool in order
Why Boomers are the new equity kings