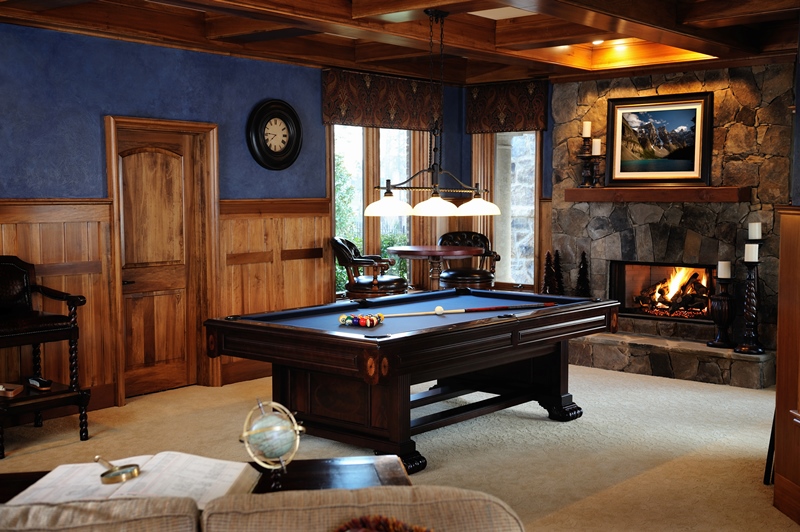 In June, loanDepot gave tips on how to create an outdoor man cave but as the weather gets colder, a guy's still needs to have a place to call his own. When it doesn't feel like any spot in the house is yours alone, building the ultimate indoor man cave may just be the perfect renovation project for those cold, winter months (and the NFL playoff season).
If you have the time and space, what comforts would you select for your ideal man cave? Keep in mind seating, entertainment, socializing and convenience. A home equity loan from loanDepot will allow you to tap into the value of your home to perform the renovations so you can create your sacred space. Call today for more information.
Basement conversions
Many indoor man caves are located in the basement area of homes. This setup is can be ideal because it results in less noise disturbance from sophisticated sound systems reverberating through walls to disturb people in bedrooms and other living spaces. In addition, man caves may also have wet bars, refrigerators and even (double bonus) a bathroom. Running plumbing lines through the basement from the main line is much easier to do without major construction.
Finishing the basement space can sometimes be a challenge due to the unsightly but necessary equipment such as hot water heaters and heating/air-conditioning (HVAC) units located in this area. One option is to camouflage them with cabinets or lightweight paneling to create a seamless look to the room. Make sure to include access doors for easy servicing.
Light it up
The sky is truly the limit when it comes to placing all your creature comforts into your man space. Decide on the functionality of the room plan out what you want to install. Perhaps the first thing on the agenda is lighting, as basements can be dark, which hampers viewing sports and movies on television. Recessed lighting can be the most functional and installed at the same time the sound system speakers are embedded in the ceiling.
If you're looking for more of a stylish touch, consider pendant lights. You can select modern, traditional, or rustic designs as ELK Lighting has a full selection to fit into your head design tastes. The Galaxy 20001/1 Red Pendant Light costs $160 apiece to give your man cave a sophisticated look.
Serve up the food and refreshments
Wet bars go in and out of the interior design trend every few years. Yet the functionality of one can't be denied when you don't want to run upstairs for ice, water and cold beverages. You can have a custom home bar built for the space, or you can purchase a ready-made home bar such as the Darby Home Company Bar with Wine Storage that retails at $1,919.99. Don't forget the snacks. Serve popcorn during movie nights with the Williams Sonoma Throwback Movie Theater Popcorn Maker at $99.95.
Entertainment abounds
Your entertainment tastes may vary. You may decide just to have a simple Oakland Pool Table from Brunswick Billiards ($2,999.00) or you may want to go all out with the ultimate home theater system with a JVC DLA-X700R movie projector for outstanding picture quality at a hefty price tag of about $5,365.40. The types of entertainment you feature truly depends on the size of your basement space and how you want to relax.
Don't feel like you don't have a place to call your own in your home. By creating the ultimate man cave, you can truly shed off all of life's stresses and relax in a room that has been crafted just for you.
So look into getting a home equity loan from loanDepot by calling us so you can start renovating for your ultimate dream space.
Published Dec. 14, 2016
RELATED TOPICS
Home renovations: to permit or not to permit
Home in on smart uses for a financial windfall
Best renovations for aging in your home
Decorating and remodeling trends for 2017
Garage makeover: create a spick and span workspace