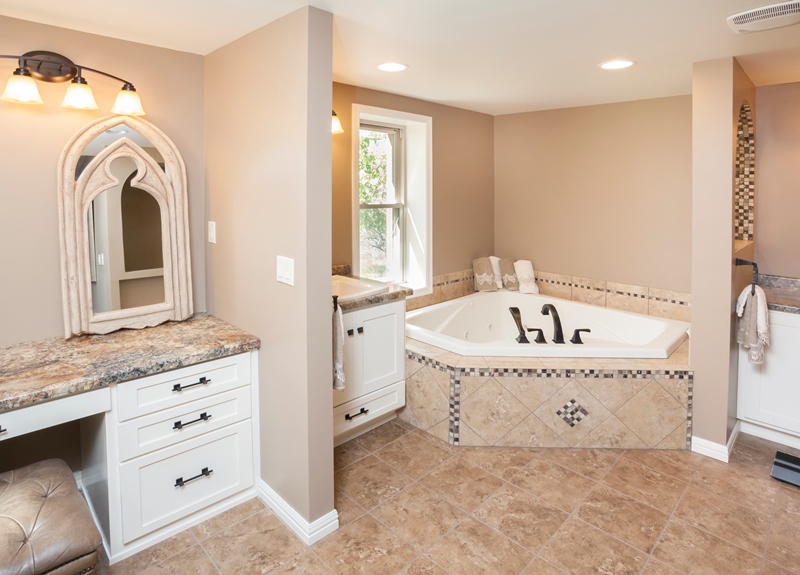 Getting away to an opulent spa may be one of those once-in-a-blue-moon splurges, but for many homeowners, luxury can be year-round, in the form of a master bathroom replete with the bells and whistles of a pampering resort.
According to the National Association of Home Builders, almost all new homes of at least 2,000 square feet include a master bath, and the average size is typically 140 to 210 square feet[1]. Owners of older homes also want a relaxing, stylish master bath. So it's no surprise that revamping a bathroom is one of the most popular projects for homeowners, according to remodeling pros.
And there's definitely no settling for grandma's powder room. According to Remodeling magazine's 2016 Cost vs. Value Report, which calculates the best return on investment for each type of renovation regionally, the average price to renovate a bathroom is nearing $18,000. Houzz reports that among master-bath remodelers, nearly 25 percent of them spent $25,000 to $50,000[2].
A loanDepot home equity loan can be a smart way to finance the master bath of your dreams, and a loanDepot licensed loan officer can explain the qualifying requirements. Call today.
Regardless of your budget, it's never out of fashion to spend wisely. While you'll no doubt glean pleasure from a spiffed-up master bath, on average you'll likely recoup about two-thirds of the makeover cost if you were to sell your home. For high-end bath makeovers, the payback is around 58 percent.
There are plenty of reasons to spend wisely on your master bath transformation:
Minimize your pipe dreams.

The minute you need to open the walls or floor to lay new plumbing, you're signing on for higher project costs. Depending on the scope of your project and local building codes, you may not need to secure a permit for a bathroom project that doesn't modify the existing plumbing. Of course, if the plumbing needs to be updated, this is the time to do it.

Table the tub.

If your home has at least one other bathroom with a full-size tub, consider bypassing one for the master if you're not likely to use it much. Not purchasing a tub is a money saver. It can also be a space saver if it opens up more floor area for a larger walk-in shower or a double-sink. Still, if a luxurious tub is one of your dream features, don't be deterred. You don't want regrets after such a major makeover.

Tile judiciously.

The price of tile and the added installation cost if you're not DIY-inclined are a lot more than paint or simple bead board over drywall. Limit your tile to the shower and floor, and stick with paint for the rest of the room. Enamored of high-end designer tile? Consider using it as an accent that complements as a more budget-friendly option for the majority of the space. And be careful falling in love with small tiles; as beautiful they are, the cost can be ugly once your contractor factors in the time to install.

Don't get bowled over

. Tricked-out toilets that come with remote controls for features such as a heated seat and cleansing spray can cost more than $3,000. And that doesn't include the cost of needing to run an electric line to the toilet. For one-tenth the cost, you can get a standard toilet. It may not be fancy, but do you really need all that?

Shop around

. Some of the best deals for fixtures and tiles can be found online. If you're into the retro look, second-hand furniture stores can be a great resource for used tubs, mirrors, and sideboards or tables that can be converted into stylish counters and storage.
Ready to revamp your master bath? A loanDepot licensed loan officer can help you size up whether a home equity loan is your best financing move. Call now for more information.
---
Published May 2, 2017
RELATED TOPICS
Home renovations: to permit or not to permit
It's a good time to refinance if you've weathered the storm
How to manage your home renovation project
Energy-saving ideas from around the world