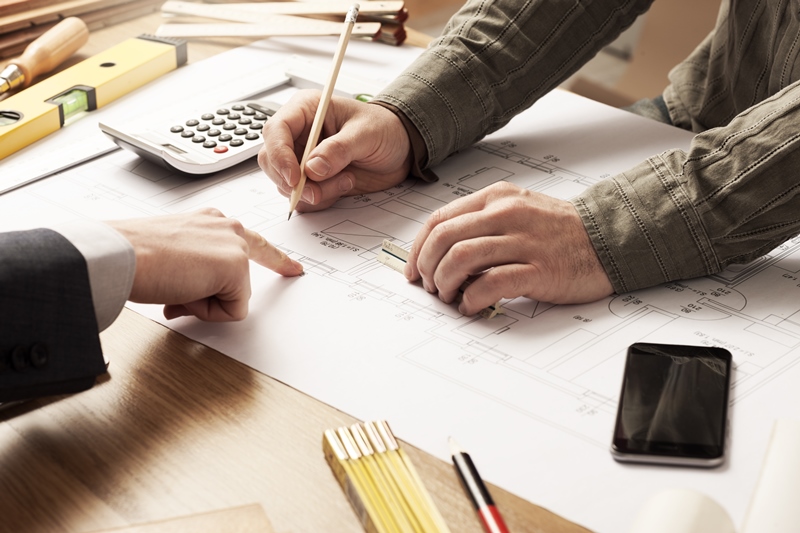 You've been saving money and interest rates are low, so now you decide is the time to get some of the more important projects around your home finished. Three of the more popular projects that homeowners embark on are remodeling the bathroom or kitchen or finishing a basement. Now, before you begin your project, you will want to get the best price possible for the highest quality of work and that takes a little research and know-how.
A home equity or personal loan might be the ideal path to realizing your home renovation dreams. Speak to a loanDepot licensed loan officer today for more information.
First, do your research to get a sense of what the job is going to cost, what labor rates run, what skills and certifications your contractor(s) need, etc. And then be prepared to negotiate. Some agencies and companies will give a bid, but not lower their standard labor percentage or per-hour rate. Find out if you can get some of the products wholesale if you buy them separately. Or you might be able to get a discount as an incentive to open a new account at certain retail providers. Offer to buy your materials separately if they'll come down on the labor.
One of the first places to start is by asking friends and neighbors who have recently had similar work done. The ideal scenario is to hire a contractor who has been used and recommended by someone you trust. If recommendations aren't available, use resources such as Angie's List, Yelp, or Google. Weigh your options as individuals are usually the least expensive, but they probably don't have the warranties and protections those who work for companies or through agencies do. You pay for the extra protection, but often it is worth the expense.
Break down what skills they need. For a kitchen remodel, for instance, your contractor needs to be skilled in carpentry, tile, stonework, plumbing, electricity, drywall or plaster, to name a few. If they don't have all the expertise for all those things, they will usually hire subcontractors – find out ahead of time what that will cost you.
Here are three of the most common home renovation projects and ballpark figures so you can start your research. The more you know about the dynamics of the project and what needs to be done, the more specific you can be with your negotiations:
Kitchen remodel
According to HGTV.com, the average kitchen remodel costs $27,000. Remodeling kitchens is the number-one renovation project homeowners do. Once again, the average spent on labor is generally about 20 percent of the cost. The most expensive part of the kitchen remodel is for cabinetry and hardware (about 29 percent of total). Countertops are 10 percent, while appliances and ventilation are 14 percent of total cost.
Find candidates who have done similar projects and ask for before, during, and after photos. If you have an older home, make sure to give special instructions about what to do if a deeper issue is found. Doing a surface repair may solve an immediate need but what happens when the issue comes up again in a few years and you have to rip out part of your new kitchen to repair a pipe or something similar?
Bathroom remodel
According to Consumer Reports, refinishing a bathroom should cost no more than 5-10 percent of the value of your home. The National Kitchen & Bath Association puts the average cost for remodeling a bathroom at $16,000, and homeowners can expect about 60 percent of the cost to be recouped if a sell is in the future.
Expect labor to cost 20 percent and then the other highest-priced items are cabinetry and hardware (16%), fixtures (15%), faucets and plumbing (14%) and floors (9%). Other components include: countertop, doors and windows, walls and ceiling, lighting and ventilation and design fees.
Finishing your basement
Many of us know homeowners who bought a house with an unfinished basement, and 10 years later, it is still not finished. Don't fall into that trap. Turn that storage annex into usable family space. Homeadvisor.com found that most home owners spend between $1,650 and $4,100 to finish their basement. The average cost is $2,821. Why so low compared to the rest of the house? Usually an unfinished basement is a blank slate with little or no labor needed for demolition.
You want the contractor you feel you can work with and trust. Before starting work, you can save yourself potential headaches if you have a detailed contract that stipulates guarantees on the labor and warrantees on the new materials. Discuss what happens in case of delay or if they habitually miss work or have other issues that end up costing you additional time and money.
A loanDepot licensed loan officer can help you with a home equity loan to realize these dreams. Call today for more information.
Published February 19, 2016
RELATED TOPICS
Key ways homes show their age – and how to fix them
Plan now for summer backyard transformation
Vacation or backyard makeover: Which will your family choose
Romantic renovations: Add some spice to your space
4 important steps in planning a home renovation