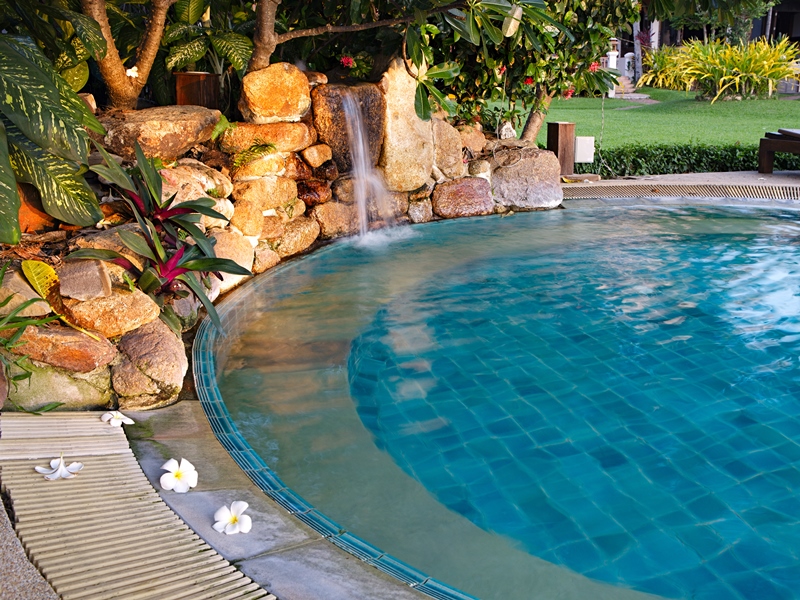 Who wants to go through spring and summer with their backyard looking like a construction zone? Now is the time to start planning your perfect backyard, particularly if you've vowed that this is the year you start spending more health-promoting, quality time outdoors. Having a backyard the entire family enjoys is a great way to play, cook, relax and entertain together.
Making over your backyard can be personally therapeutic and offer financial benefits as well. Some outdoor renovations significantly increase your property's value, offering considerable returns on your investment. A home equity or personal loan can give you the resources you need to make changes that can greatly enhance your home's livability and value. Speak with a loanDepot licensed loan officer today for more information.
Life is better by the pool
If you dream of floating lazily on a chaise with a cool beverage or swimming brisk laps at dawn, you'll need approximately $17,546 to install your above- or in-ground pool. Most homeowners spend between $5,559 and $29,865, according to a HomeAdvisor survey. The cost to maintain a pool can be high: insurance, energy bills, cleaning and chemical treating, and possibly a safety fence if your insurance carrier requires it.
Only you can determine how many days per year you'll actually use your pool, and regional weather factors can be a big consideration. If you live in a tropical climate and most of your neighbors have pools, you'll probably enjoy added home value with a pool in your yard. If yours is the only pool in the neighborhood, prospective buyers might view this as a negative when you're trying to sell.
Add a high-ROI deck
If your eye is on ROI as well as an outdoor play area, consider adding a deck. The 2016 "Cost v. Value Report" from Remodeling magazine compared average costs for 36 popular remodeling projects to how much value those projects retain when a home is sold. In the midrange category ($5,000 - $25,000), a wood deck addition recovered most of its cost last year, recouping homeowners a 75 percent return. In the Pacific region (Alaska, California, Hawaii, Oregon and Washington), the ROI for a wood deck addition was a generous 88.9 percent, and a composite deck returned 76.9 percent.
These figures are based on a 16-by-20-foot deck with a built-in bench and planter of the same decking material. Stairs and a complete railing system with pressure-treated wood posts, railings, and balusters were included in the design. Regions of the U.S. that enjoy a year-round outdoor living season can count on a deck addition to provide a solid home investment while simultaneously increasing the livable square footage for their personal enjoyment.
Spa or hot tub?
While there's nothing like coming home after a long day to a warm soak under the stars, a custom-built, in-ground spa will run $15,000 to $20,000. Since you're already convinced that a deck is a good investment, why not look at installing a portable, above-ground spa or hot tub? With a price range of $2,000 to $12,000, this investment can potentially go with you to your next home and won't involve major construction.
You'll enjoy a more vigorous massage from an energy-efficient hot tub because the freestanding models offer more options in number and placement of jets. A licensed electrician can get your system up and running usually in the span of a weekend. The built-in options do still add value to your home and they aren't vulnerable to weather as an above-ground unit might be.
Outdoor kitchen magic
If cooking and entertaining at home are your passions, you've no doubt drooled over photos of outdoor kitchens. Maybe your dream kitchen boasts a wood-fired pizza oven and a fire pit for clam bakes or weenie roasts. The "gas or charcoal grill?" debate never ends (although regional environmental rules may solve the argument for you – check your city's website to be sure), and installing a refrigerator keeps beverages and condiments close at hand. Why not pull out all the stops and go for the wine cooler and ice maker?
An outdoor sink is a must-have for washing your hands while you cook, and it greatly improves the resale value of your outdoor kitchen. When it comes to countertops, the best material choices are:
• Natural stone: $50-$100 per square foot
• Concrete: $100 per square foot
• Tile: $10-$30 per square foot
Graciously furnish this new extension of your home with plenty of comfortable seating and landscape lighting features.
After you've started the ball rolling, draft your guest list, and send out the invitations to your "Backyard Warming Party"!
A loanDepot licensed loan officer can help with a home equity loan in order to create this makeover magic. Call now for more information.
Published February 15, 2016
RELATED TOPICS
What do you really want in a home?
Vacation or backyard makeover: Which will your family choose?
Use a personal loan to increase your home's value
Romantic renovations: Add some spice to your space
5 good reasons to renovate your home