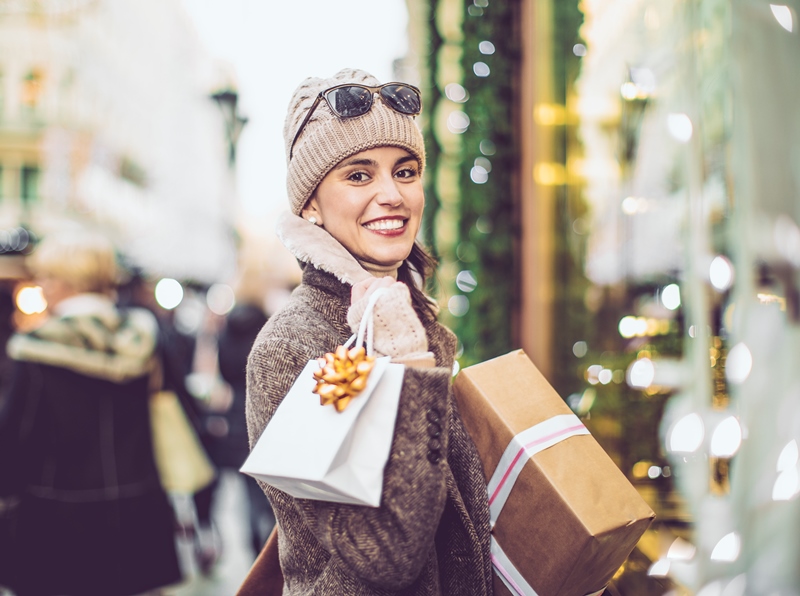 Ready? Set? Shop! Yes, it's that time of year again, when even the most reluctant shoppers get caught up in the spirit of the season. It can be exciting and fun to score great deals and find things you know your friends and family members will love. But in the middle of all that merriment, you want to make sure you don't end up overindulging and accruing too much debt.
Overspending during the holidays can leave you with the challenge of paying off all of those high-interest credit card bills when January rolls around. With a home equity loan from loanDepot, however, you can pay off that debt faster and at a lower rate. Call today to speak with a Licensed Lending Officer.
Tips to avoid seasonal overspending
One of the ways to avoid too much New Year's debt is to avoid the traps that people can fall into during the holiday season. It can be very easy to get caught up in celebrating the season and that can lead to spending just a little (or sometimes a lot) more than expected. But there are ways you can avoid getting yourself into too much trouble. For starters, be mindful of the store credit cards and the incentives being offered this time of year.
Companies usually have highly competitive contests for their sales associates to get the most signups. Some might also enlist "secret shoppers," who report on associates who don't offer the cards and they can get in trouble for not asking. Incentives for the customer often include deals such as "15 percent off your current purchase," three months with low or no interest, or gift cards and other bonuses.
These deals are designed to be enticing but they come with risk – store credit card interest rates are some of the highest in the industry. As of October 2017, the average APR of a store credit card was 24.99 percent while standard credit cards had an average rate of 16.15 percent.
Caution: high rates ahead
Almost 25 percent interest can really add up if the bill doesn't get paid off immediately, but you can avoid it and still get the benefit of a zero-interest offer. You must be savvy about what cards you get and how you use them. Before you take such an offer, you need to make sure you have the resources to pay that card off no matter what, before the introductory period ends.
When you take advantage of a "zero-interest" offer, the stores use something called "deferred interest," meaning the interest still accrues for the entire time you've financed. If you pay it off before the deadline, you truly pay no interest. If you miss the deadline by one day, however, you will be charged for all the deferred interest, meaning six, 12 or even 24 months of back interest. So if you bought a $400 appliance and financed it for 24 months, the deferred interest at 24.99 percent would be just shy of $2,400 or six times what you originally paid for the item IF you don't get it paid off in time.
Moral of the story: Pay it off on time, even if you need to transfer the balance to another account toward the end. You will only pay one month of interest, not 24. And when they say, "no payments," don't believe it. Technically, a payment isn't due, but you must budget yourself to pay enough each month before the deadline so that it is paid off or almost paid off so when the deadline approaches, you'll be fine. That $400 appliance would only need a payment of about $20 a month to have you comfortably paid off in 24 months. That sounds a lot better than $2,400 (plus the original $400 for the purchase).
Make sure to keep an eye on that deadline though. Put the date in your phone's calendar two months before it's due with regular reminders to make sure you get that bill paid in full before your grace period ends. If you've been making monthly payments, chances are the final balance will only be around $50, even if you missed a few months along the way. Balance transfer that off the store account to another credit card or pay it outright, just get it paid.
Any time you've accrued too much debt or the bills are getting overwhelming, you can consolidate with a home equity loan from loanDepot. It can help you pay off any residual or seasonal debt. Call to speak with a Licensed Lending Officer today for more information.
Published Nov. 21, 2017
RELATED TOPICS
Black Friday predictions and trends
Hidden Treasures: Ski resort-style living for less
A toast to the host – holiday home makeovers
Big screen TVs keep getting bigger but where do they fit?