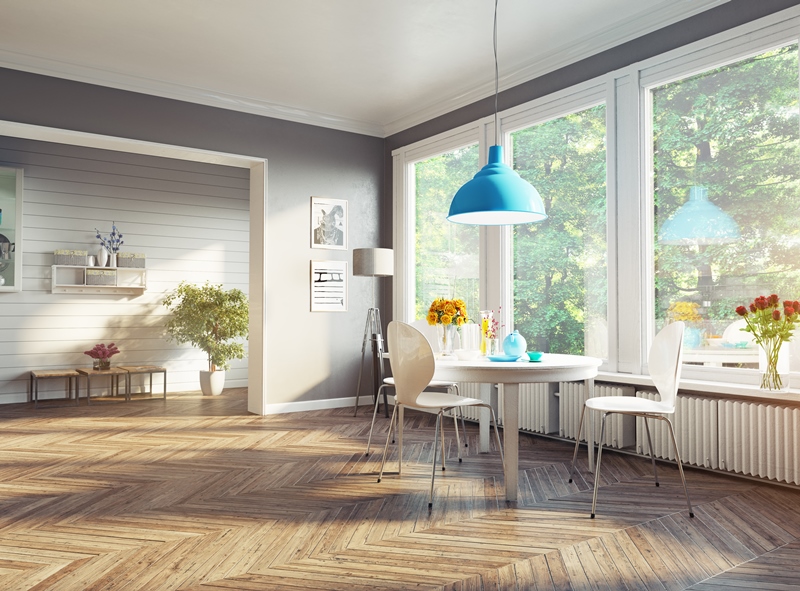 Few improvements can make the type of immediate impact in the appearance and feel of your home as new flooring. And today, there are more choices of material than ever before.
Whether you're a skilled do-it-yourselfer – or you need a professional installer to take on the task – now's a good time to explore your options for creating a whole new world of luxurious textures and colors, right under your feet.
Larger tiles have found a niche that really corners the market, wood-like textures continue to go with the grain of popularity, and laminates with the appearance of natural stone are on a roll. Homeowners are gravitating to more durable surfaces with natural appearances. And the environmentally friendly aspects of flooring are becoming more and more popular with consumers.
With home values having increased in many areas of the country, so have the opportunities for capitalizing on your home's equity. That's where loanDepot comes in; we can help you finance your flooring project simply and easily through a home equity loan. Call today to speak with a Licensed Lending Officer for more information.
In the meantime, familiarize yourself with some of the most exciting trends and options in flooring.
Is bamboo for you?
Bamboo is often mistaken for wood because of its bark-like appearance. But actually, bamboo is complex, fast-growing grass and that makes it an ecologically wise choice for flooring material. It's been around for years, but until recently, this versatile material has become available in a wide range of colors and styles. While many natural wood products can be softer and more susceptible to damage, bamboo is being enhanced by manufacturers to transform the inner, harder fibers to result in durable, natural wood-look surfaces.
While stunning in living areas, there may be better choices when it comes to moisture-prone spaces like bathrooms. If you haven't considered bamboo flooring, you'll likely be surprised at the wide variety of choices available.
Today's tile – bigger IS better
No matter what the material, floor tile is growing up, literally. Families are discovering that bigger is better, with tile flooring having grown from the tradition 12" x 12" tiles to 18" x 18" – and even 36" x 36" tile. These larger tiles work especially well in large, flat areas; they take less time to install; and, you end up with fewer grout lines. This makes them easier to clean and maintain in the years ahead. Larger tiles are also terrific for those seeking a contemporary look.
Cork's a popping
If carpeting has traditionally been your flooring of choice – mostly because you enjoy roaming your home in bare feet or socks – cork might just be an exciting alternative. Cork is softer to walk on than hardwood or tile, but it still has the ease of maintenance qualities of many tiles and laminates.
Advances in manufacturing techniques for cork flooring have not only added to its durability but it's available in more color choices than ever. You'll also enjoy telling guests about the unique surface they are walking on.
It's back ... again: hardwood flooring
To be fair, natural hardwoods have always been popular as a flooring choice, but they're enjoying a resurgence. Maple, oak, and hickory natural hardwood flooring are long lasting and extremely attractive. These trees have a history of being replenished responsibly as they are cut down in the United States, which makes them a significantly sustainable flooring material.
Comparatively speaking, natural American hardwoods can be a bit pricey. However, it is a smart investment that will most likely add exceptional value to your home.
Enjoy your home with new flooring
Make the most of your living space with updated flooring. With so many options to explore, you're sure to find a material that meets your needs, budget and sense of style. Call and speak with a loanDepot Licensed Lending Officer about a home equity loan today.
Published Sept. 18, 2017
RELATED TOPICS
Pre-fabulous – the latest in manufactured and modular homes
Marble vs. quartz – and other new construction trends
The unfinished chronicles: get those projects done
Unique homes with unusual beginnings