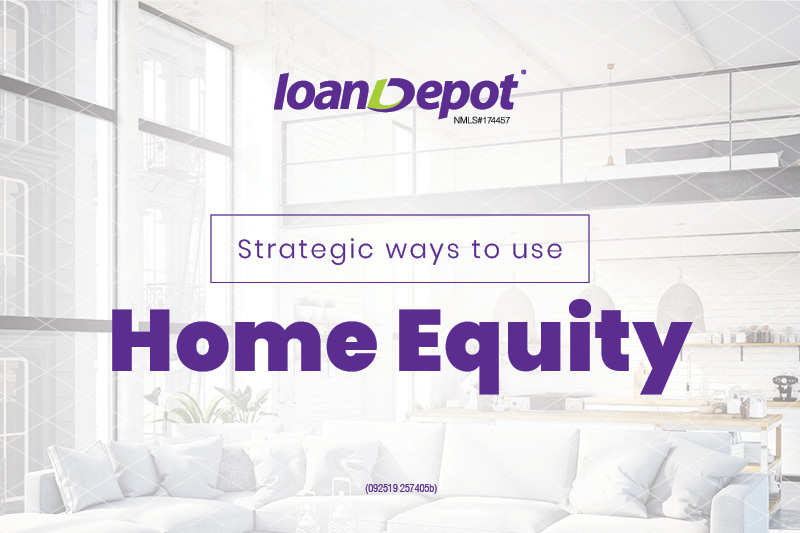 (Article Updated September 30, 2019)
If you purchased your home after the financial crisis of 2008-09, you've most likely seen your equity on a rising plus side. With such good news, you might want to make the most of this nest egg while responsibly handling your finances – and consult a real estate professional on the best uses for that home equity.
loanDepot licensed loan consultants have been helping responsible borrowers make the best decisions regarding how to access and use home equity to reach personal and financial goals. If as a homeowner you plan on selling in the near future, or may need to tap into assets for a large expense or purchase quickly, here are ways you can use home equity to achieve those goals.
Debt consolidation. Bill reorganization is a great option for those looking to lower debt obligations so they can get their finances back on track. Benefits to debt consolidation include a lower interest rate across the board, only one monthly payment, and no credit card late fees or penalties. While going in this direction, consumers must be disciplined to avoid slipping back into debt.
Home improvement. This is a common way consumers use home equity. In essence, the money borrowed from the value of the house is put back into it. The homeowner can enjoy the renovation and may have increased the ROI so she gets a better price for the home upon selling. Some home additions, like a pool, don't always bring an increase in value compared with the price of the improvement, but they can provide years of enjoyment. If you hope to sell soon, plan your enhancements strategically. Check here to find the remodeling projects that bring the best ROI in your region.
College expenses. Helping a child pay for college can help lower student loan burdens in the long run. Home equity loans often get a lower interest rate than student loans, and the homeowner might have access to a higher loan amount than what the student qualifies for. That can broaden options when selecting a school.
Capital for a small business. If you have always dreamed of starting a company but didn't have access to financing, you could tap home equity for startup costs. Remember, you must evaluate the potential business from all angles to ensure the home is protected.
Second home purchase. If you're considering investing the equity from your first home into a vacation or rental property, make sure to grasp all the legalities. A second home that is not the owner's principal residence usually requires higher interest rates and may have additional tax requirements. As long as you weather maintenance and upkeep expenses – even enduring periodic vacancies ─ it can be a good source of additional income.
Sometimes it's ideal to draw on home equity to pay for life's simple pleasures or to have emergency money. Having a discussion with reputable professionals about your financial situation will help you make the best decision.
A loanDepot licensed loan consultant can help with these and any other lending questions.
RELATED TOPICS
Home upgrades that deliver a solid return
DIY with care: 5 times it might be best to hire a pro
How a home equity loan can help mom
Upgrade your outdoor space with fireplace or fire pit