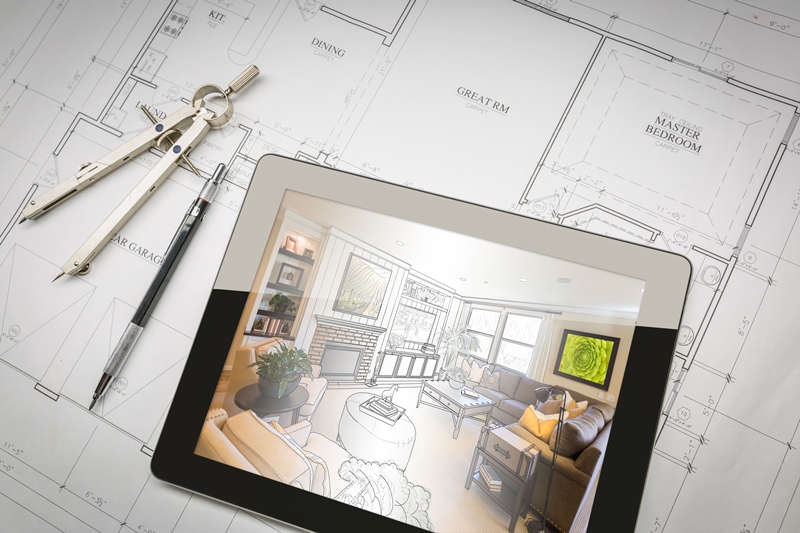 You've no doubt seen a home remodeling TV show where professional designers use technology to create a virtual renovation. The difference between verbalizing the finished product and seeing how the space will look is remarkable. And you don't need a TV show to see it. A computer or mobile device will suffice.
Move walls, change paint colors and flooring materials with the click of a mouse or the swipe of a screen. Many will even reconfigure counter and cupboard designs for kitchens and bathrooms.
When you've made your choices and it's time to change virtual reality to actual reality, a home equity loan or maybe a 203k home loan from loanDepot can provide you with the funds to make your dreams come true. Call today for more information.
For pros and amateurs alike
You don't need to be a designer to utilize these tech solutions. Some platforms, such as Homestyler.com, let users scan in a picture of their present room, which is then converted to a 3D view of how the room will look as changes are made. This system also has a floor planner that depicts how the flow of a room will work if you knock out or add walls.
Once everything is loaded and the designing begins, you have a complex image as though your room or rooms are part of a SIMS game. The program can also find what colors grab your eye and what furniture looks best. Many of these programs also have mobile apps for the homeowner, designer and contractor.
Save on time and energy
Room Planner is a free program that benefits do-it-yourselfers and professional remodelers. It takes into considerations the best materials to make a new home or remodeled space more efficient. This is a win-win, as the homeowner gets a new space that will potentially be more energy efficient.
Keep the project on schedule
Co-construct is project management software that helps homeowners and professionals during remodeling or new construction. Frequently, homeowners get anxious about work on their home, so they contact the project manager ─ a lot. Co-construct allows lets the client contact the project manager via emails and texts. This program also helps clients see the schedule so they know if things are running on time. By posting each step, mostly for the benefit of the client, the project manager can make each step more efficient.
Big box; big bonus
Large hardware/box stores are using advanced technology. The theory is that the more consumers visualize a space, the likelier they'll commit to a project. Lowe's, for example, uses HoloLens, which lets consumers see how their space could look with changes. The benefit for the store is they can sell more product and services, plus be more agile with ordering and displaying merchandise. They don't have to take up floor space with inventory people may not buy. When consumers commit to purchase, Lowe's orders what they need.
Consumers, designers and contractors can all benefit from these technologies to create more fully realized projects with greater cost efficiency. Speak with a licensed loan officer at loanDepot to find out how a home equity loan can make your dream renovation a reality. Contact us today and see how we can help you.
Published Nov. 14, 2016
RELATED TOPICS
6 easy ways to revive a dated living area
Strategic ways to use home equity
Meet your team of homebuying professionals
Home upgrades that deliver a solid return
DIY with care: 5 times it might be best to hire a pro