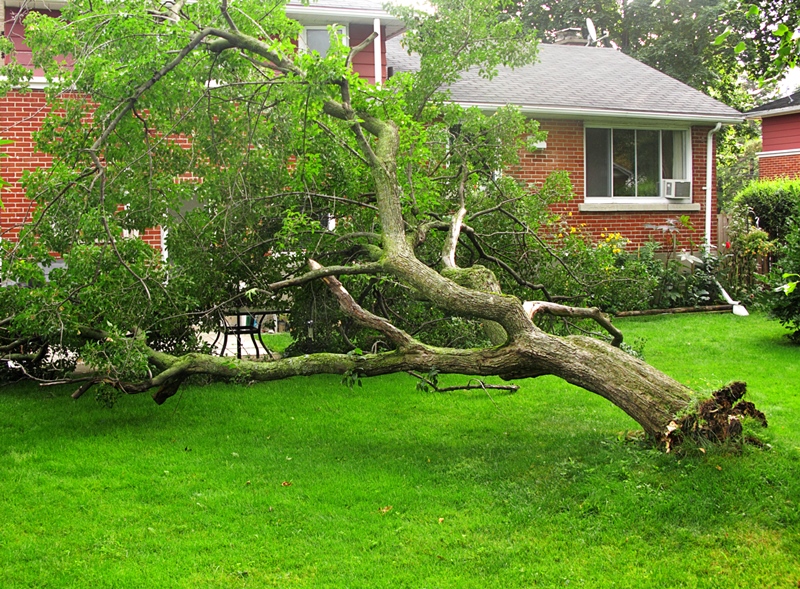 Trees add tremendous benefit to our homes, atmosphere and living environments. They provide shade, help insulate and protect, reduce air pollution and release oxygen back into the air. All these benefits and they're pretty, too. But, like most things of great import and beauty, they take a little maintenance to remain so. If allowed to go without trimming or tending for too long, trees can become hazardous – even deadly – when weather takes a turn. And as homeowner, you'd be responsible for damage caused by felled branches, broken power lines or possibly even fires that can result.
If the trees on your property haven't received the regular TLC they deserve, getting them flourishing again can be a costlier prospect than maintaining them regularly in the first place. But when the alternative is a severely damaged roof or car or, in the worst case, injury to a person, the importance of maintaining your trees can't be minimized.
The good news is, it's easy get the green needed to maintain your trees and keep them healthy, and your home and family safe. A loanDepot Licensed Lending Officer can assist you with a home equity loan so you don't have to go out on a limb financially. Call us today.
Old growth adds value
Some homeowners don't recognize that beautifully maintained trees, especially mature, healthy ones, can add thousands of dollars to the value of your property. Most view tree-trimming as a maintenance issue but it can also be a high return-on-investment repair as well. The stately quality of spreading magnolia and live oak found in the South and the soaring evergreens of the Pacific Northwest are time-honed landscape details that can't be faked.
Safety first: call the pros
Heavy limbs can cause significant roof damage, harm outbuildings and cars, and destroy outdoor furniture or recreational items left in their path. Flying branches can break windows and cause injuries. Professional tree trimming can create an envelope of safety around your home that provides greater peace of mind about the integrity of your property during storms. Also, since properly trimming trees is a dangerous job and skill in itself, this isn't the time to skimp on paying for a pro. An activity that entails chainsaws, power lines and great heights is absolutely not the time to attempt a do-it-yourself repair.
Keep away the critters
Insects and small animals can use overgrown limbs as direct access to your home's roof, attic and house. Prevent these pests from popping in to cause major damage, requiring further repair and maintenance. A trimmer will make sure limbs remain far enough away from your home to limit critter access and protect your investment.
Don't disrupt the flow
Cleaning gutters is not one of your more enjoyable home chores. This is especially true if the deluge of autumn leaves and twigs has built up just as the weather turns icy. Keeping trees properly maintained may not eliminate this unpleasant chore but it can make gutter cleaning easier and prevent serious downspout blockages from dislodged twigs and branches. Free-flowing gutters and downspouts are critical in transferring water away from your home and prevent damage to the roof, walls or foundation.
Prevent a total loss
In high winds, trees can act as sails, catching the wind and putting pressure on limbs, the trunk, and even roots. This is what contributes to trees losing large sections or becoming uprooted in high winds, particularly if the surrounding soil is saturated from recent rainfall. A professional tree trimmer will make sure the inside of your tree's canopy is thinned to allow winds to pass through without adding additional strain to its limb structure.
Having your trees professionally maintained and trimmed periodically may not be as exciting as new carpeting, a bath remodel or new appliances but it's still money well spent. It can bring lasting beauty, greater value, and certainly peace of mind.
A loanDepot home equity loan can provide the seed money to getting the job done. Getting started is as easy as calling now and speaking with a Licensed Lending Officer.
Published Oct. 25, 2017
RELATED TOPICS
Seal in warmth this winter with new windows
Keep a close eye to end PMI
Solid foundation – the latest in flooring
Marble vs. quartz and other new construction trends