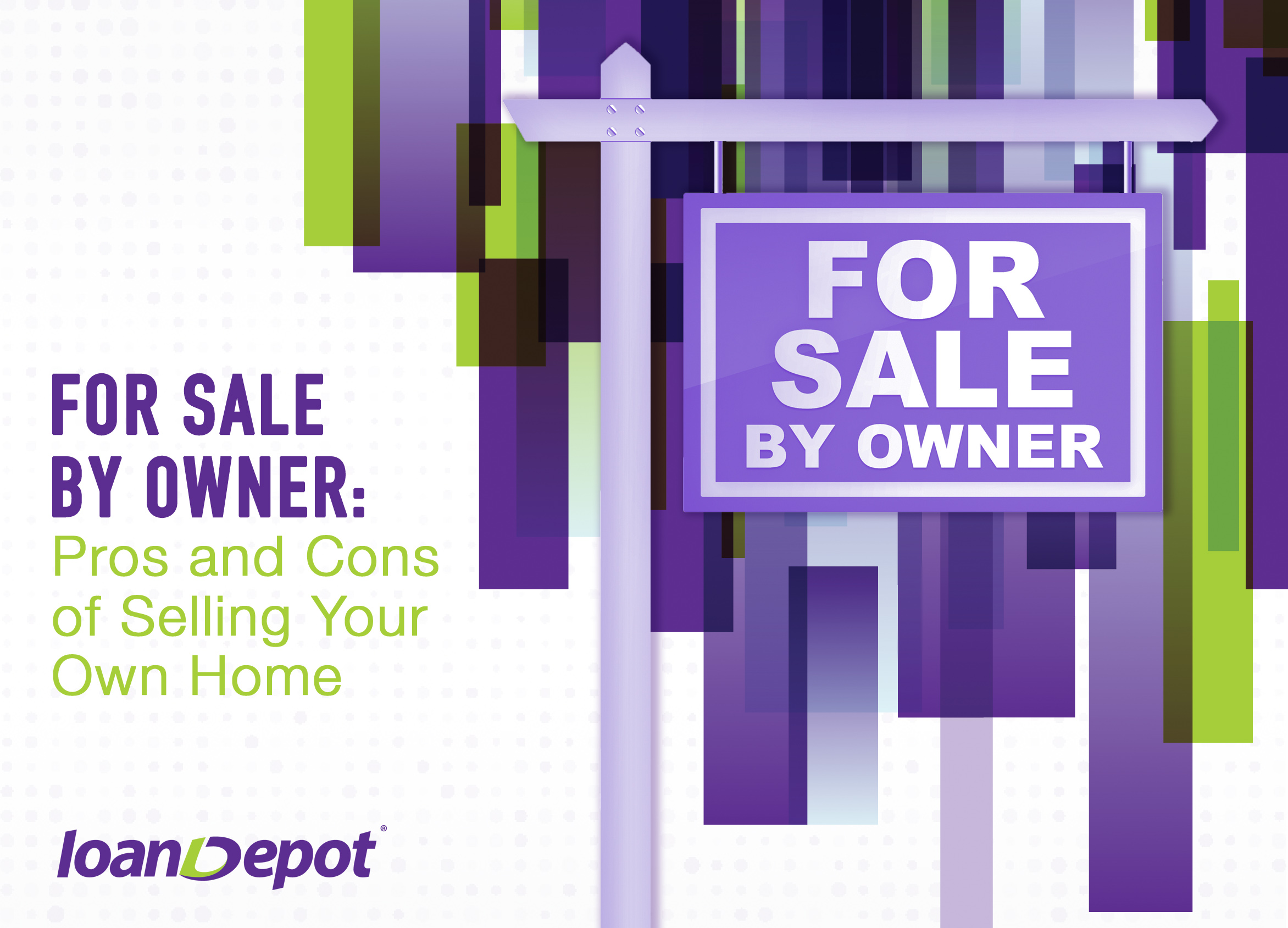 Selling your home can be an expensive process. There can be necessary repairs, cleaning and staging in order to get your house 'show ready.' There are also commissions, closing costs and moving expenses. The bottom line can be steep.
One of the ways people use to save money is to cut out the real estate agent and sell their home themselves. However, a 'for sale by owner,' or FSBO, process can be tricky, and a mistake or two can undercut the money you save. It is important to understand the intricacies of a real estate deal.
Real estate agents will usually argue that their specific set of skills – such as their knowledge of the market, professional contacts and negotiating ability – make them a vital part of the process. If you're serious about selling your home yourself, start by educating yourself in some of the key elements of the craft.
A loanDepot licensed loan consultant can help with these and any other lending questions.
To start, here are the pros and cons of selling your home without a real estate agent:
PROS
Potential savings: When you sell your home, you will typically pay between 6 and 7 percent of purchase price to the real estate agents involved. The seller pays both the seller's agent and the buyer's agent. By the time all is said and done, with closing and other costs, it can cost 10 to 12 percent of the purchase price to sell your home. Cutting out the seller's real estate agent can help save a significant amount on commission.
Maintaining control: Selling your home can be a highly disruptive process. With dozens of strangers looking through your cupboards every weekend during open houses, it can seem like the entire process is beyond your control. With a 'for sale by owner,' you decide the price, when to show it or host open houses, and when to take the home on and off the market.
Competitive pricing: With the money you save by not having a real estate agent, you can price the home more competitively if you need a quick sale. Almost all homebuyers begin their home search online and a competitive price can really make your home stand out.
Extensive knowledge: Since it's your home, you most likely have the answer to any question a buyer might ask. A potential buyer can ask a question and get an immediate answer, speeding along the process. It's much easier to sell a product you love, and as the homeowner, you'll also be able to articulate the best qualities of your home.
CONS
Sacrifice of time: When you sell your own home, you must be available around the clock to potential buyers, just as your real estate agent would be. Say goodbye to your weekends, as open houses will consume the majority of your day, and expect unannounced prospective buyers to just drop by without an appointment. With a real estate agent, you can continue to live your life while he or she hosts the open house and shows the home to prospective buyers.
Added expenses: While you do save a significant amount of money representing yourself, there are added expenses to selling your own home. The cost of advertising can be high to someone who doesn't have an annual contract with local or online publications. Ads in magazines and newspapers can cost thousands of dollars. Agents also have access to the Multiple Listing Service (MLS), which is used to market your property to other agents.
Negotiating power: A real estate agent is emotionally void of attachment to the home and has the upper hand in negotiations. While you may get insulted by a low offer and balk at the buyer, a real estate agent will see it as a starting point for negotiation and know how to talk up the house's finer points. Agents are also educated in contract law and will likely have better luck negotiating buyer contingencies.
Lost value: This is a biggie. For sale by owner homes typically sell for less than homes represented by an agent. According to the 2017 National Association of Realtors Profile of Home Buyers and Sellers, the average FSBO sold for $190,000 compared to $249,000 for agent-assisted home sales. One of an agent's main jobs is determining an accurate list price for your home and circumstances. By evaluating the sales of nearby comparable homes, or comps, and having a keen sense of what the market is doing, an agent can set a fair market price for your home. Be wary of online valuation tools, which don't factor in renovations or typical care and maintenance.
Selling your home is a big deal. There are many laws and requirements to consider and the industry is constantly changing. However, if you do your homework and you're ready and willing to put in the hours necessary, FSBO can be a financial win.
RELATED TOPICS
Third-quarter report: Home prices sustain steady growth
Home values rise in resilient housing market
Questions to ask a real estate agent when buying a home